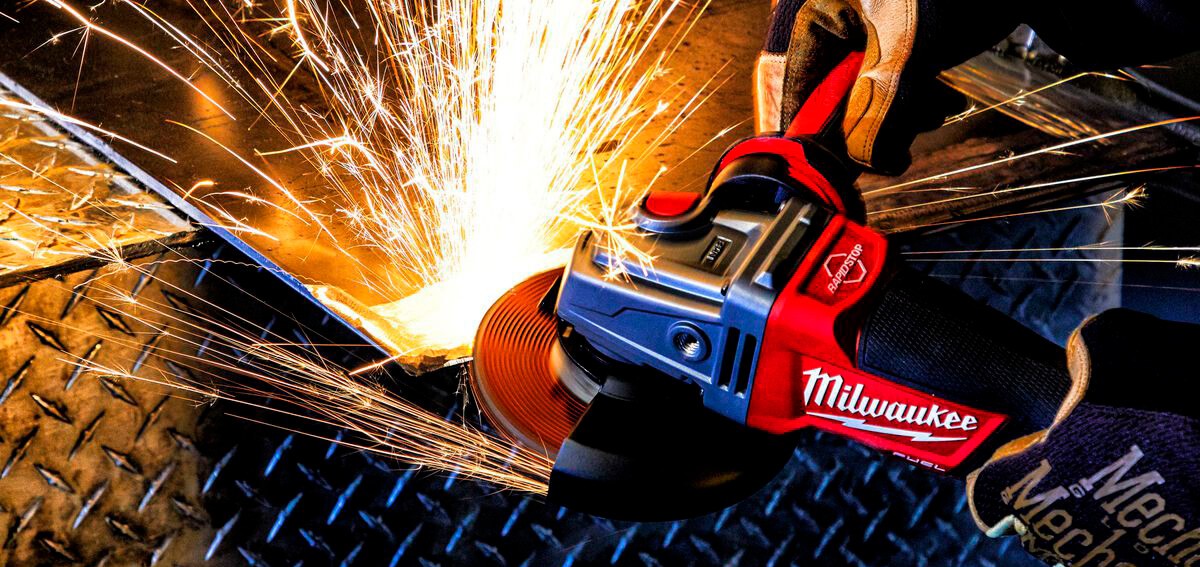 The best angle grinder is an indispensable assistant of every master and amateur. After all, the grinder can grind and clean the surfaces, cut metal, plastic, tile, prepare walls for wiring – all depending on the installed disk.

Today, all the angle grinders have a lot of features and making an optimal choice can be a trouble, as the variety of the models is really impressive. Read on for our advice on how to choose an angle grinder.
#1 Professional and Household Angle Grinders
The professional grinders only include models with powerful motors (about 2,000W) and large discs (7-9 inches). A usual buyer who not spares the money on the professional tool may be unpleasantly surprised by its large weight, noise, and the vibration that it causes during work. However, if you need an angle grinder for frequent use, the professional one will be the right option.
The household grinders are the devices for home use. They are small, light, and not so powerful (usually up to 1000W), which work with the range of 4.5 – 4.9 inches discs, and have a rotation speed of about 10.000 RPM and even more. This kind of angle grinder is more maneuverable and much easier to use, it causes less vibration. There is no sense to use it as a professional tool: with constant usage, when you have to cut or grind something all day long, a household grinder will crock very quickly.
#2 The Angle Grinder Sizes
A small angle grinder is designed to work with 4.5 – 5 inches disks. These are compact, convenient models. As a rule, they are distinguished by a minimum weight and size and by the small capacity engine (less than 1000W). However, the advantage of a small angle grinder is not power but speed: it works with a maximum possible speed, about 10.000-11.000 RPM and higher.
The medium angle grinder goes for discs with a diameter of 6 – 7 inches. Such grinders are distinguished by the average power (about 1000–1500W), the averaged disc rotation speed (about 8.000 – 10.000 RPM), and the average weight (6.6 – 11 lbs). This is the perfect angle grinder to choose for rare home use.
A big angle grinder is much heavier (11 – 17.6 lbs) and equipped with a very powerful engine (1500-2500W). The working speed is low due to its power and size – such a large grinder spins only to 6.000 – 8.000 RPM. As a rule, their price is the highest because of wide functionality. The big angle grinder is designed for rough work, where power is needed: cutting metal pipes, gouging walls for wiring, etc.
#3 The Angle Grinder Functions
The soft start system. A very useful function to protect the internal parts of the gearbox from a sharp blow, which is possible when the engine is started immediately to full power.
The lock power button. This function prevents a need to constantly hold the power button.
The automatic stabilization. The grinder with stabilization automatically adjusts to the hardness of the material.