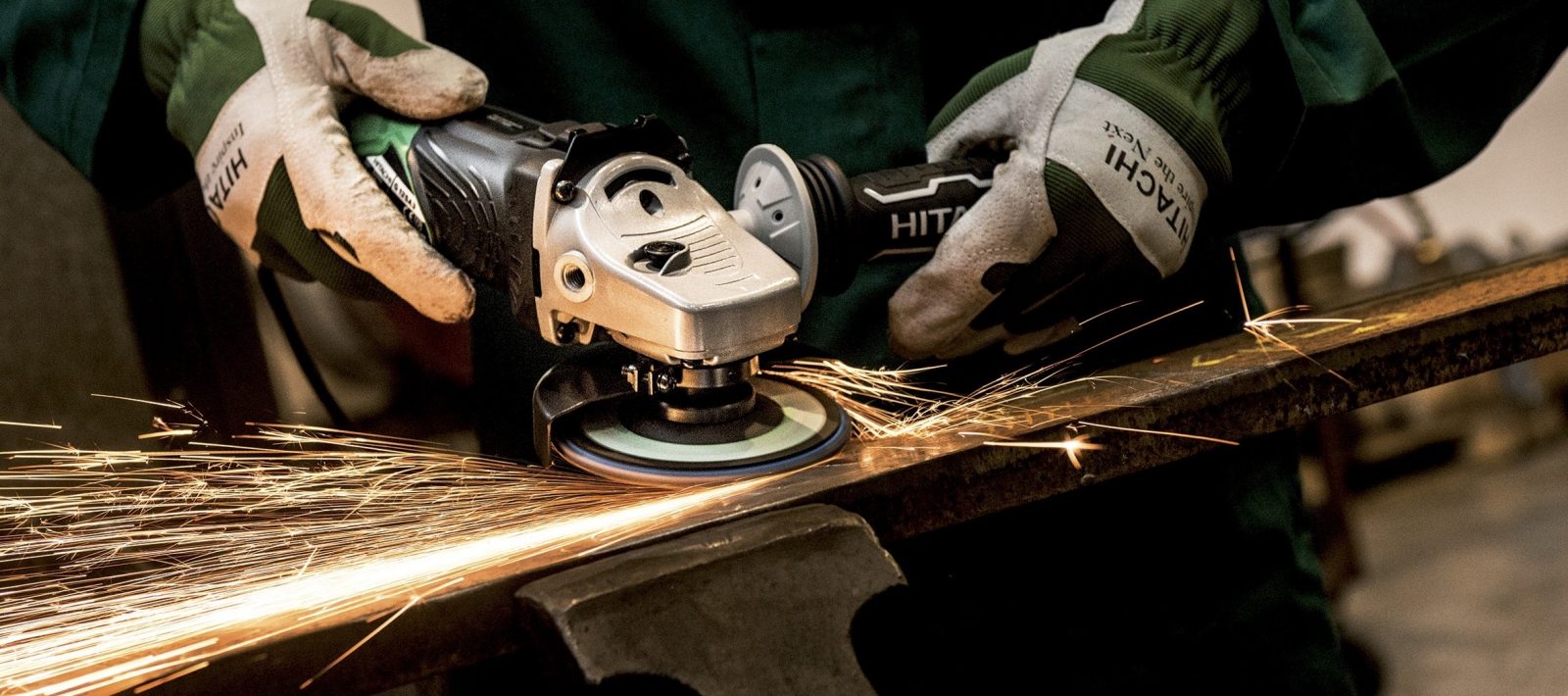 The best angle grinder is a tool managing all the tasks your current project presumes. Often, getting an overkill appliance will mean a waste of money. It might turn out to be too heavy and powerful for wood polishing. The less powerful models can become helpless at hard stuff like concrete, etc.

The main difference between the types of such equipment is their cord dependence. Let's list the main differences between a corded angle grinder vs. a cordless one.
Power. Corded models are usually more powerful and can deal with harder materials like solid wood, tile, etc. Still, a cordless angle grinder wins the battle in places without the electricity source or where the outlet is too far.
Portability. While a battery-equipped device is considered more portable due to no cord limit, it also has an additional battery weight. At height works, this might become a drawback.
Cost. The cordless tools are usually pricier than the cabled ones. That's a positive point for the corded angle grinder.
Picking one of the top-rated angle grinders is always a matter of weighing pros and cons. Do it efficiently, with the help of our smart angle grinder reviews!
Angle Grinder Reviews
Best Cordless Angle Grinders
DewaltT DCG413B — Best 4 – ½ inch angle grinder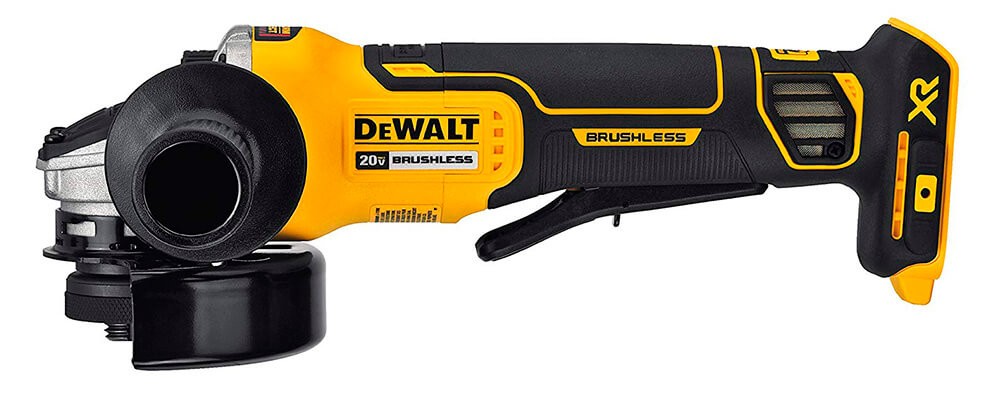 This sturdy middle-class tool can handle multiple works and materials including concrete grinding and solid wood cutting. It has a powerful low-vibration motor emitting 9,000 RPM at zero load and a maximum battery capacity of 20V.
The unit has several safety mechanisms. The paddle switch works seamlessly leading the disc to stop in a few seconds upon releasing the paddle. If the operation is threatened in any way (the disc is prone to be bent, the mechanism is cluttered, etc.), the kickback brake mechanism stops rotating automatically. Another safety thing, before turning on the angle grinder tool again, requires turning a trigger switch full-cycle.
The tool has a comfortable handle of a good diameter to fit almost any hand. There is also a user hand protection ring on the handle to prevent injury from the disc and/or the flying dust and debris.
Pros
A magnet-equipped motor has a high torque and is maintenance-free.
The motor isn't loud, emitting little noise when running with a light load.
Good ergonomics and compact size result in less user fatigue.
Cons
Its battery gets hot upon usage, so immediate recharging isn't possible.
Safety trigger is a bit stiff and isn't always handy to push back.
Video Dewalt DCG413B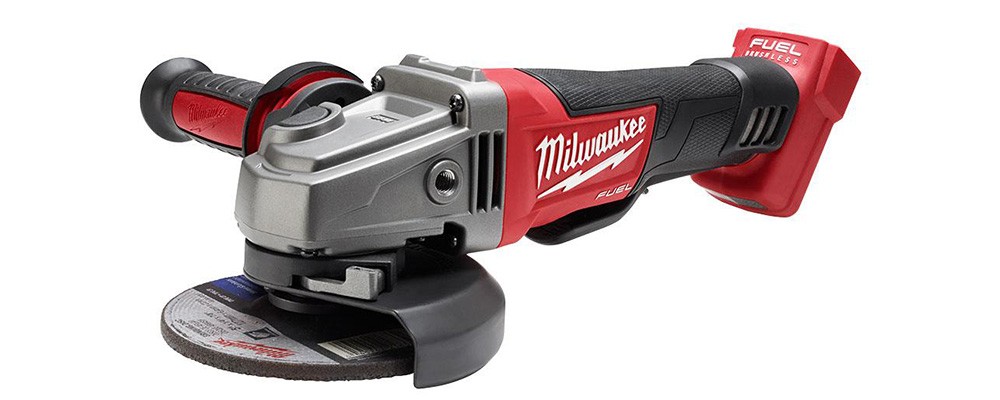 The first thing to praise about this battery-powered angle grinder is its durable build. All components do not compromise in the quality and are fitted seamlessly. The grinder feels robust and reliable. It is convenient to hold thanks to the ergonomic shape and rubberized grip area.
The motor is brushless, maintenance-free, and moderately becomes hot when running under load. It produces a steady 8,500 RPM throughout the whole period of the battery supply. The cuts are made easily, so is the sanding. The tool is enhanced with a vibration reduction tech to operate it precisely and without much fatigue.
The grinder is equipped with a lever to change the disc and adjust the operation without additional tools. The handle is fixed by a screw, so to change position it must be removed and screwed in again (manually).
Pros
Quick yet smooth start and good braking mechanism.
The motor produces just a little noise at different load levels.
A big disc guard protects the user's hands and the tool from debris and dust.
Cons
The paddle switch is rather stiff and cumbersome, though it ensures high safety.
Fast battery draining at medium and high loads.
Video Milwaukee 2780-20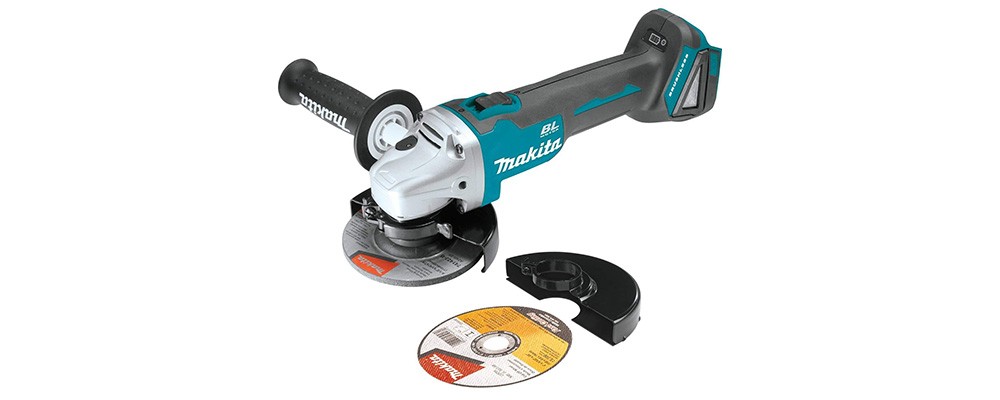 This versatile angle grinder is a perfect choice for occasional repairs or DIY. Its cordless design and relatively small size allow using it even in hard-to-reach locations. This device uses durable Makita discs and is suitable for a variety of applications: tile cutting, metal angle grinding, wood adjusting, and so on.
The motor is brushless ensuring moderate heating up of the tool during the work. It also provides for the shorter maintenance time of the tool, as it does not require brush cleaning over a period of work. It has an electronic control to adapt the speed and torque automatically with regard to the current job needs. This function also saves the energy considerably, letting the tool serve longer during a single battery charge. The 18V lithium-ion battery enables solid 8,500 RPM efficiency for most household and professional tasks.
Pros
Fast and toolless disc exchange mechanism.
A comfortable grippy handle ensures easy operation.
A built-in smart lock for auto-stopping the bent blade works instantly and precisely.
Cons
No manual speed adjustment.
A non-informative manual is provided.
Video Makita XAG03Z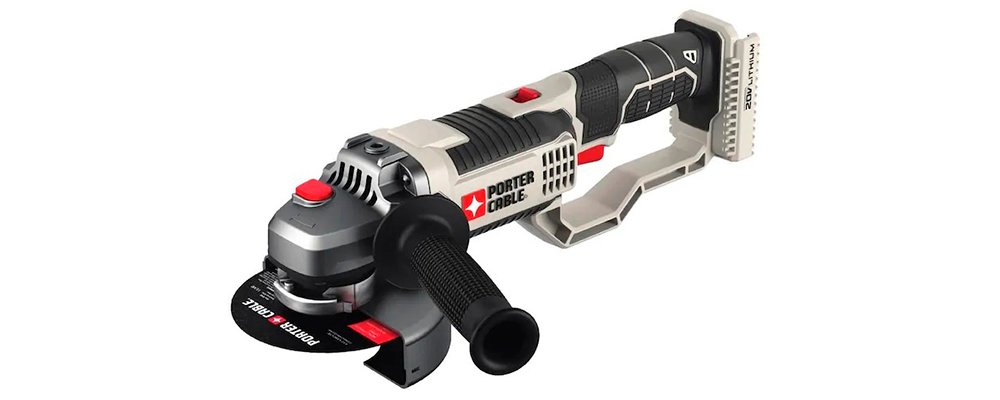 The cordless Angle Grinder flap disc has a powerful motor with a maximum speed of 8,500 RPM and features durable construction. It is designed for wheels 4-1/2 inches across to grind, cut, remove, and finish a wide range of materials: stone, wood, tile, etc. The tool is also capable of removing several coats of paint. It's possible to make straight, diagonal, and curved cuts.
The adjustable side handle has 3 positions for added convenience. The front handle is wrapped in rubber and the back one has an overmolded grip. It's comfortable and safe since the hands don't slip during the operation. It takes just a minute to change wheels thanks to a spindle lock. It's also easy to attach a battery with a single click.
Being a maneuverable and lightweight tool, it has 15.31 x 6 x 6 inches in size, weighing only 6.75 pounds. Its gear housing is made of cast metal. It allows the tool to avoid overheating during prolonged use. The unit's set of accessories include 2 cut-off wheels and a single surface grinder, a tool for changing blades, 1 short, and 1 tall spare guard.
Pros
The general construction of this tool prevents vibration, providing high-quality work results.
The device produces low noise.
Cons
The manufacturer doesn't include a battery or charger in the package.
The brushes are not replaceable.
Video Porter Cable PCC761B
Best Corded Angle Grinders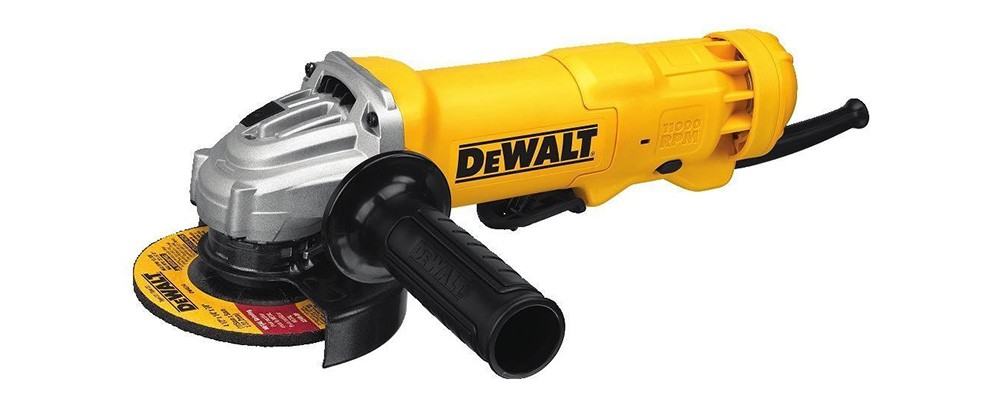 The motor of this corded angle grinder spins as fast as 11,000 RPM ensuring butter-like cuts, smooth sanding, and pin-sharpening. It uses large brushes and the spiral transmission gear for delivering a steady non-skipping performance. This cabled device uses a smart safety tech for the tool shutdown when the brushes wear out. It also features other mechanisms for securing the user and the grinder from damage.
The paddle switch is conveniently situated in the center of the handle and works well. Just a slight grip release results in the complete stop of spinning. The spindle fix button is situated on top of the grinder and serves for the additional enforcement of the all-metal working part. It allows going deep when making cuts.
The tool has good ergonomics. The central part isn't wide in diameter and has a finger-supporting bottom. The auxiliary handle is sturdy and well protected. It can be screwed in on the left or right sides and provides additional stability and control over the grinder's operation.
Pros
Fast and simple keyless wheel removal.
The One-Touch guard design enables moving it at 360 degrees without any tools.
The integrated dust ejecting mechanism serves for longer operation and life of the tool.
Cons
No speed adjustment available.
The grinder is of medium size and quite heavy — might become an issue when working at heights.
Video Dewalt DWE402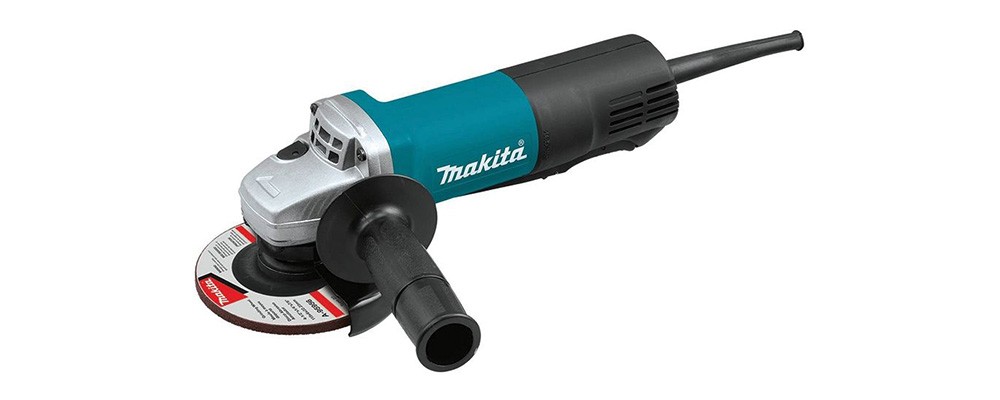 This versatile heavy-duty tool provides a steady 11,000 RPM for cutting all types of hard material. It can sand, grind, and cut deep equally efficiently, which makes this model one of the best angle grinders.
The motor is secured from contamination by the labyrinth mechanism construction preventing dust from getting inside. The special varnish is laid in a zig-zag pattern in order to repel the dust and debris from the working parts of the grinder.
The guard is large and well-fitting. It is adjusted without additional tools and provides solid user protection. Another safety feature is a large paddle switch, letting handle the grinder with comfort and disconnect the motor at once it is released.
Pros
The soft-start tech ensures a longer life of the motor.
The integrated AC/DC switch enables powering the tool from different sources.
The tool comes in a kit of the sturdy metal case and supplementary cut / grinding discs.
Cons
The lock pin for wheel installation requires time to get used to operating.
No speed control/adjustment option.
Video Makita 9557PBX1
Those looking for the best angle grinder wheel for cutting metal should pay attention to the Bosch 1375A. Its 6-amp motor is capable of 11,000 RPM. It's compatible with metal, wood, concrete, brick, tile, stone, and other masonry materials. It also cuts plastic pipes. A wide range of operations includes not only cutting but also sanding, removing paint, sharpening, and deburring. The branded Service Minder Brush System makes the unit stop automatically when it needs maintenance.
The electric-powered device with an 8-feet cord and removable guards has a compact design. It has 14.4 x 5.2 x 5.2 inches in size and weighs only 3.75 pounds. The device has a switch to set it to the "on" position for extended use.
The field windings are covered with epoxy and the switch mechanism is sealed to keep the tool safe from various abrasives and metal dust. The side handle is made at an angle and has 2 positions to provide the natural hand's position when the user holds the tool. This model comes with two 4-1/2-inch cut-offs and two abrasive grinding wheels
Pros
The unit's compact brushes are replaceable.
The left-handed users can install the handle to the other side of the tool.
The grinder's spindle thread is 5/8 inches in size that allow attaching of many different accessories
Cons
It's a bit challenging to change the guard's position. For this purpose, it's necessary to use a wrench made of ribbed plastic. The latter makes the guard even more difficult to move.
The switch button's location is not convenient for users. I'd like to see it at hand rather than in the front of the tool.
Video Bosch 1375A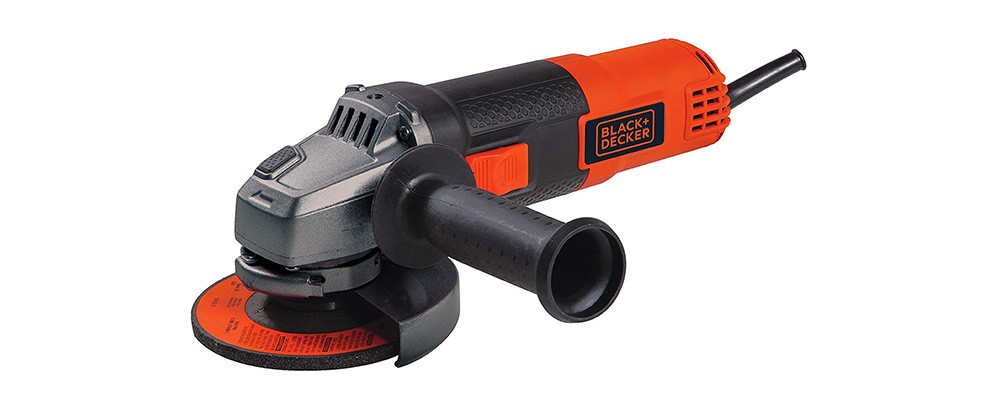 This cabled grinder provides consistently reliable operation at 10,000 RPM, without getting hot or producing much vibration. It fits most jobs of grinding, sharpening, sanding, and cutting and deals with a wide range of materials (from wood and plastic to concrete and metal).
The grinder has a sturdy build, featuring a metal working part and a plastic-and-rubber body. For additional user's comfort, there is a handle that can be also mounted on top of the tool ensuring consistent work even in tight places.
The simple wheel-changing mechanism provides for fast disc removal and installation, by means of a spanner wrench.
Pros
Compact size provides portability and ease of use.
The motor stays cool even upon excessive work at a medium load.
Low price for a professional quality tool.
Cons
A trigger switch is too tight, doesn't respond instantly, and might get stuck occasionally.
Supports the Type 27 discs only.
Video Black & Decker BDEG400
Buyer's Guide
Where to Apply an Angle Grinder
An angle grinder is a multi-tasking tool that can fit a variety of wheels for different purposes. Here is a brief list describing what this tool is used for:
Cutting. The high torque, sharp blades, and sturdy build allow the device to perform straight cuts efficiently.
Grinding. Removing the remnants of the concrete after concrete casting work or getting rid of the rust on the metal or paint excess is another frequent task an angle grinder is applied for.
Sharpening. A grinding disc can sharpen a knife, scissors, or any other blade.
Materials:
Metal. A powerful grinder can cut through thick metal sheets and rods, make cutouts, etc.
Cement and concrete. Slicing cement boards is easy with a high-torque sturdy angle grinder.
Tile. It cuts through tile efficiently, however, depending on the tile type, the edge might be crumbled.
Plastic. A grinder can be used at all types of plastic objects, including pipes, boards, and so on.
Wood. A grinder tool can replace a circular saw when dealing with wood. However, its capacity is limited by a guard/disc diameter — it won't go deep into a large log.
How to Use Angle Grinder?
Angle grinders are used for different purposes. Here's the advice specifying how to use this tool in each case:
Cutting. Make sure the object is immobilized. Install the blade into the grinder tool (by means of a wrench, if needed), connect it to the power supply (or insert the battery), point the device at the object, and start the tool.
Grinding. Install a wire wheel or a wire brush to the grinder, connect a power source, and direct the grinder onto the surface. Be careful not to press the grinder too tight.
Sharpening. Install a grinding wheel, hold the tool, connect the power, and take the blade near the edge of the disc. Make sure it's not too close.
Safety Tips
Safe worksite. The place must be free from secondary objects, clean, and well illuminated. Good ventilation, no exposure to water, open circuit, or fire are mandatory. Children and animals must be outside.
Protective equipment. Use work clothing and protect your eyes, open skin, respiratory system, and hands.
Grinder condition. Check the tool integrity, its cable, guard position, the handle connection. Clean the ventilation slots.
Safe use. Choose the necessary disc and use the grinder according to the instructions.