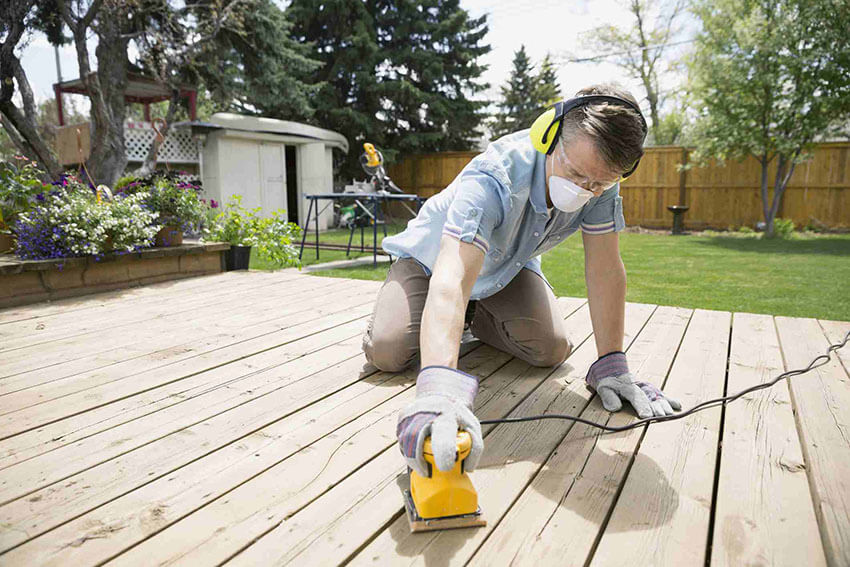 The achievement of the perfect finish in woodwork will require many tools. And sander is one of them. With it, you may get a perfectly smooth surface in a short time. Each detail sander has a special triangular base plate (to which will be attached sandpaper) and looks like an iron.

This design allows to effectively sand and clean furniture joints and other hard-to-reach places. It is also ideal for DIY and home non-industrial use. This article provides the 7 best detail sanders reviews. Each review contains not only detailed information about the product but also a list of pros and cons. This will allow you to understand what kind of sander they need and make the right choice.
In addition to the detail sander reviews in this article, you will find information which parameters need to be considered before making a purchase. Also, a few helpful safety and maintenance tips are included too.
Best Seven Small Detail Sanders Reviews


A good choice if you need a high-quality tool at an affordable price. What distinguishes this model from its competitors? In the first place is a very good engine. It is reliable and allows to produce 14,000 orbits per minute. This speed should be enough to cope with almost any surface. The BDEMS600 weighs 2.8 pounds and has a 2-year warranty period. It will be a good assistant for both beginners and professionals.
This sander has a three-position handle for greater variability of use. An effective dust collection system will be a nice bonus. It will help to avoid extra clean up after the work is done. Worth noting the fact that due to the size the device is not suitable for very long industrial use. The best field of BLACK + DECKER BDEMS600 is DIY and sanding of the small details.
Pros
High-power engine.
Best detail sander for the money.
Easy to use.
Cons
Fragile finger attachment.
Sometimes it is hard to find ultra-fine sandpaper designed for this model.


The 1.1-amp motor provides 14,000 orbits per minute. Due to this, any sanding of wood will be much faster than if you will do this manually. A high eccentric orbit creates a larger and smoother sanding surface. Full-copper motor heats up much less when working at high power. This feature is a huge advantage of TAMS22P than the devices with a copper-coated aluminum motor. Such full-copper motor together with an effective thermo-fan and a hermetic on/off switch, provide a much longer life span of the model.
Dust bag made from cotton. It can be washed and, if necessary, recycled. Due to its wide mouth, it is very convenient to clean. The sander goes together with 12 pieces of sandpaper.
The TECCPO TAMS22P weighs only 2.6 pounds. Due to this, it is easy to carry and convenient to use even in narrow places. The handle has an ergonomic design and covered with optimized rubber for additional control and greater comfort and flexibility. Using different types of sandpaper, the glass, ceramic tile, wood, and many other materials can be easily sanded. The 24-months warranty ensures the safety of use under any load.
Pros
Gets into all the grooves and crevices.
Comes with sandpaper.
Cons
The sandpaper pads might stop sticking if you will use them for a long time.


One of the most useful features of this detail sander is speed control. Thanks to the regulator it is possible to adjust the output power to the needs of any surface. The speed range is from 5 to 12,000 orbits per minute.
This value should be enough to work with almost all types of materials that you have in the house. A patented dust removal system ensures minimal cleaning of the room after sanding. For the greater comfort of use, the PORTER-CABLE PCCW201B has a rubberized ergonomic handle. It doesn't allow your hands to get tired because of vibration when you work for a long time.
Pros
One of the few cordless detail sanders for wood.
Easy to hook up to a shop vac.
The great thing for sanding tight spaces as well as for big jobs.
Cons
The battery is not included in the kit.
Finding sandpaper for this model can be difficult.
Dust hose limits maneuverability.


Thanks to the power of the 1-amp motor and 12,000 orbits per minute frequency, the user can effectively sand every kind of home surface.
Dust protection is realized by using a microfiltration system and a 1-1/4-inch port for a dust collection container. The user always can choose the most suitable option for each situation. The patented system of hooks and loops gives the ability to quickly change the sandpaper.
Your hands will be protected from fatigue thanks to the organic design and soft rubber grip. Based on the feedback from users, their hands do not get tired even during prolonged vibration. This option will allow you to work much longer.
The Skil SR250801 can be turned on and off easily and quickly due to the tightly closed and sealed switcher.
Pros
Perfect for sanding of small gaps.
Cons
Some users felt the product is built cheaply.
Not recommended if you plan the really heavy-duty use.


The Genesis GPS080 comes with three standard sandpapers. This device was designed to become one of the best tools for sanding small areas.
Due to its unusually compact form, it is suitable for use in difficult and hard-to-reach places. But with all other surfaces, it also copes without any problems. Its speed is 12,000 orbits per minute and guarantees fast and smooth sanding. Genesis GPS080 weighs only 2.2 pounds and this means that a person with any constitution can handle it conveniently.
For even greater ease of use, the GPS080 is equipped with a rubber ergonomic handle. According to the developer's assurances, the product's life span will be maximized due to a special dust-proof construction.
The device has a two-year warranty, which is very good considering that it is one of the cheapest sanders you can find.
Pros
Lightweight and portable.
Cons
The not an ideal solution for industrial or professional use.
There is a doubt about the build-quality.


This sander is the perfect choice for those who need excellent maneuverability. This is one of the most compact options with a weight of only 2 pounds. Nevertheless, its functionality is very high. For example, it has a 1-amp motor and can make 13,500 oscillations per minute. Thus, the small size did not affect the high functionality of the WEN 6301.
The developer assures that due to the ergonomic design of this sander, you can work for a very long time and not feel tired. Still, it is better not to use this model for industrial purposes and leave it for household problems. The additional two strengths of the WEN 6301 are the excellent job of the dust collector and the easy change of sandpaper. Still, the last one should be ordered separately as the bundle includes only one item.
Pros
Perfect if you need just to sand details.
Dust removal features.
High-quality motor.
Cons
Does not come with a dust collection bag/tray.
Limited use if to compare with other detail sanding tools.
Lacks of a speed adjunction option.


This device has a triangular sanding pad that can be rotated 360 degrees. This is the main feature of TACKLIFE PMS02A, which allows its owner to handle both narrow angles and large flat surface.
The anti-falling inside buckle is used for additional dust protection. Thus, the dust collector vibrates less during operation and collects dust better.
The PMS02A is quiet enough even working with a high speed of 12,000 orbits per minute. This is one of the lightest sanders that weighs 2 pounds. Thanks to low vibration and convenient ergonomic design, this may be the best detail sander for a whole family. But keep in mind that this sander should be used only for household duties. It is not intended for heavy-duty use.
TACKLIFE supplies this sander with dust box, user manual, and one sandpaper disc. Also, there is 24-months warranty.
Pros
Allows getting into all the corners.
Easy to use.
Great quality for a low price.
Cons
Users complain that sanding sheets often fall off.
Quite a powerful sander, but without speed control.
The propensity to overheat.
Buyers Guide How to Choose a Detail Sander
First, you need to determine the basic parameters that any detail sander have. And only after this, based on these parameters you can start choosing the option that will suits you most. So, you should know about:
The more options for speed switching your sander has – the better. The speed switcher greatly increases the variability of sander use. Nevertheless, keep in mind that wide speed settings are always accompanied by a higher price of goods. If you are going to use your sander often, the higher price is fully justified.
Many buyers often do not even pay attention to the warranty period of the device which they purchased. Nevertheless, the warranty is the mirror image of the quality of the goods. As the longer guarantee is, as more manufacturer confident in the high quality of own products. And do not worry that you will often return the goods because of various breakdowns.
The dust has always been a big problem when people working with sanders. This is quite natural since wood finishing has never been a clean job. Nevertheless, the less you will remove the dust after the jobs done – the better it will be. Do you agree? For this reason, the issue of solving problems with dust is always relevant.
Sanders have two types of power supply. Both of them have advantages and disadvantages.
Rechargeable batteries. They provide high mobility and greater usability because there are no wires that can interfere with your work. On the other hand, batteries tend to discharge in about 30 minutes of operation. So, for long periods of work you will need several batteries (and these are the additional expenses) so keep this in mind.
The electric cord. It gives you access to an unlimited energy source, which is ideal for long-term use of a sander. As a minus, such a device is not so convenient in terms of mobility as battery-powered options. Also, wires may be a problem when working in cramped spaces.
One way or another, when it comes to detail sanding, it is impossible to call the most advantageous variant. Here you have to decide everything for yourself and personal needs. Now you know the main characteristics of all types of sanders. Remember about them and you can always choose the perfect option for yourself.
How to Use Detail Sander Correctly
Sander can be a good friend to you as well as pose danger. Do not forget that this is a powerful tool. Follow exactly the manufacturer's safety instructions. Never touch the sanding pad while it is working. By ignoring work safety instructions you have a high chance to traumatized yourself. Do not press too hard on the machine while it is working, otherwise, it may sand too deep. During work, be sure to wear safety glasses to prevent dust and shaving from slipping into the eyes.
Below are some 5 useful tips for sander use:
Start sanding from the corners of the surface.
Begin it from a low speed and increase it if necessary.
To achieve the best effect, change the nozzles (use different sandpaper).
Operate with your sander carefully. Detail sanders are quite fragile and sensitive (in comparison with other sander types). Using them with care and without much pressure while working because this can damage both the sander and the material.
Do not apply excessive stress on the tip of the sander. The whole working base plate should receive the same pressure during operation.
Simply follow these rules and will be reliably protected against damage during work.
What is Detail Sander?
The detail sander has a triangular base plate with special self-adhesive sandpaper. Sandpaper types (40, 60, 80, 120 and 180 grit) may be changed to achieve a better sanding effect. The triangular shape of the base plate allows the detail sander to process the areas which its larger analogs cannot reach. Also, this tool will allow you to effectively sand non-standard shapes and will be a great helper for DIY crafting.