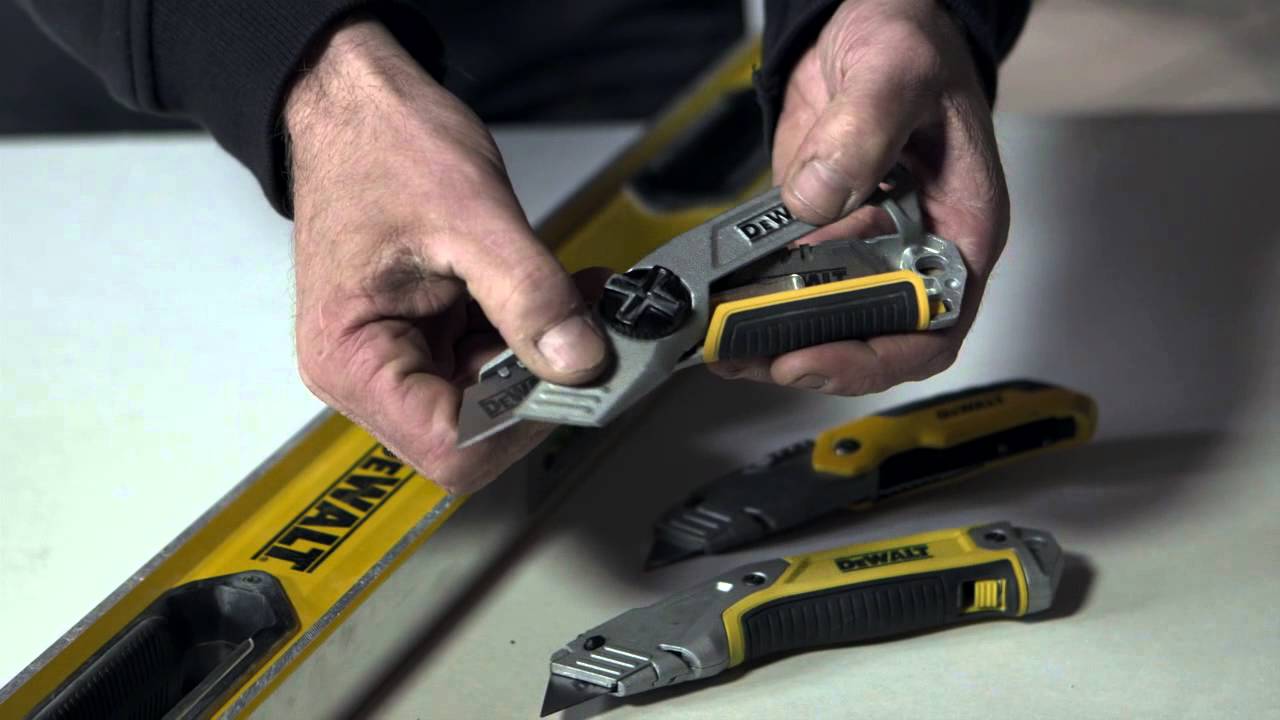 Such knives are useful small tools that you can find at home. These sharp knives are used often to open a box, cut vinyl, cardboard, paper, fabric, etc. Usually, their bodies are made of durable plastic, so it will not be damaged if you drop it, or metal. Such knives can be also used to remove dry erase markers on walls.
Using a knife for a long time, the blade will inevitably become dull and you need to replace a blade. Luckily the whole process can be performed fast, using some simple tools that everybody has.

A snap-off blade
If your knife uses this kind of blades, then sharpening can be done in a matter of seconds and it is super simple. These blades are a thin metal blade that has numerous diagonal lines that come across the blade. These lines are used to snap-off a part of the blade. If the cutting edge becomes dull you need to do the following:
Set the blade so only the last "part" (between the edge and a diagonal line) comes from the end of the knife
Snap-off the part using pliers
If you do not have pliers but you have another box cutter knife, then you can use the bottom part of the second knife. Such knives have a "slot" so you insert the blade you need to snap-off into the slot and snap it off using two knives.
That is how you simple it is.
Replacing a snap-off blade
If you need to replace the whole blade (put a new one), then you should determine what part holds the blade. Usually, a holding mechanism is a small plastic bolt. Here is how to change box cutter blade:
Remove the bottom cover
Pull out the button
Pull out the blade
Then you need to put a new blade and put everything together – you need to fix the blade onto the bolt and slide it in.
A common box cutter knife
Some utility knives are a bit complex and to replace a blade you need to unscrew a bolt in order to open it. Such complex knives may have several key parts. Having opened the knife, you should take out remove the blade holding part and the blade itself. Some knives have a pack of extra blades inside.
Take off the old blade and put the new one. Make sure it sits firm, just like the previous one. Some blades may have two notches which are used to place the blade correctly and exclude any unnecessary movement.
After this stage, you can reassemble the knife. You need to place the blade holding part and the blade itself back. If it comes with extra blades – make sure the pack sits there properly, so it does not move. Then put the other part of the handle and fasten the screw that holds two pieces together. Do not tight it too much, since it will push the handle parts and it will be difficult to move the blade. Therefore, you need to open and close it a few times.
A multifunctional knife
These knives are used often. They are great for removing dry erase markers, cutting fabric or cardboard. However, you should remember about safety when you replace a blade to avoid cutting yourself. Overall, the box cutter blade replacement process is fast and easy.
Video — How to Change Box Cutter Blade?