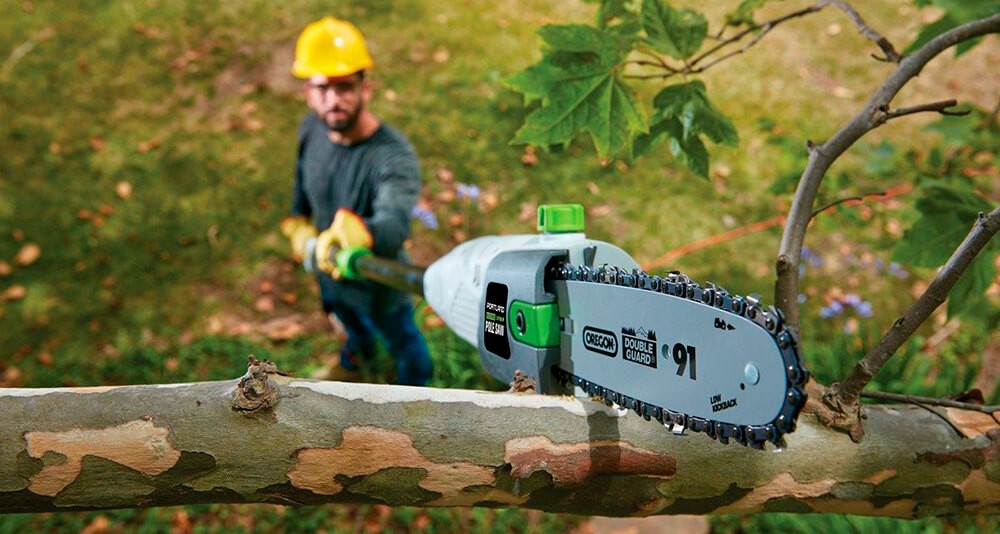 The most popular way to cut wood at a great distance is to use a chainsaw and a ladder. However, it's not only difficult but also not safe. The best pole saw can significantly ease this process. It's a saw that is attached at the end of a pole to trim and cut branches from afar. Besides, it's mainly designed to be used in the household by non-professionals.

Even if you have only one tree around your house, you're going to face an issue with branches hanging down in your yard sooner or later. While pole saw can make pruning much easier, it's also quite a multifunctional tool that can become a decent upgrade for your garden's tools arsenal. Additionally, you can use it for getting rid of unwanted plants in hard-to-reach places and even for cutting down some thin trees.
However, when it comes to buying this device for yourself, you can face some problems. It can take some time to figure out which model will be the most useful for you. This way, we have made a list of seven top-rated pole saws so that you can find the one you need.
Since a pole saw is not as popular as regular chainsaws, it can be hard to find enough information on them to make a reasonable buying decision. So if you don't know where to start, read our buyer's guide. Its purpose is to give you some important tips.
Pole Saw Reviews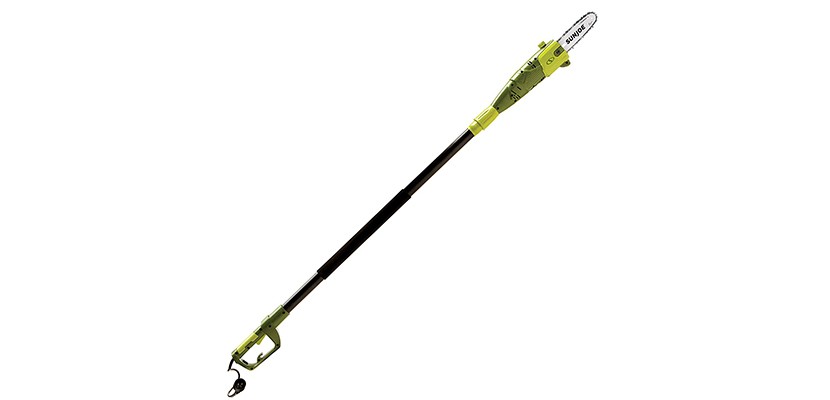 This corded saw from Sun Joe has 68.5 x 5.9 x 5.9 inches of size dimensions and features a telescoping pole that extends up to 8.7 feet. The 6.5-Amp motor has enough power to handle 7.5-inch thick branches. Weighing only 7 pounds, this is also a lightweight pole saw.
The Sun Joe SWJ800E is very simple to use. Turning it on can be done in a matter of seconds as you only need to hold the safety lock button, press the trigger switch, and the saw starts immediately. During the working process, the saw remains quiet enough to provide hours of convenient work.
Except for the safety lock button, this model has a bunch of other safety features, like low kickback chain and bumper spikes to provide stability of cutting.
The saw is supplied with a high-quality 8-inch Oregon cutting bar. It also has a chain with automatic lubrication. The chain tensioning is effortless and requires just a turn of a screw.
The non-slip foam grip absorbs shocks and vibrations during the cutting. The saw also features a restraint hook which prevents drag on the extension cord.
Pros
The pole is rigid and doesn't wobble at a full-reach.
It comes with a screwdriver and a scabbard for blade protection.
Cons
The chain tends to dull quite quickly.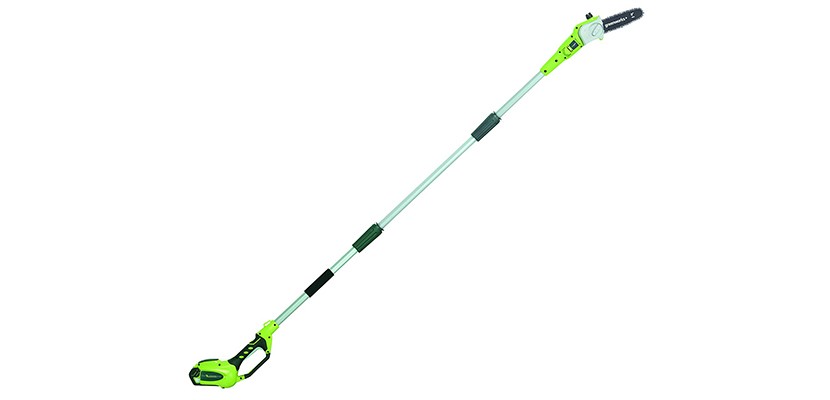 This model is one of the lightest Greenworks pole saws, weighing 8.36 pounds. It has a 3-piece shaft which can be extended to 8 feet. The overall dimensions of the saw are 107 x 7 x 7.5 inches.
The 8-inch bar allows cutting branches with a diameter of no more than 6 inches. The tool stays stable during work thanks to the cushioned grip which also helps avoid vibrations of the blade.
The unit goes with a 2Ah lithium battery which provides up to 65 cuts on one charge. The charger is also included in the kit. The built-in battery indicator will keep you aware of how much power has left. It also features an easily adjustable tensioning system for quick chain tightening.
The Greenworks 20672 has an automatic oiler that applies oil to both bar and chain when it's needed so you don't have to do it by yourself to ensure durability and optimal use of the tool.
Pros
The pole is made of solid aluminum so it's quite durable.
Low noise level.
It starts working quickly thanks to instant electric start feature.
Cons
It goes without a shoulder strap and storage case.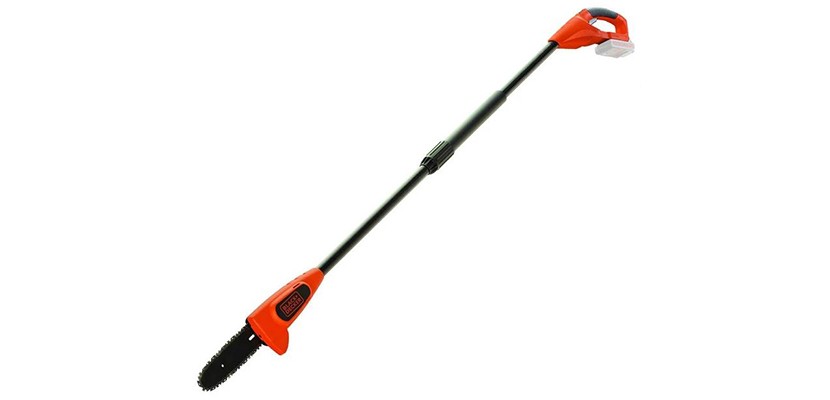 This model from BLACK+DECKER has one of the longest overhead reaches (14 feet). It is 8.25 x 8.13 x 44.5 inches in size with adjustable length so you won't have problems with storing the saw. Having 6.3 pounds of weight, it ensures convenient cutting even at its maximum reach.
The 8-inch cutting bar and chain allow cutting branches up to 6 inches in diameter. The in-line power-head ensures good maneuverability and visibility between branches that you want to cut. It also has the blade guards for safe handling.
This model can be the best cordless pole saw for you if you have a lot of trees around your house as it uses the 20V battery which ensures up to 100 cuts per charge. However, both the battery and charger aren't included in the kit. Although it's not an issue if you have another BLACK+DECKER tool as you can use the battery from the lawn or power tool which is made by the same manufacturer.
Pros
It comes with a storage bag and can be disassembled for easy transport.
The plastic cover sits tight.
Can be disassembled into three pieces for easy storage.
Cons
The tension is not adjustable.
It doesn't have an automatic oiler.


The Fiskars pole saw is a long-lasting and robust tool based on chain-driven gear. The unit has sharp clippers and a removable saw blade to provide easy and fast cutting. Both saw and clippers' blades are made of hardened steel that is immune to sliding abrasion. The saw pole is easy to work due to a handle sliding up and down on the shaft. A strong cable helps manage the clippers when the pole is completely extended, and the user cannot reach the handle.
This pruner is a lightweight tool (4.34 pounds) made of aluminum and plastic. It is easy to use thanks to a telescopic construction that allows expanding the pole from 7.9 up to 12 feet. The unit has a suitable length and shape to remove the highest tree branches and work in hard-to-reach places. It trims branches with a diameter of up to 1.25 inches that match even the professional gardeners' tasks to maintain the numerous tall trees.
Pros
It's possible to adjust the angle of the clippers to make clean cuts.
It's easy to attach a saw blade on and off with a clamp.
The double locking system provides high security of using the tool.
Cons
The Fiskars sometimes struggles to handle the thickest branches; that's why it's necessary to use the end of the pole as a leverage by putting it on the ground.
The blade opens back up to cut the next limb too slowly.
Worx WG309 – best pole chain saw


This 40-link blade saw from WORX is supplied with an auto-tension chain system which significantly increases the operational lifespan of the tool. The powerful 8-Amp motor ensures consistent performance. With a large 120 ml oil tank capacity, you won't have to constantly keep an eye on it.
The saw has 42 x 8 x 9 inches, with a pole that extends up to 8 feet. The unit weighs 10.2 pounds which is quite heavy. The pole also features a detaching mechanism.
This model is one of the simplest ones you can find in our pole chainsaws reviews: it doesn't require any complex assembly and you won't need any additional tools to set up and adjust the saw to its optimal levels of performance.
Thanks to the non-slip ergonomic grip, you won't lose your hold on the tool's shaft even in wet weather. The grip is also specifically designed to reduce the weight of the unit as much as possible.
Pros
The availability of the auto-lubrication system.
The saw's design allows using it on the ground level as well.
Cons
The knob is quite bulky.
The oil can occasionally leak.
You have to constantly keep an eye on the chain as it may fall after some time of work.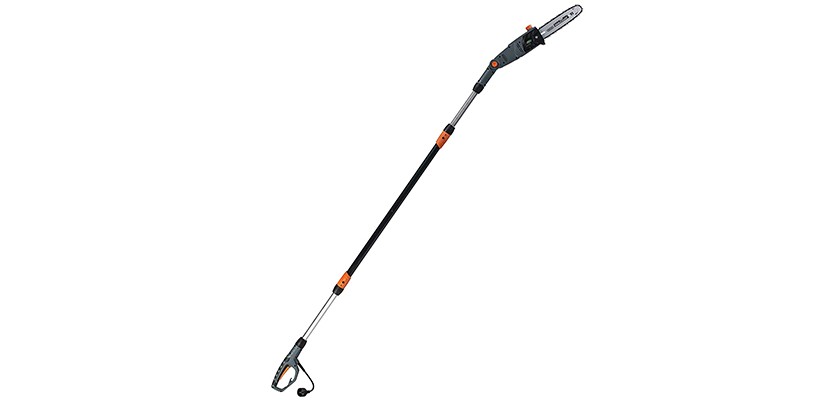 The PS45010S from Scotts Outdoor is supplied with a powerful 8-Amp motor and 10-inch Oregon bar. The pole is made of fiberglass – a special material that minimizes vibrations. It has 85 x 4 x 5 inches in size and features a fully adjustable pole that extends up to 9.5 inches. The saw's weight of 7 pounds makes it easy to maneuver.
This is one of the best pole saws in terms of adjustment possibilities: the chain has an adjustable 3-position cutting head which provides a fast and clean cut. Additionally, with the help of just two buttons, you can choose from five cutting angles. The bar and chain tension adjustments are automatic.
The saw goes with a protective blade cover which ensures effective protection and makes it easier to safely store the blade. It's also supplied with an automatic oiling system that keeps both bar and chain lubricated while you are working. There is an oil level window so you could immediately see when the saw is running out of oil.
Pros
There is a cord retention hook to avoid tangling and slipping.
The rubber molded handle features a foam grip for more convenient use.
The pole is easy to assemble.
Cons
The gears can break easily.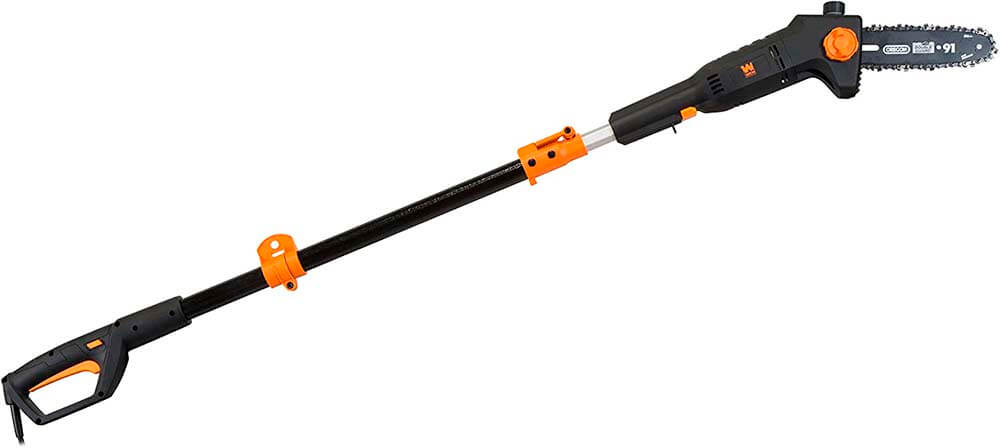 The telescopic electric corded Wen pole saw is designed to cut branches and trim trees to maintain various landscape projects. It cuts through the 6-inch branches with a single pass and thicker ones with a couple of passes.
The tool is remarkable for its automatic oil system with a 3-fluid-ounce tank that keeps the chain always well-oiled without interrupting the working process. The telescopic pole can be extended from 5.3 to 7.3 feet, and then to 12 feet, if necessary.
The high-quality 8-inch Oregon saw chain ensures low vibrations, tough, and sharp cutters, resulting in a seamless performance. It's possible to adjust the saw's tension to make the saw stable, avoid its vibrations, and provide straight cutting. The 6-amp motor lets the chain make 36-feet rotations for fast cutting.
The saw is angled to facilitate cutting since the users can see the position they put it in to start working. The unit is easy to assemble by sliding the blade end of the handle into the base and flipping the latch to lock it into place.
Pros
It has a loop that prevents it from sliding down while the user is holding it high up in the air.
The electric engine runs quietly.
Cons
The tensioner is plastic and easily comes off track.
The cord is too short (1.5 feet) that requires a long extension cord to reach the outlet.
Buyer's Guide
What is a Pole Saw and Its Types
A pole saw is a tool for pruning high tree branches standing on the ground which makes the process faster, efficient, and safer. Its construction consists of a drive and a cutting mechanism, which is placed on a long pole. This pole allows for reaching from 8 to 15 feet. Since this tool is designed to be used while being attached to a pole, it's usually much thinner and smaller than a standard chainsaw.
In terms of fuel, there are three types:
Gas-powered
The gas-powered pole saws use a 2-stroke engine that is fueled by gas. This is the most powerful type of these devices and is commonly used by professionals. It's perfect for pruning thick branches. As it offers the highest amount of cutting power, it consequently has an increased noise level. The weight of a gas-powered pole saw also significantly exceeds the weight of its electric analogs. Additionally, it requires regular maintenance, such as attention to spark plugs, filters, etc.
Electric
The electric pole saw is electrical powered which means that you will be limited in how far you can cut by the cord length. It doesn't create inconvenience due to increased noise level and remains virtually silent during the whole working process. It trims wood without leaving raggy areas on cuts. Besides, the electric tool is one of the lightest and usually weighs less than 15 pounds. However, it doesn't allow cutting in hard-to-reach areas. It's also not so powerful: its power is enough to work with branches that have 2-5 inches in diameter.
Battery-powered
The battery-powered pole saw combines the quiet operation of electric models and the power of gas-powered models. It's powered by rechargeable batteries and is a good choice for those who don't want to be limited by the cord. This is also a highly maneuverable device for cutting the hardest-to-reach areas. It's also quite lightweight (7-13 pounds) and works with branches that are 3-8 inches in diameter. The battery-powered pole saws don't work silently, but they are quieter than the gas-powered models. However, with all its advantages, it's also the most expensive.
Instructions on How to Use it
The pole saws are simple enough to be perfectly suitable in the household. It may seem a hard task at first, especially for the beginners, but you will easily cope with it by following the next steps:
Remember about safety
Hold the tool only with both hands and don't raise it too high. The angle of inclination must not be bigger than 60° so it is forbidden to saw branches that are located directly above your head because it can injure you. In any case, you should necessarily wear a helmet to protect yourself from an accident and gloves for a better grip and hands protection. The safety goggles are also highly recommended — they will protect your eyes from wood dust. In terms of clothes, it's necessary to wear long pants that are able to protect you from the flaying derbies. You also should remember that you must never work near power lines.
Prepare the working area
Clean the place where you are planning to work from property and potential hazards — you should move freely and safely in the area. Make sure that you are standing on solid ground.
Also, ensure to keep people away from entering the working space.
Start cutting
Most people start cutting from the middle of the top branches, but that's wrong: it's right to start cutting from the bottom. Set the pole saw at its max speed and start cutting perpendicular to the branch so that your strokes bite in as much as possible. Cut each branch in three to four cuts. The tool cut on the pull stroke, so don't pressure too much: the gravity will do its work. You also shouldn't try to cut branches that are thicker than 8 inches: the pole saw isn't used for this. It's also recommended using ropes to reduce the fallen speed of especially heavy branches.
Finish the work
Cut all the fallen branches into smaller cuts because this is the most convenient way to transport them.
How to Choose the Best Tool
Like all the power tools, the pole saw must fit your own needs and provide convenient work. Consider the following features before placing an order:
Weight
This is the first thing to consider as you must be able to work with it without putting tremendous amounts of pressure on your arms and shoulders. A good pole saw needs to be reasonably lightweight. If the saw is too heavy, it can be tiring to raise it above your head. If it's heavier than 20 pounds, you will hardly be able to work with it for too long, regardless of your physical shape and age. You should also make sure that the handgrip is convenient enough, it would be better to choose the one with rubberized inserts — they prevent the tool from slipping and provide a reliable grip.
Working height
Don't go for the saw with the highest working height — consider the length of your arm as well. The length of the pole should be easily adjustable, and it should have a convenient system for adjusting the angle of inclination so you could comfortably work with branches that are located on different heights.
Cutting bar length
The maximum diameter of the branches that you will be able to cut with your tool depends on the cutting bar length. It varies from 2 to 8 inches. It's better to choose the pole saw with cutting bar able to cut branches that are minimum two inches thicker than the branches you are going to cut. This will ensure the longevity of the tool and will make the cutting process easier.
Additional features
Many pole saws come with some additional features which make them easier to operate. For example, some of them come with an anti-vibration feature, with a self-oiling chain, or with blade guards that protect the user from sharp blades. Such features obviously make the tool more expensive in comparison with models that have simpler functionality. However, if you need a pole saw that provides an increased level of convenience, you should consider such features.