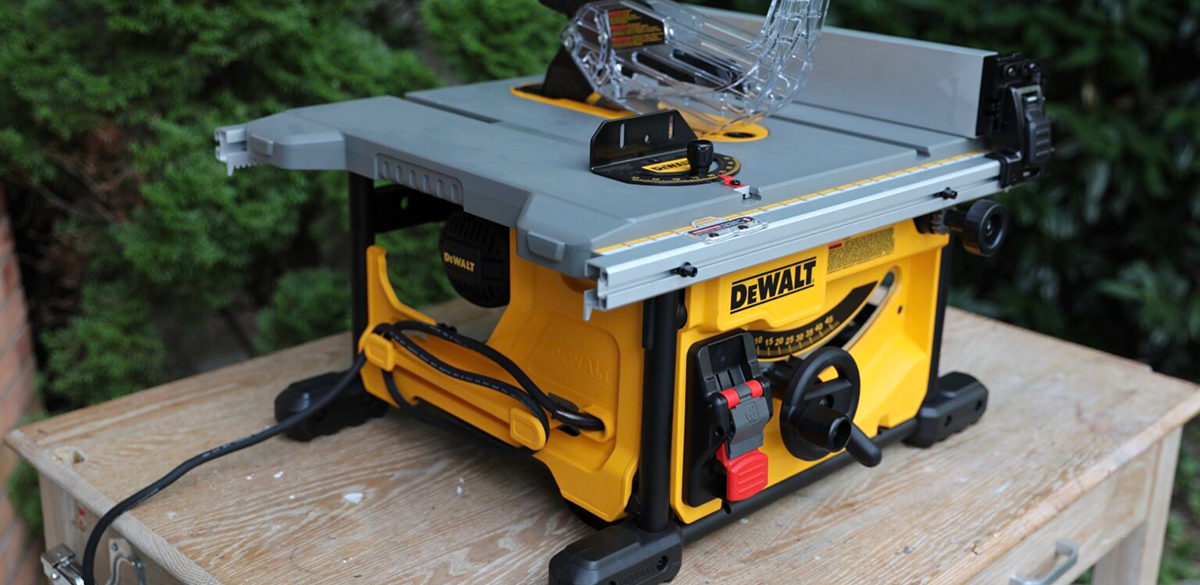 A table saw is a woodworking tool driven by an electric motor. It consists of a disc-shaped saw blade mounted underneath the table. It's one of the most difficult tools to use at home, so a little help choosing the best table saw for beginners will come in handy.

Table saws are useful for a wide range of tasks. When you need to make an accurate, straight cut in wood board with minimal effort, this tool is exactly what you need. In general, there are 6 main table saw uses:
Cutting large boards. Most commonly, table saws are used to cut large boards to width into smaller pieces that are more convenient to handle.
Cross cutting. You can make either straight or angled cuts perpendicular to the board.
Bevel cutting. Any table saw can change a cutting edge angle which allows making bevel cuts. You can use an angle measure to ensure that the angle is perfect.
Making cutouts and grooves. You can cut long, slim channels in the board, as well as rabbets on the edge of the board.
Cutting joints. With a table saw, you can also make a wide variety of joints, including lap, tanon, dado, et cetera.
Making curves and bends. A table saw can also be used to add "flexibility" to a wood board by cutting curves and bends.
A high-quality table saw must give you the opportunity to make cuts quickly, safely, and efficiently. Read on to choose the most suitable model among our favorites. And if you want to learn more about what is the best table saw for a beginner and how to use it, read our buyer's guide.
Cordless Ratchet Reviews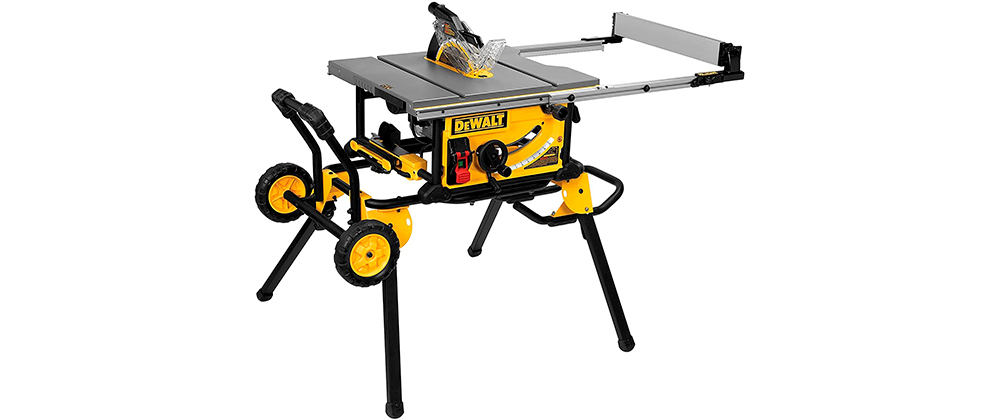 This model can be the safest table saw for beginners, thanks to its well-thought-out guarding system. It comes with a set of guards that will shield your hands from the blade in the event of an accidental slip. You can even change the position of these guards when you need to see the blade. The riving knife behind the blade prevents the kickbacks. The power button has a flip cover, so the blade can be turned on only when you need it. There is also onboard storage where you can place all the guard components for quick access.
This table saw has a 10-inch blade and comes with a rolling stand that provides superior stability and is easy to set up. This stand also features large wheels, so you can easily transport the table over steps and curbs to another workplace.
The whole unit measures 31 x 24.5 x 31 inches and weighs 90 pounds. The table is sized at 26.25 x 22 inches, so you will get enough support for large wood boards.
Although this model is far from being cheap, it can be the best table saw for beginners in terms of power on our list. It's equipped with a powerful, 15A high-torque motor that allows it to easily work with hardwoods. The 24-tooth blade has a 32.5-inch rip capacity and a maximum cut depth of 3.125 inches. The no-load speed is 4800 RPM.
This table saw for beginners also has a 2-inch dust collection port to which you can connect a vacuum cleaner to get rid of dust and keep the saw clean.
Pros
The built-in rolling stand easily dampens vibrations.
The rack and pinion fence system is easy-to-use and accurate.
The saw can be folded up very easily, making it perfect for those who need a portable model.
Cons
The miter gauge is not precise, so you should consider purchasing a higher-quality third-party miter gauge.
There is no additional anti-kickback pawl that is present in many cheaper table saws.
Overall rating: 9/10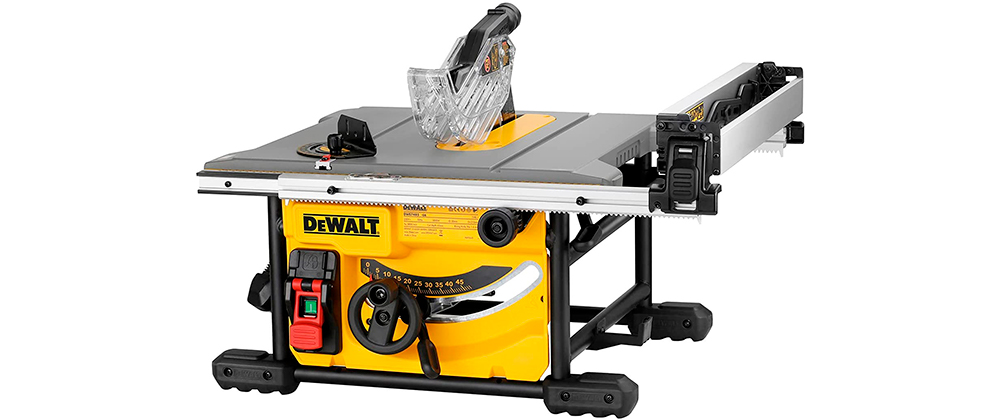 This tool can be the best table saw for beginners for those searching for a truly compact model. It measures just 22.75 x 22.75 x 13 inches and weighs only 47 pounds, so it's perfectly suitable for frequent transportations and limited storage spaces. There is also a handle, so you can conveniently carry the unit.
All the controls on the saw are clearly marked and easy to use. Thanks to the rack and pinion telescoping fence rails, it's easy to make the fence adjustments.
If you are looking for the best table saw for a beginner that is both compact and powerful, look no further: this unit is powered by a 15A motor, just like bigger and heavier models from the brand. The motor provides 5800 RPM of no-load speed and 24.5 inches of rip capacity to the right of the blade (from 4 to 8 plywood sheets or OSB). The blade is 8.5 inches long, so it can't cut through very thick materials. The angle can be changed from 90° to 45°.
In terms of safety, this table saw for beginners comes with anti-kickback pawls, a riving knife, and a modular guard system. There is an onboard storage space for all the guarding components.
Pros
The metal roll cage ensures excellent durability.
The smaller-than-average blade helps reduce kickbacks.
The unit features two dust ports: one for standard shop vacuums and one for larger dust extraction hoses.
Cons
The saw ships without a wheeled base.
It doesn't support dado stacks.
The saw is not suitable for left-handed users since it has limited rip capacity to the left of the blade (12 inches).
Overall rating: 9/10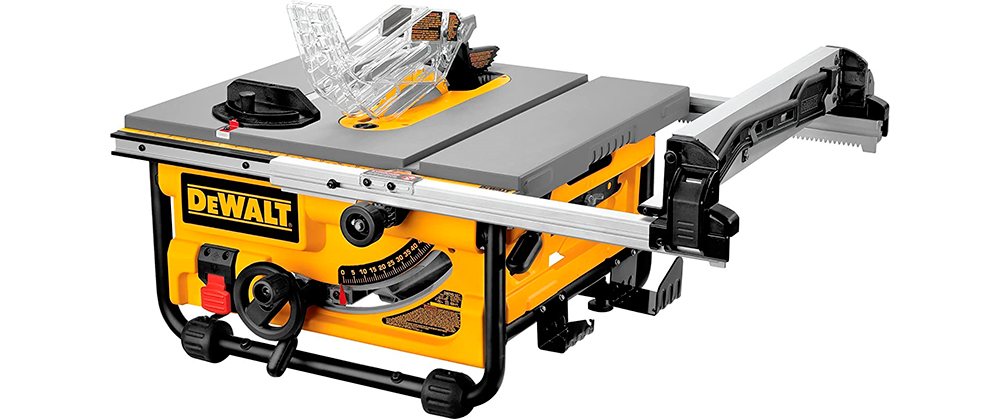 Searching for the best table saw for a beginner in terms of power, you may be interested in this model from Dewalt. Its high-torque 15A motor makes it easy and quick to cut through thick materials. It delivers 3850 RPM of no-load speed. This way, the saw can easily handle hardwood and pressure-treated lumber. The max ripping capacity is 20 inches on the right and 12 inches on the left.
This table saw for beginners features the Site-Pro modular guarding system that makes it easy and safe to cut at difficult angles and make custom setups. This saw has a maximum cut depth of 3.25 inches at 90° and 2.25 inches at 45°. The 2.5-inch dust port is compatible with most shop vacuums.
The blade is 10 inches long and has 24 teeth. The whole unit is 25.75 inches long, 26.5 inches wide, and 13.87 inches high, and weighs just 45 pounds. This makes it one of the best table saws for beginners in terms of portability in its class.
Pros
The is a special steel roll cage that protects the saw from drops and shocks.
The unit is equipped with an overload protection system; it can be used with hard, wet, or frozen wood.
A table surface's special coating reduces friction, allowing you to make more precise cuts.
Cons
It's hard to extract dust from a dust port.
The miter gauge is fragile as it's made of poor-quality plastic.
Overall rating: 8/10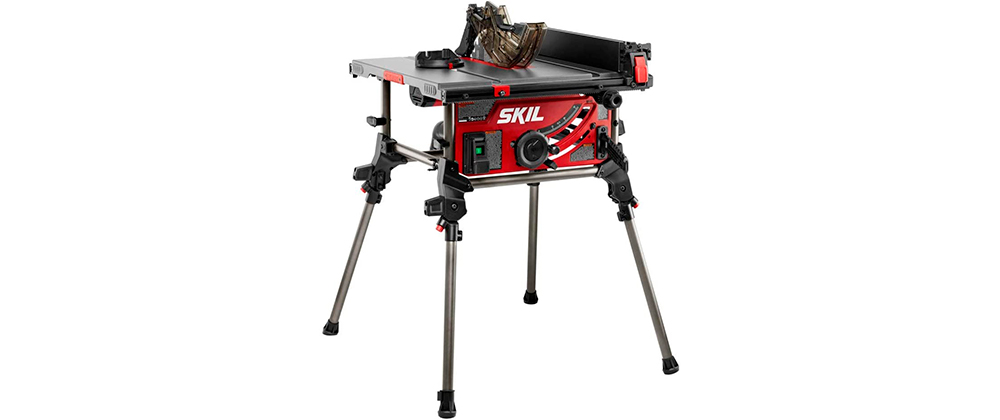 Being among quite powerful table saws for beginners, this model features a 15A motor that delivers 4600 RPM of no-load speed. The blade is 10 inches long and has 24 teeth. It also allows for a great 2°–47° bevel cut capacity. Many models in the same category do not have such a range. This blade has a maximum cutting depth of 3.5 inches (2.5 inches at 45° bevel cut).
This model can also be considered as one of the best table saws for beginners in terms of portability, as it measures 27.17 x 28.74 x 16.93 inches. The table is 24 inches wide and 25 inches long. The weight is 51 pounds. It also has foldable integrated legs, making the unit easy to transport and store.
This is a really good table saw for beginners since the blade alignment is parallel to the rip fence, making blade adjustments easier.
Pros
The table is made of cast aluminum that inspires durability.
It's very easy to adjust the rack and pinion fence.
This table saw is capable of handling dado blades with a maximum width of 0.62 inches.
Cons
It lacks a bit in terms of accuracy.
The stand doesn't have wheels.
Overall rating: 8/10
This model can't be considered as the best table saw for a beginner woodworker in terms of portability as it's sized at 29 x 32 x 13.25 inches and weighs 60 pounds. Nevertheless, there is a foldable table stand that makes storing the unit more convenient.
The saw is equipped with a 15A motor that has 4 HP and allows for 3650 RPM of no-load speed. The length of the blade is 10 inches. It has a 25-inch peak cutting capacity. The barrier guard provides a high level of safety.
Thanks to its steel construction, this model has the potential to be the best table saw for a woodworking beginner in terms of sturdiness. The unit also has a gravity-rise design with convenient carrying handles. This table saw also has two large, 8-inch rubber wheels, allowing you to transport it over rough terrain. The arbor lock allows you to easily change the blades.
Pros
The soft-start reduces the start-up torque and lets the unit maintain constant speed.
The saw is equipped with a sub-base that ensures excellent stability.
The feet can be adjusted to the most comfortable working position.
Cons
The fence mechanism can be tricky when sliding.
The dust accumulates on the blade's lowering mechanism and is difficult to clean.
Overall rating: 8/10
Buyers Guide
How to Use a Table Saw for Beginners
Simply put, a table saw is a circular saw mounted under a table with a disc (blade) protruding above the surface. So, what do you need to know before buying one? In the next paragraphs, you will find the table saw tips for beginners that will help you cope with this tool as quickly as possible.
Support
For your safety, it's important to ensure that you have enough support while working with the material. A stable surface will also allow you to make straighter cuts. You need to know how wide the saw's rip fence extends to make sure that you will have enough support while ripping the material.
Wax
Wax is what allows the material to slide more easily across the blade, so it's recommended to apply some on top of the blade (the special wax can be bought in any woodworking store). However, make sure not to apply much. Otherwise, you risk ruining your next woodworking project.
Blade angle
Before using the saw, it's still very important to make sure that the blade is at the required angle position. To check if it really is, you can use a speed square. If it's not, make the necessary adjustments.
Blade guard
The best table saw for beginners should definitely have a reliable blade guard because it protects your hands from the blade while you are working with the saw. It just keeps your hands away from the blade and makes your work more convenient by preventing the wood from kicking back if it's accidentally dropped on a spinning blade. Some models also have anti-kickback pawls to prevent wood pieces from shooting back in your direction by grabbing them.
However, in the cases when you need to install a riving knife, you will have to remove the blade guard and the anti-kickback pawls as they can't be used together.
Three pressures
When using the table saw, it's necessary to ensure that you have pressure on the wood board at 3 points: forward, downward, and inward. For this, you will have to use two push sticks that will allow you to keep pressure on all three points: in the center, on the left, and on the right side. The side pressure must be applied to the wood, not to the blade. However, keep in mind that using a push stick when the board's edge is hanging off the table may result in a kickback.
Dust port
Vacuuming your table saw on a regular basis will keep dust from accumulating in the mechanisms of your saw. For this, locate a dust port on the tool where you can attach a vacuum cleaner. You won't need anything special: a standard vacuum will do the job.
Depth of the blade
The blade should extend at around 0.25 inches above the wood board's top. To set the blade in this position, most models are usually equipped with special wheels that allow raising and lowering the blade.
Board position
It's important to not just keep an eye on the cut but also make sure that the board is always in the right position. It's necessary to always check that the board is perfectly flat and there are no gaps. This also means that you can only use wood boards that are perfectly smooth.
Rip fence
For long boards, it's necessary to use the rip fence. However, avoid using it on the board's narrow and short edges, as this may result in a kickback.