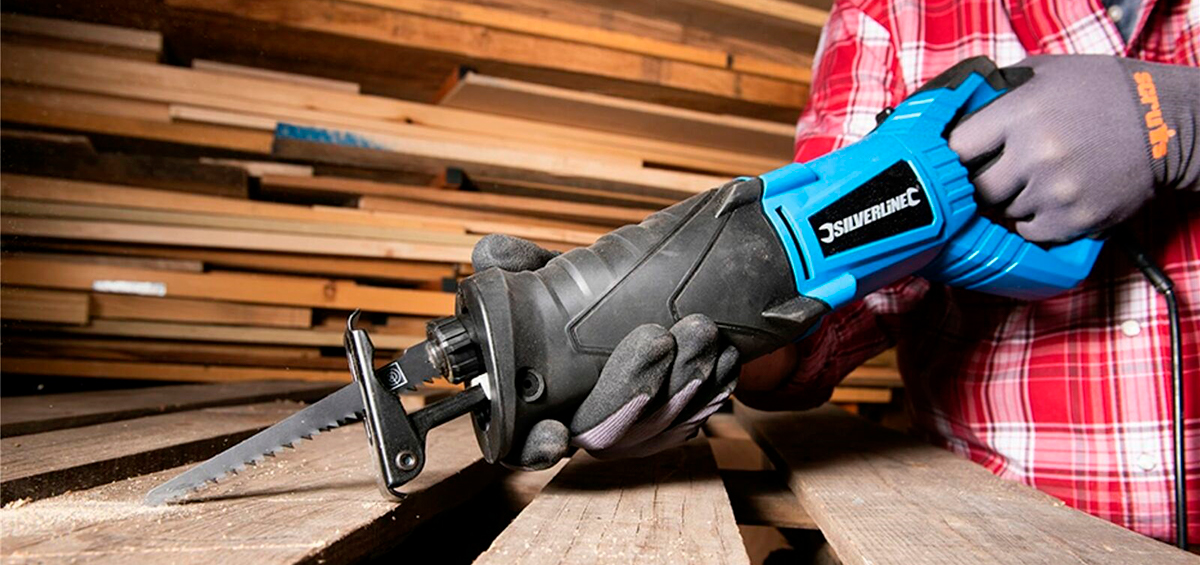 If you are looking for the best reciprocating saw, you probably know that this popular power tool has something in common with a drill and a jigsaw. The hacksaw blade oscillates not only in a linear motion but also in a pendular motion, moving back and forth and rising as it returns to its starting position. This implies that the cutting edge does not traverse the same spot twice and the blade is automatically retracted. All these lead to the friction of the hacksaw on the cut surface reducing, which, in turn, facilitates and speeds up the work. Consequently, excessive physical effort and frequent changing of the saw's removable part are not required.

Decent reciprocating saws have the following useful characteristics:
These blades can easily access hard-to-reach areas.
Narrow sawing blades are able to make curly cuts. The cutting blade bends easily and can be exploited in this position.
There is not a large amount of dust, sparks, and scales during the working process.
It is safe to use and does not require excessive concentration during operation.
If you replace the saw blade with a metal brush, it can remove rust or old coating (there is such an option for some models).
Manufacturers present different models, so before making a purchase, you should familiarize yourself with our reviews and the reciprocating saw buying guide, among which you'll definitely find the tool that meets your demands.
Reciprocating Saw Reviews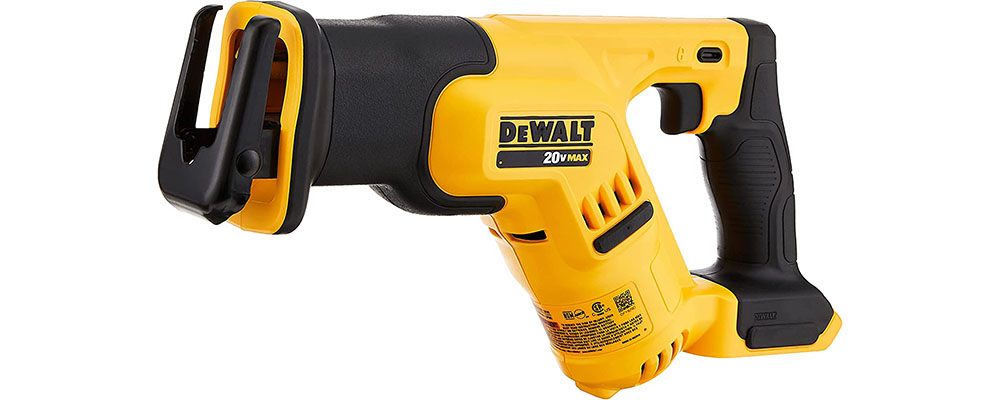 The DEWALT DCS387B is a top-of-the-line mini reciprocating saw that offers impressive cutting performance in a compact and easy-to-use package. With its one-handed design and ergonomic grip, this recip saw is ideal for both professionals and DIY enthusiasts who need to make quick and precise cuts in tight spaces.
Measuring 14.75 x 6.75 x 4.13 inches and weighing just 5 pounds, the DCS387B is a lightweight and portable reciprocating saw that is easy to maneuver and control. It features a powerful 20-volt battery that delivers up to 2,900 strokes per minute (SPM), allowing it to make quick work of wood, metal, PVC, and other materials.
The saw's 1-inch stroke length and brake function make it easy to make precise cuts, while the adjustable shoe plate and pivot function allow you to make cuts at various angles. Additionally, the saw's compact design makes it easy to access tight spaces and the LED light provides visibility in dark areas.
The DCS387B can cut through branches up to 1-5/8 inches in diameter and has a 4-position blade clamp for easy blade changes. The saw also comes with a variable speed trigger that provides optimal speed control and allows you to adjust the saw's cutting speed according to the task at hand.
Overall, the DEWALT one-handed reciprocating saw is a top reciprocating saw that delivers impressive cutting performance in a compact and easy-to-use package. Whether you're a professional contractor or a DIY enthusiast, this recip saw is sure to meet all your cutting needs.
Pros
This model comes with a great feature that allows you to switch the blade 90 degrees to access tight spots with ease.
The tool has a functional and easy-to-use blade insertion and removal mechanism that allows you to quickly and effortlessly change the blade without the need for any additional tools.
Cons
It does not come with batteries, which must be purchased separately.
The tool may have a tendency to overheat during use, especially when exposed to direct sunlight or used for extended periods of time. It can stop working until it cools off, which can be frustrating and interrupt workflow.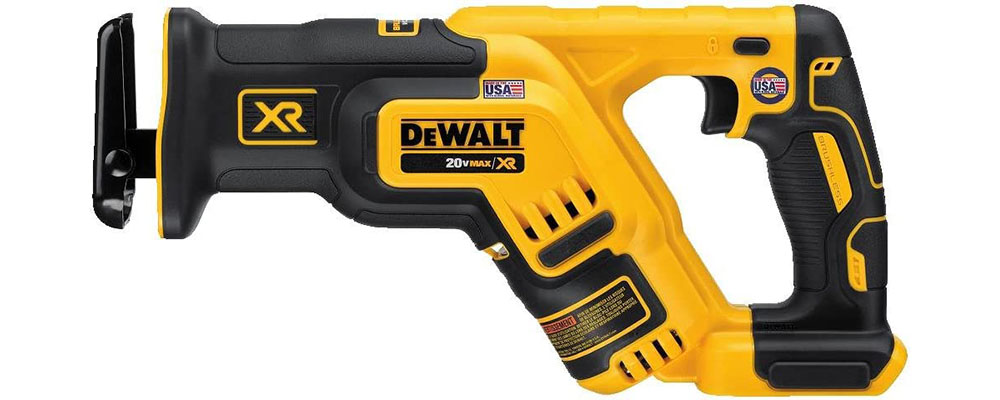 When researching cordless reciprocating saw reviews, you're likely to come across the DEWALT DCS367B. With its 20V MAX battery, this saw delivers exceptional power and runtime, making it a reliable tool for both professionals and DIY enthusiasts.
Measuring 14.5 inches in length and weighing just over 5 pounds, the DCS367B is a compact and lightweight reciprocating saw that is easy to maneuver and control. It features a keyless 4-position blade clamp that allows for quick and easy blade changes, saving you time and effort on the job.
The saw's 1-1/8-inch stroke length and 2,900 strokes per minute (SPM) make it capable of cutting through a variety of materials, including wood, metal, and plastics, with ease. Additionally, the saw comes with an LED light that provides visibility in low-light conditions, making it easy to work in dimly lit areas.
One of the standout features of the DCS367B is its brushless motor, which provides improved efficiency and performance over traditional brushed motors. The motor is also designed to run cooler and last longer, ensuring that the saw stays in top working condition for years to come.
Overall, the DEWALT DCS367B cordless reciprocating saw is an exceptional tool that has received glowing reviews from customers who have used it for various cutting tasks. With its compact size, powerful motor, and efficient battery, this saw is a reliable choice for professionals and DIY enthusiasts alike. If you're in the market for a high-quality reciprocating saw, the DCS367B is definitely worth considering.
Pros
Under consistent usage, a 6AH battery is capable of powering the tool for approximately 120 minutes.
The blade can be inserted in four different orientations for added flexibility and convenience.
This tool is intentionally designed to be compact and short enough to easily fit between common 16-inch center studs, making it an ideal tool for construction and renovation projects that require cutting in tight spaces.
Cons
A blade is not included with this tool and must be purchased separately.
The vibration of this reciprocating saw may cause discomfort during use, and cushioned grips can be added to help alleviate this issue.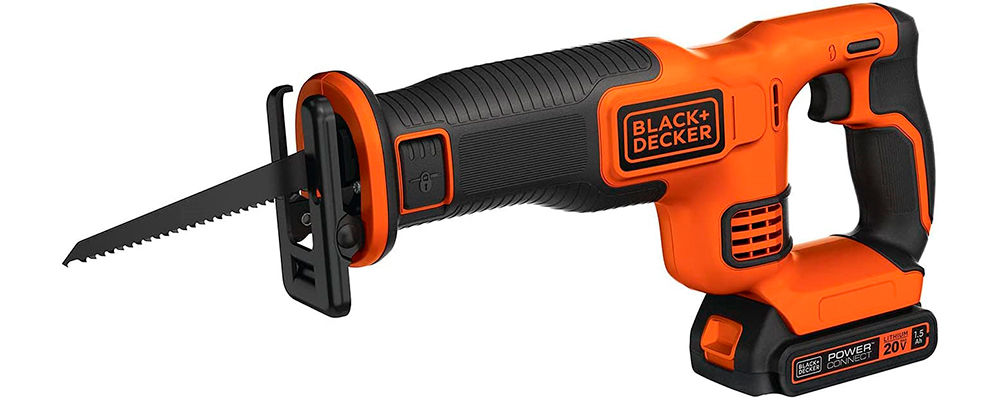 The saw is quite compact, being only slightly over 15 inches in length. With its dimensions of 7.13 inches by 3.44 inches, it is able to fit into narrow crevices that regular saws cannot access. It weighs 4.5lbs and can be operated even single-handed. Despite this, the motor is powerful enough to effortlessly handle 2.5-inch tree limbs.
This kit is an excellent starting point for your Black+Decker tool collection of top reciprocating saws, as it includes a charger compatible with Powerconnect batteries. It includes a Black and Decker reciprocating saw with a 5-inch blade and a 20V power bank that'll last you over an hour of continuous work.
After working on a stack of logs for two hours, I only had to replace the battery at the end of my work. I pushed the saw hard, often sawing at the maximum speed. This model is equipped with an electronic brake that stops the motion almost immediately. During idle periods, you can activate the lock to prevent the trigger from being accidentally pressed.
I liked the sturdiness of the saw construction. The blade motion had been even, producing no gaps or jumps, and the cuts were neat. I also tested the saw with a different blade on a thin metal sheet, and it was able to cut through it effortlessly. The tool's housing is sturdy, and I didn't feel it warm up throughout the work.
Pros
A lot of space at the handle makes it convenient for big-handed people to hold and use the tool.
The speed can be adjusted by increasing or decreasing the pressure on the trigger.
The saw accepts blades as long as 12 inches.
Cons
No case for storing the saw and blades is supplied.
The 6Ah battery takes a long time to recharge, approximately 4 hours, using the charger.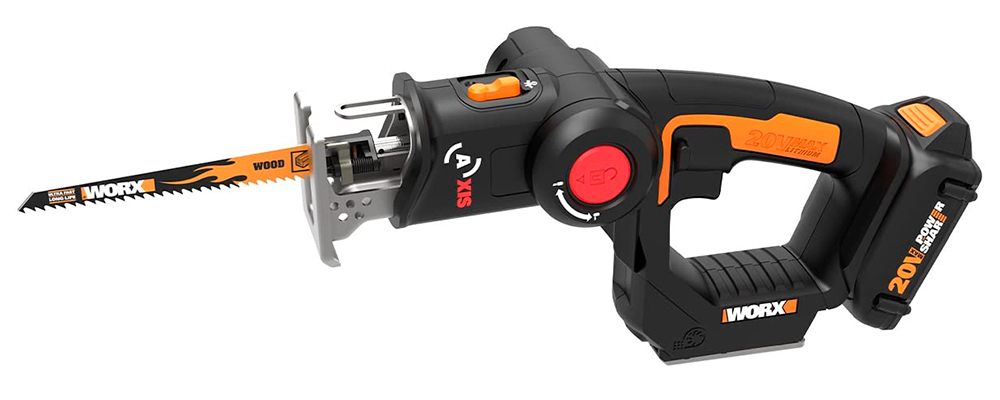 This unit has an important feature: it can be both a mini reciprocating saw and a jigsaw. The tool holder allows you to clamp blades of two types. The powerful motor is situated in a rotating head, while the electronics are concealed within the handle, resulting in a compact unit. A special snap button permits you to easily transform the tool from a jigsaw to a lightweight reciprocating saw (4.2 pounds). The unit has some ventilation holes, which reduce the overheating possibility. Cord absence makes it simple to use a tool even on a roof and in the garden. The battery is suitable for short operations, as it tends to lose its charge quickly under heavy load and may stop working. It is not suitable for working with hard materials and thick trees (due to the blade thickness and compactness), only for simple housework.
Pros
The tool features a backlit front end, which makes it convenient to use in dark environments.
Battery with charger is suitable for all 20V WORX models.
It is easy to get rid of sawdust by blowing it out.
Cons
There's no blade back stabilization so during the cutting process the unit leaves chewed up edges.
The vibration may be too intense.
Video Worx WX550L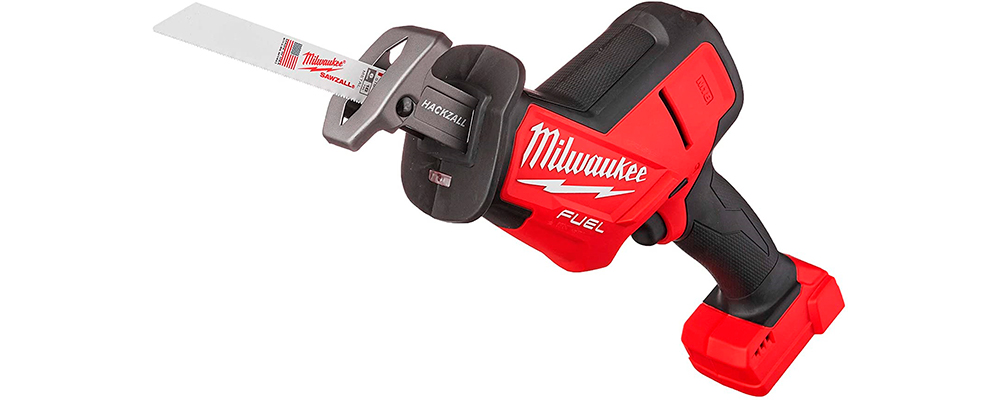 The lightweight yet sturdy construction is the first thing I'd like to accent on in this reciprocating saw review. Though solid and fully rubber construction at the spots of contact with the hand, this saw weighs 4.07lbs and can be used single-handed. Nonetheless, I have found that the large palm space at the front is very comfortable for the user, providing a stable and controllable grip on the tool.
Inside, the device holds a brushless motor, which works quietly, and is just slightly heard within 200ft. Powered with an 18V battery, it moves the blade at 3,000 SPM at no load, with a ⅞-inch stroke length. I tested the saw with blades of different lengths (a 6-inch blade for versatile use and a 12-inch blade for lumber), and was pleased with its minimal vibration and stable performance. Getting through the 4×4 lumber was easy: though the cut was a bit rougher than with the 2-inch boards, it was generally even.
I liked the compact design of this saw when I had to trim the young apple trees and get between the branches. The tool is just 15-inch long and 4.4-inch deep. The base plate is metal and pivoting. Despite not being a loose-motion type, it adapts well to surfaces, even when cutting a round metal pipe.
The tool features the speed adjustment via the trigger pressure and the safety lock. There's also the LED light right beneath the chuck, letting you see the worksite clearly.
Pros
Toolless blade replacement is possible via rotating the chuck.
The device implements the REDLINK Plus technology to ensure long battery life and motor protection.
Good weight-and-size balance is kept with the battery inserted.
Cons
There's no regulation mechanism for shoe extension.
The LED light cannot be turned off and remains on for a period of time after the motor has stopped.
Video Milwaukee 2719-20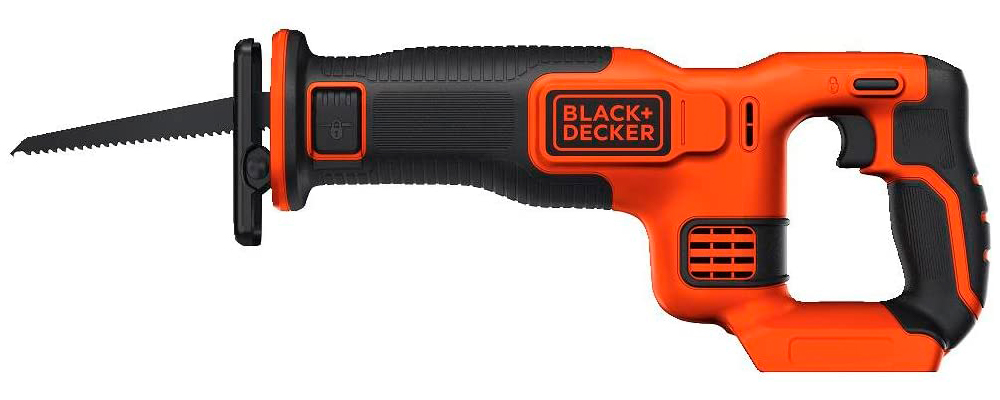 A DIYer and even a contractor will benefit from this compact cord-free saw with a good speed and little maintenance required. This cordless reciprocating saw weighs 3.9lbs without a power bank and 4.5lbs with a battery on.Therefore, it can be used by anyone in various locations, including for tasks performed while on a ladder.
The 5-inch blade coming in the package is quite sturdy and can be used on medium-sized tree limbs and thin plastic pipes. For metal works, you'll have to get another blade. The good news is the saw's mechanism accepts multiple blade brands, so it's easy to get a replacement.
The motor pushes the blade at 3,000 SPM maximum, with a ⅞-inch length of a single stroke. It means the 2-inch branch can be cut in a minute without applying much effort. The speed is regulated by the pressure applied to the trigger, which has a moderate sensitivity. It doesn't start at a light touch, but once you start the motor, you can regulate the speed with ease.
The assembly quality of this tool is high. The rubberized parts are grippy, and the saw fits well in the hands. The 20V battery can be easily inserted and removed with a single motion. It sustained 1h5min of constant operation when working around my paddock. The cuts were clean, and the ability to pivot the shoe was helpful in accessing tricky areas.
Pros
The sturdy housing remains stable and doesn't vibrate or jump, even when cutting through metal.
A trigger lock is a sound safety feature.
The tool keeps the speed high until the battery is empty (no slowing down at less charge level).
Cons
The clamp securing the blade is somewhat cumbersome to use, as it springs back to its position quickly.
There is no speed lock mechanism provided.
Video Black & Decker BDCR20B

This small reciprocating saw has a good assembly quality. There are metal gears in the mechanism, which protect the construction from a breakage even after falling from a small height. The blades can be mounted horizontally or vertically to accommodate different cutting needs. The item isn't heavy (8 pounds), but it might be difficult for some customers to deal with it. It's a decent choice for those who need the tool with a powerful engine (12 Amps) for heavy work. The DEWALT DWE305 throws some chips/dust around, so it's better to take care of safety gear. The cord itself is strong and thick, making it resistant to bending and difficult to break (it is coated with durable polyvinyl chloride). The unit has a soft launch that eliminates starting jerks and protects the tool from wear. Although it operates loudly, the noise produced does not have a significant negative impact on the user's overall well-being.
Pros
There's a keyless lever for clamping the blades that makes it easy to exchange the header.
I can control the speed using the provided triggers.
The cord is 6 feet long, which is absolutely enough for most operations in the house (if you want to work outside, it's better to get an electric generator).
Cons
There's no protection case for storing.
The set does not include any nozzles, so these must be purchased separately.
Video Dewalt DWE305
Dewalt DWE304 — Best Corded Reciprocating Saw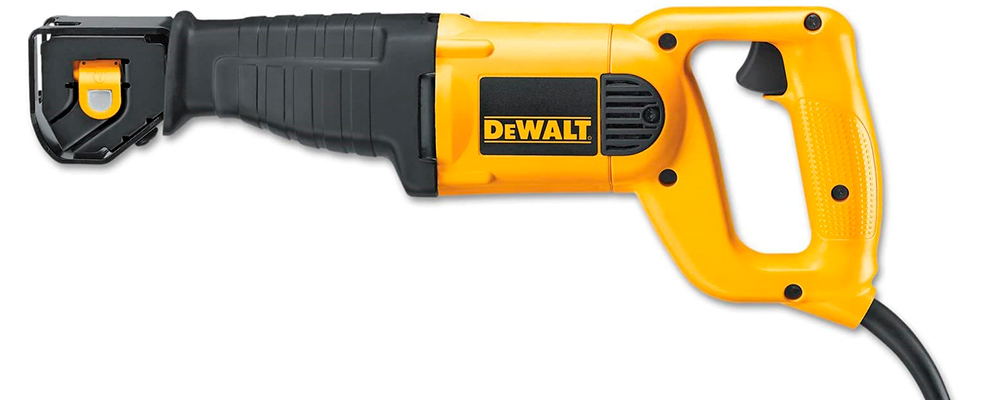 Taking the DWE304 saw in hand, I immediately felt its heavy-duty design. The tool is durable and well assembled, as well as large and heavy. The length of the electric saw body is 17.5 inches, and the blade adds another 8–12 inches. This saw weighs 7lbs and should be operated using two hands. One hand holds the tool by the handle while pressing on the trigger, while the other hand supports the fully rubberized front part. The saw works evenly: there's no vibration or feedback from the occasional stucks.
I tested this corded reciprocating saw on 4×4 lumber and thick metal water pipes. I used the wood and metal blades respectively, each of a 12-inch length. The stroke performed by the tool has a 1 ⅛-inch length. The motor in this device is very powerful. Rated at 10 Amps, it can make up to 2,800 SPM. This let me cut through pipes as quickly as through lumber and hardboard with nails. I found that even with thick 10-inch twigs, I could usually complete the cut in one attempt.
The chuck design lets you cut not just vertically but horizontally as well. The blade can be inserted in different positions, allowing for various types of cuts and experimentation with different cutting techniques. Switching the blade is quick thanks to the side clamp that should be pulled up/released for removing/inserting the chosen blade.
Pros
With its sensitive trigger, the tool allows for precise speed control, enabling you to adjust it to the exact speed needed for your task.
A large metal shoe additionally stabilizes and secures the blade motion.
The rubber coating is slightly overlapping to the front, securing the user's hand from sliding ahead.
Cons
There is no fixation with the safety trigger.
The shoe isn't adjustable.
Video Dewalt DWE304
Buyer's Guide
Reciprocating Saw Definition
What is a reciprocating saw? It is a type of electric saw due to which the cutting process (sawing) is carried out by reciprocating movements of the blade. The unit has interchangeable wedges resembling jigsaw blades but only of a bigger size. Because the sawing mechanism is comparable to that of a hand saw, but automated, such a reciprocating device is also known as an electric saw. It varies in power, speed, and functions, moreover, the unit size also depends on these parameters. There are low-power, cordless, compact, and also powerful high-speed, network-operated reciprocating models. Modern cordless electric facilities don't come short of instruments, powered by electricity in the context of performance level. The battery reserve improves dramatically, while charging time lowers. Pneumatic saws are often used in bulk repair because they have increased wear resistance.
How to Use a Reciprocating Saw?
Take note of the following suggestions:
First of all, it is mandatory to check the manual, choose the right blade (it has to be longer than the object you cut by only 2 inches), and insert it correctly into the chuck. Long and flexible blades are great for flashing anything or getting close to an object in an inaccessible place.
A reciprocating saw is a rather coarse instrument with strong vibration and, unlike a jigsaw, can damage the material being cut, such as laminate. You should protect the work surface by putting a piece of thermal insulation on the saw's plane sole and securing it with a tape.
When using a reciprocating unit for metal cutting, be in mind that the cutting blade will grow heated during operation. Whereupon it quickly dulls and becomes unsuitable for further use. In order to extend the cutting blade's performance, use a special lubricant for wedges during operation, which can be easily found in tool stores.
When working with a saw, it's important to reduce vibration by pressing the sole tightly to the surface of the material. As a consequence, by altering the height in either direction, you may achieve consistent wear on the cutting blade and considerably increase its life.
When sawing thick material, try to alternate the angle of the instrument. This reduces the contact area of the blade with the material, diminishes friction, and accelerates the cutting process.
Leave a couple of dull blades, they can still come in handy, for example, for cutting plastic pipes. When using the new ones, their sharp teeth can probably cling strongly to the plastic and pull the workpiece out of hand.
What are Reciprocating Saws Used for?
Some people before the unit purchasing ask: "What do you use a reciprocating saw for?" and here's the answer: specified saw belongs to the class of universal tools with a wide scope. It can give optimal comfort while performing.
Planned trees pruning in the garden.
Cutting logs for heating.
Metal pipes trimming.
Housebuilding processes (it works with such materials as wood, plastic, drywall, etc.)
Other maintenance works and carpentry.
Most home items may be cut fast and effectively with this instrument. Due to the narrow blade of the hacksaw, reciprocating saws can carve along a curved path, which significantly expands its scope. Of course, the user's experience is required, but with a developed eyesight measurement and the skill to work with similar equipment, you can quickly learn how to cut exactly along the marking line of any complexity. When selecting a unit, consider ergonomic features, rapid saw changing mechanisms, and the availability of vibration isolation.