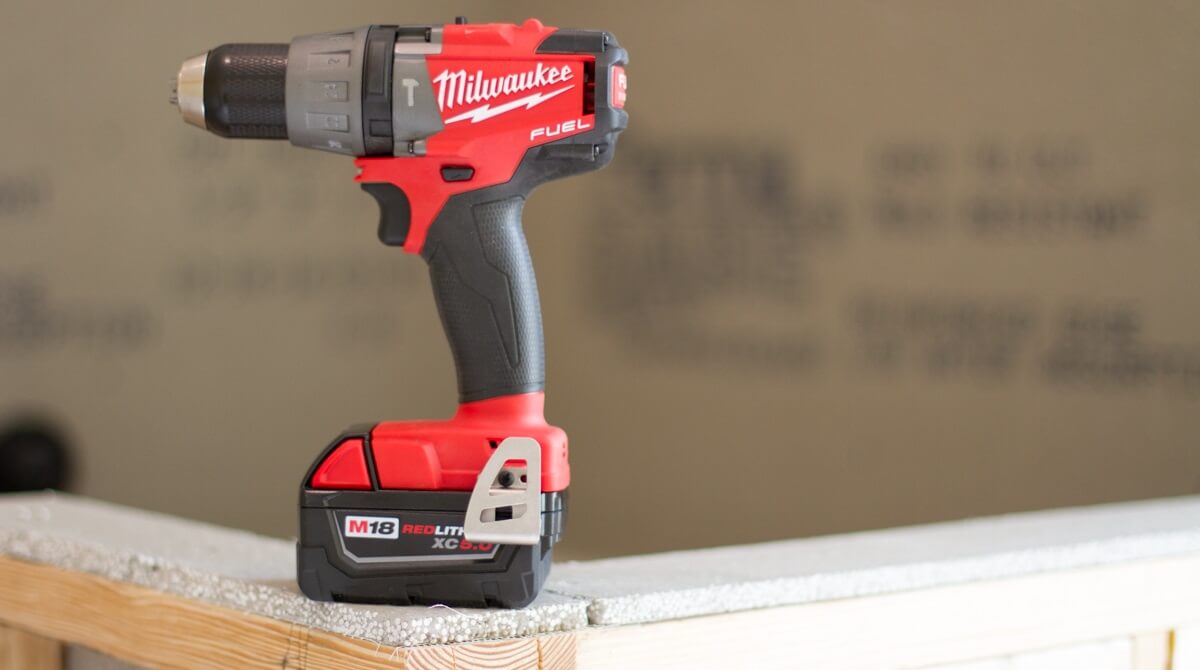 In order to detect the best cordless impact wrench, we analyzed the features and capabilities that each of the cordless impact wrenches performs. Our guide tells you about the various features and functions of each device: size, power, availability of LED lights, comfort grips, brushless motor, power regulation, and easy functioning.

A cordless impact wrench tool is needed for everyday work, whether it is a replacement of a tire in a car or household matters at home. The modern market is full of the best air impact wrenches, corded, or cordless ones. Indeed, it is pretty difficult to know exactly what you are looking for. Some of the devices do not have a lot of features that can satisfy an advanced user, but for their money, they provide the basic functions that are needed to work. And that is where our reviews will be helpful.
Best Cordless Impact Wrench Reviews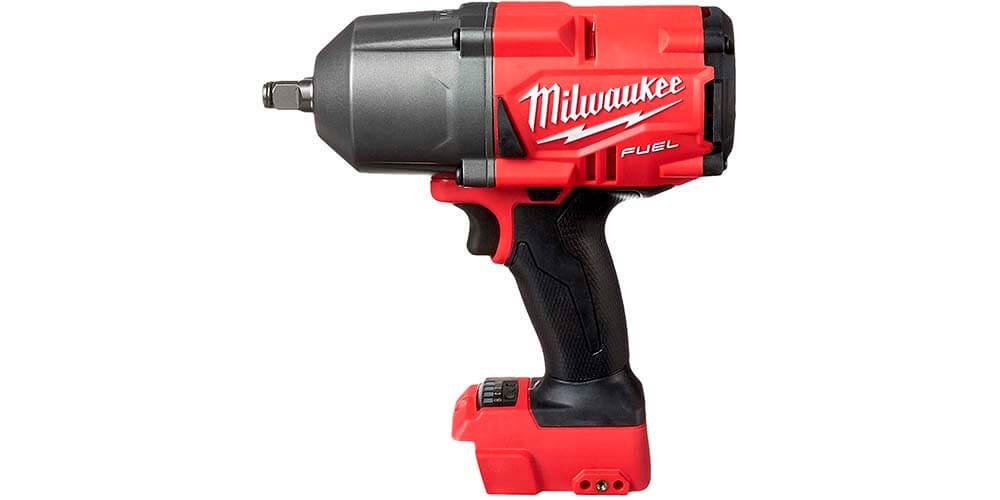 The 2767-20 is a high-torque 1/2-inch impact wrench that is mighty enough to substitute a pneumatic gadget when you need to get rid of the unshakable and rusted screws.
This impact wrench can offer 4 modes for removing different types of fasteners. These modes consist of three speeds and a bolt-removal mode. The last mode delivers maximum power. Generally, it provides 1000 ft-lbs of fastening torque and 1400 ft-lbs of nut-busting torque.
The Milwaukee cordless impact wrench features a Redlink Plus smart system that provides reliable protection from overloading and overheating. The unit uses a rechargeable battery which provides around 2 hours of work on one charge.
In terms of external look, the device comes in a standard for Milwaukee red and black design. To provide increased convenience during use, the impact wrench is covered with a premium-quality rubber that is also resistant to corrosive materials. It also has a LED light that illuminates the working area. The LED light, along with dedicated 4-mode drive control buttons, are located at the bottom of the device.
Having 8.39 inches in length, the present model is among the most compact ones. Thanks to such a compact design, you will easily get to the smallest nooks and crannies.
Pros
This model has the ability to remove high-torque fasteners
It works 2x faster than other similar models of the same size
The 2767-20 features a friction ring that facilitates the process of socket changing
Cons
Despite its compact size, this impact wrench is quite heavy, weighing 7.5 lbs (with battery)
The unit can get extremely hot during operation (up to 125°F)
The battery is not included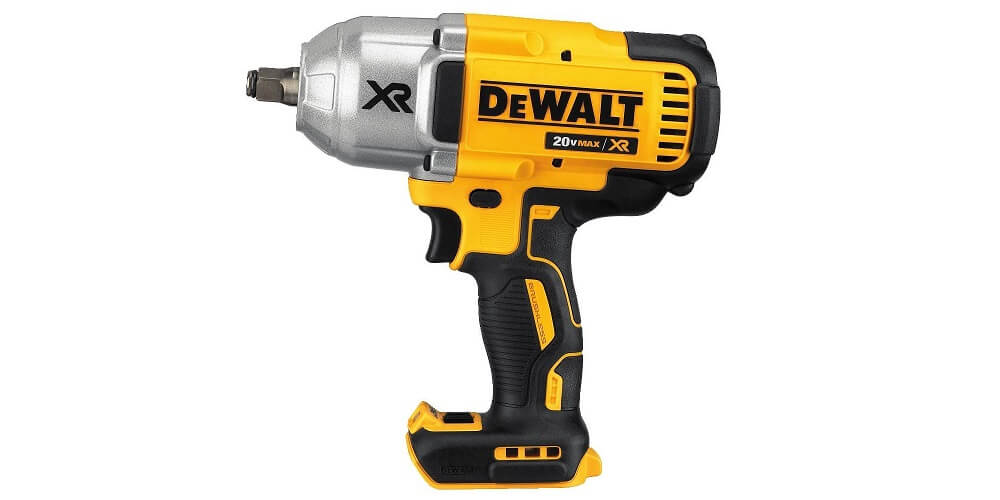 This cordless impact wrench is not multifunctional, its main task is to twist and unscrew a variety of bolts and nuts. Despite the limited scope of application, such a device is highly valued due to its high performance, mobility, speed, and reliability.
The body of this device is made of an aluminum-magnesium alloy that reduces the weighing up to 6.4 lbs to achieve great power.
Besides, the main advantage of this type of material is high thermal conductivity. The heat from the heating zones is given several times better. The gearbox of the tool is also metallic with extended, long service life.
Equipped with the DeWalt DCF830M2 lithium-ion battery XR li-ion model with a capacity of 4 Ah, voltage 14V. The battery provides a speed of rotation of the spindle up to 2 300 RPM.
The number of revolutions is set by the user at his own discretion. The power of the device at the same time reaches 450W, and the torque is 185 Nm. The intensity of the strikes is also regulated by the user in the range of 0 – 2 700 BPM. The anvil with a hog ring makes ½ inches.
For ease of use, the tool is equipped with a working area backlight, the ergonomic handle has a rubber base for comfort during long-term operation, the switch has a lock.
Pros
Maximum torque is 700 ft-lbs
Compact, stylish design with a length of 8 – 13/16 inches
Multi-speed control for various applications (400 / 1,200 / 1,900 revolutions per minute)
Friction ring with 1/2 stopper
LED illumination of low visible zones
High quality
3 tool speed options
The kit includes a charger, two batteries, and a tool case
Cons
Very loud
Doesn't offer torque adjustment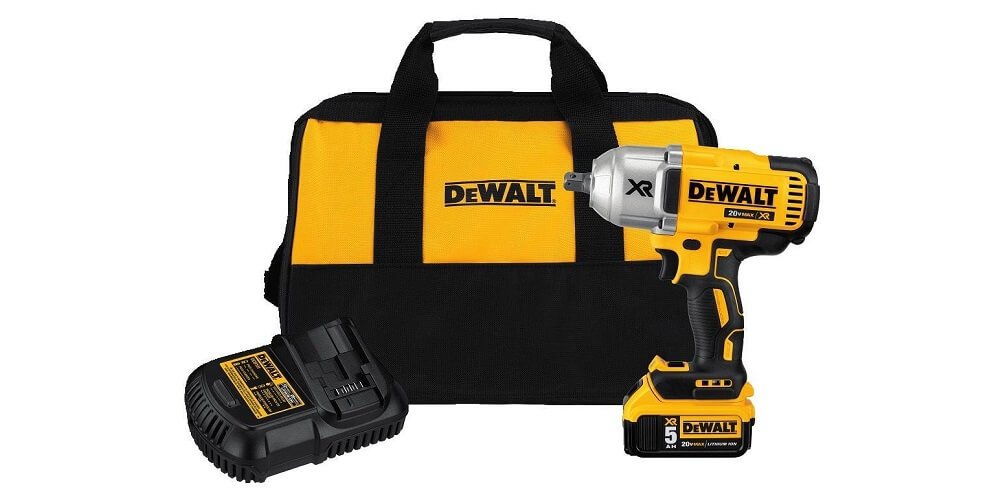 This device has all chances to become the best cordless impact wrench. It is quite popular among users, among its main advantages are compact design, multi-speed control, focus with a fixing pin, and also the function of LED backlighting when working with low-lit areas with a 20-second delay to increase the visibility of the zone.
Pros
Powerful engine for quick operation
High-performance impact mechanism with a maximum torque of 700 ft./lbs, breakaway torque 1,200 ft./lbs
3-step switch for control and control
LED work light illuminated working areas and LED indicator with a 20-second delay
Battery pressure sensor
Compact design
Cons
The forward and reverse button can be easily pushed by chance
Only one 120V charger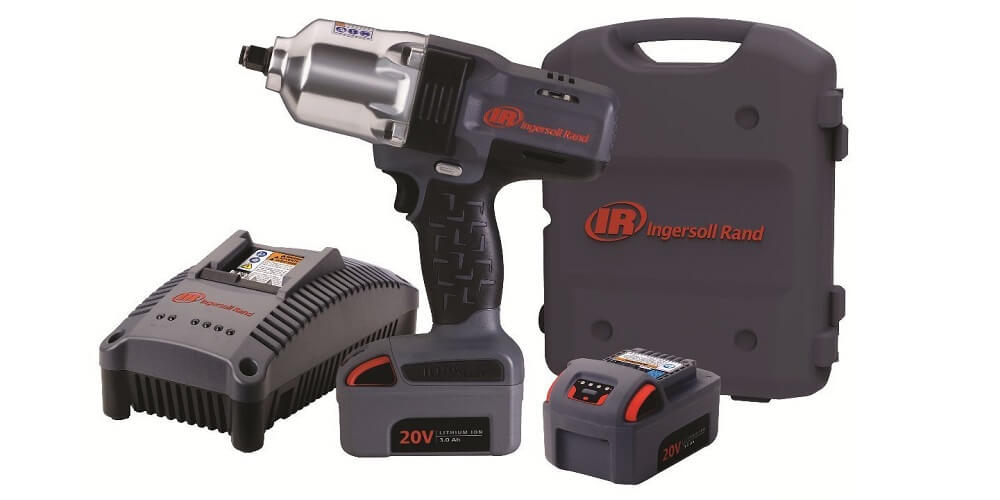 The power is 1100 ft-lbs, the tool weighs 3.1 pounds, which is plenty enough, but it's the best balance of power and weight in its class.
A variable speed trigger, all-wheel drive with a metal actuator, and sturdy casing allow this tool to be reliable and durable to perform the toughest work.
The optimized balance of the device, combined with an ergonomic, comfortable handle ensures long-term use and operation of the instrument.
The long lifetime of a lithium-ion battery provides high capacity and low internal resistance to maximize power and increase work time. Intelligent Battery Management System (BMS) provides a high level of power and control of the transition from battery to switch.
Pros
High performance and power
High battery capacity
Easy to operate
Sturdy housing
Low price
Sufficient weight
Suitable for a wide variety of jobs
Cons
There is no electronic overload protection/li>
There is no dot illumination
Makita XWT08T — best cordless impact wrench for automotive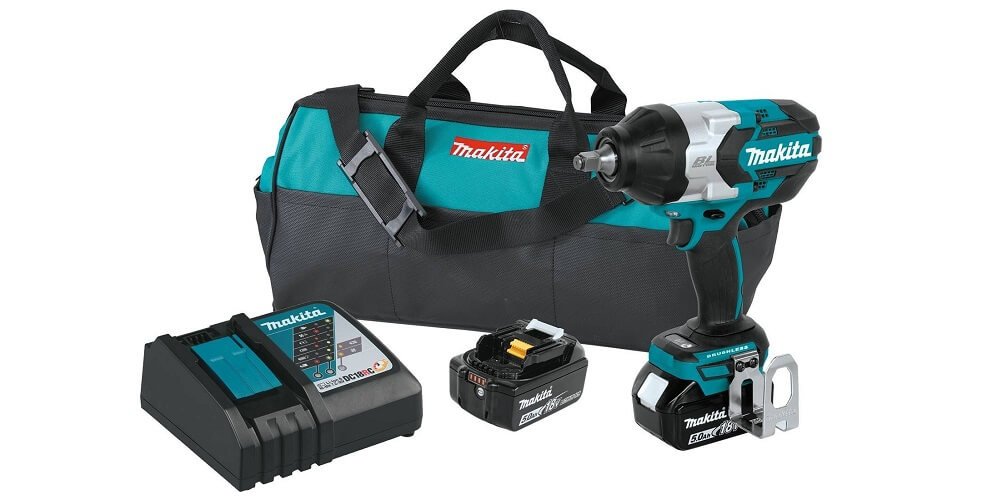 From the very first moment you got the Makita, you'll appreciate BL brushless motor technology that controls the battery and prolongs its operation time up to 50%.
The battery and charger are one of Makita's most advanced features, only 15-30 minutes of charge so that's enough time to get you back to work. A soft, comfortable handle will reduce hand fatigue during long-term work.
Pros
The brushless engine BL provides a torque of 1003 Nm
There are 3 power switching modes: (900 / 1000 / 1800 revolutions per minute and 1800 / 2000 / 2200 beats per minute)
13 mm – retaining ring rod allows to simplify the rapid change of the coupling head in the tool
The Brushless BL engine does not have carbon brushes, which allows the BL engine to work quietly and more efficiently, which greatly increases the life of the engine and tool
The electronically controlled brushless BL motor BL is so efficient in using the power provided that the number of revolutions per minute corresponds to the pressure on the device
Light weight allows you to partially reduce power consumption
The rubber soft handle provides comfortable work
A dual-LED light-emitting diode with a function of illumination
Easy to use direct and return switches
Cons
It's too heavy (16 pounds)
The device is too short – 7.75 x 21.75 x 11.5 inches
Makita XWT11T — best cordless impact wrench for lug nuts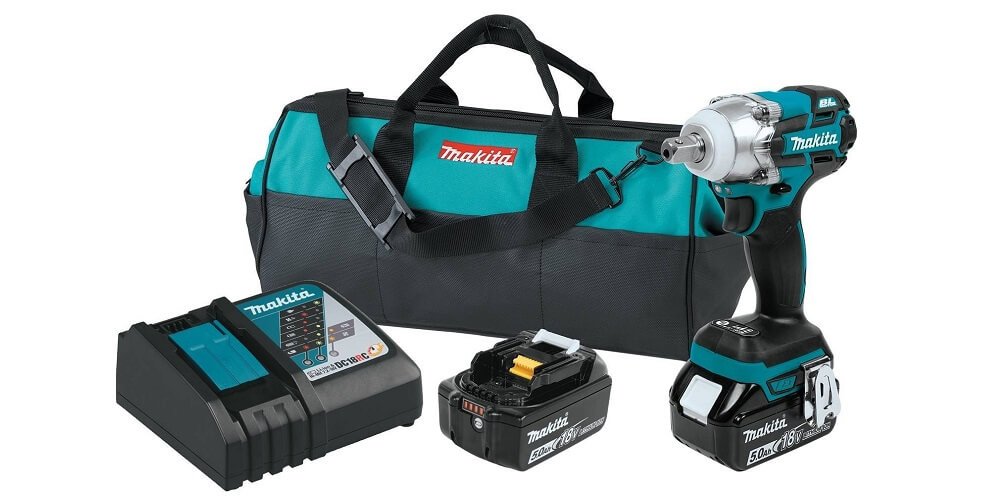 The Makita XWT11T, a model of a Japanese company, is known for its professional construction properties.
This device is equipped with a shock function and develops speeds up to 3200 RPM. With such speed, this tool works well and perfectly performs the goals and tasks, even on stone and iron surfaces.
With its small size and ergonomic and modest appearance, the device is powerful enough to achieve high torque and high-speed performance.
As a result of this, there is a tangible vibration that is quite disturbing to work, and even an ergonomic handle does not completely restrain vibration.
Despite these drawbacks, the Makita XWT11T can be the best battery powered impact wrench on the market thanks to its convenient rubber handles and LED backlighting.
Also, the significant drawback of the Makita XWT11T is a weak battery requiring frequent recharging.
Pros
Compact, modern, and ergonomic design
3-speed power switch (600 / 2,100 / 2,800 RPM & 1,800 / 2,600 / 3,500 IPM) for precise fastening and control over a wide range of applications
The automatic stopping mode stops rotating the device for two seconds
An efficient and powerful BL engine with electronic control system optimizes the use of battery power by 50% longer
Cons
The reverse switch is very loose
Really heavy (16 lbs)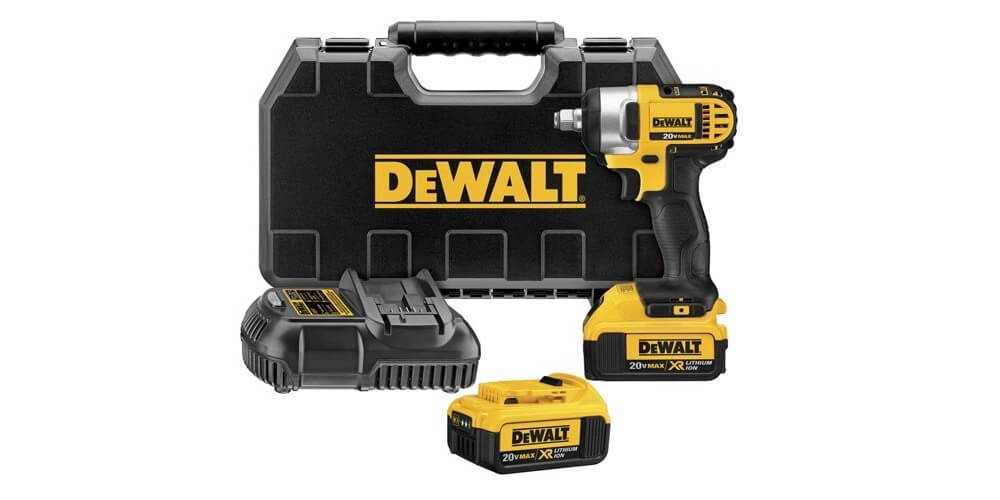 A ½-inch, 20-volt, lithium-ion battery pack comes close to working with all kinds of limited areas that need to work with a wrench to untwist or tighten different nuts and other items.
The battery allows you to work in hard-to-reach places and provides the full support that is needed to work. On the other hand, the LED backlight gives visibility to work in areas where lighting is insufficient or absent.
Working with this device provides comfort and reduces fatigue during working hours. And the handle guarantees comfort work.
We can confidently say that this model is not for beginners but designed for experienced professionals or people who have already used similar technology. Based on the above, one can confidently say that the DEWALT DCF880HM2 is, without a doubt, a product worth investing, that's why we placed it on our best cordless impact wrench list.
Pros
Compactness
The stylish design of the device
Three LED lights that work with a 20-second delay after trigger release provide sufficient visibility when working with a little visible area
Comfortable handle
The lithium-ion battery of a high capacity
Fuel sensor
Lightweight
Portability
Cons
Sometimes the ring position of the device loses the jacks
The horizontal working position of the tool may lose contact with the battery
Too much power, not suitable for a beginner
It is difficult to work with nuts
Dewalt DCF889M2 — best cordless impact wrench for changing tires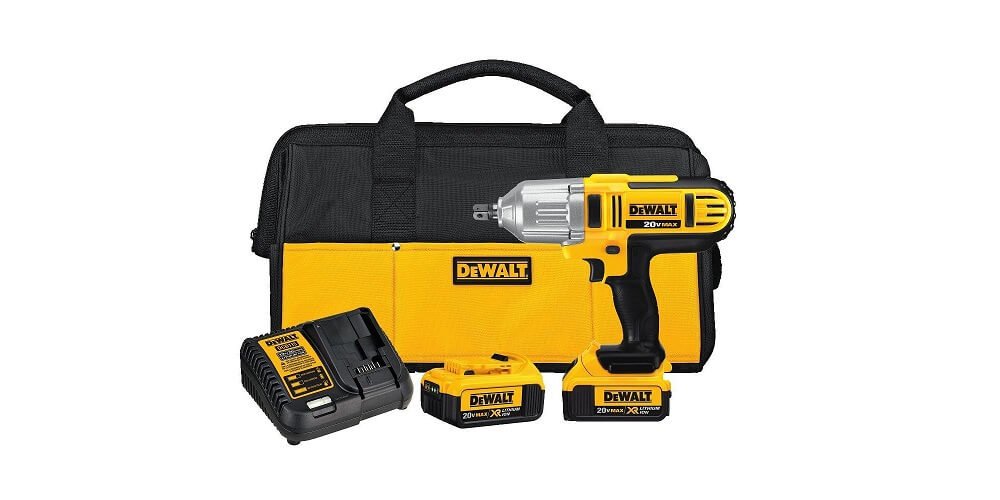 The DEWALT DCF889M2 professional wrench is a great tool for solving everyday tasks, which is different from other best impact wrenches with great torque, which guarantees good performance. This model has an LED backlight. Also, this tool is equipped with an ergonomic handle, which in turn allows you to work with the device for a long time.
The DEWALT DCF889M2 is intended for twisting or unscrewing screws, nuts, and other elements of different materials. Often, it is used at service stations for fast or qualitative assembly, as well as disassembly of parts.
Pros
The additional battery is included
Well-balanced to operate with 2 hands
Comes with a high-quality and large bag
Cons
The battery runs out quickly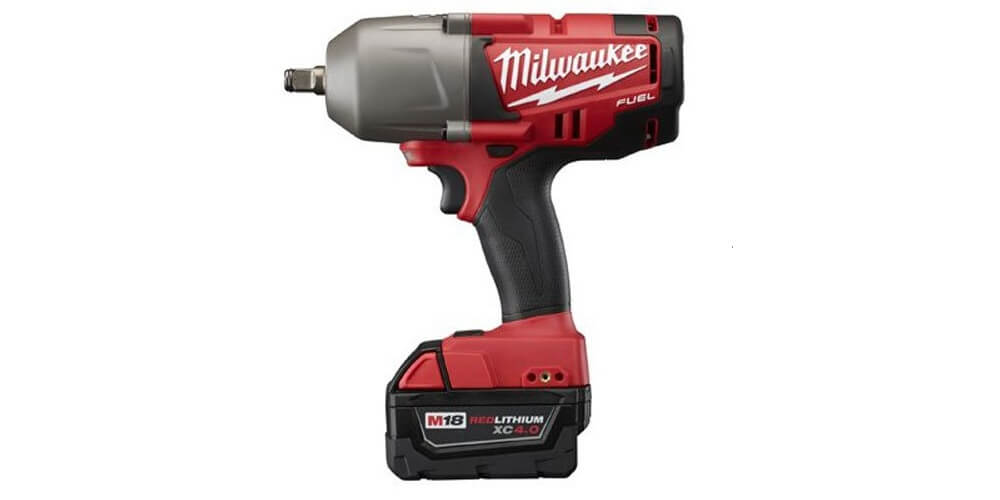 The Milwaukee 2763-22 has a high torque cordless impact wrench (2300 beats per minute), this force is enough to fix or remove nuts, bolts, or other similar items. This device contains two long-lasting batteries and a multi-level charger that supports your instrument in full portability mode.
With a weight of only 5.8 pounds and a soft rubber handle, this device is easy to use all day without fatigue for yourself. With a total length of only 9 inches, its modern design will fit into the rugged work area to complete construction work quickly.
Pros
The Milwaukee 2763-22 boasts a high torque of 2300 RPM
Contains two batteries and a multi-level charger that supplies power to the entire instrument
The REDLINK PLUS Technology delivers the highest possible performance of a cordless impact wrench without overload and damage to the tool
This model has comfortable rubber grips
Cons
The high cost of the tool
It is hard to switch modes with the gloves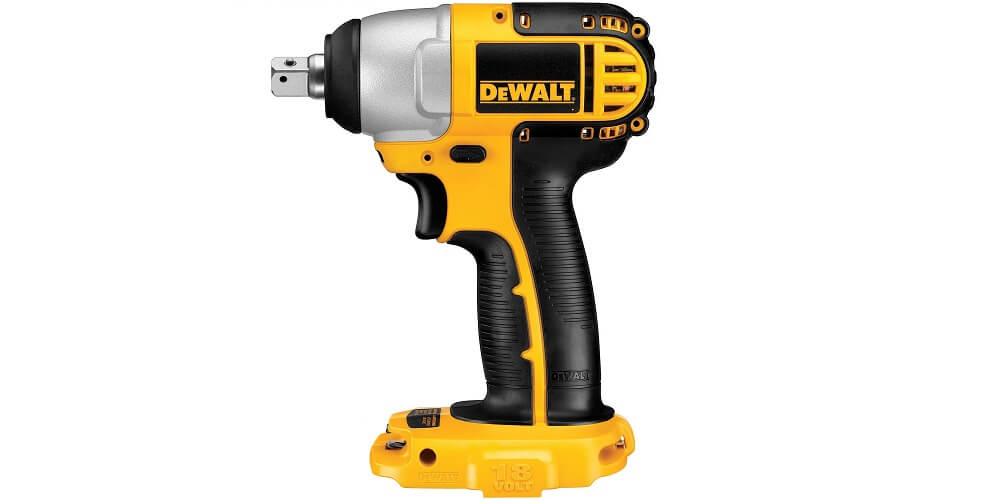 The DC820B is an 18V, 1/2-inch cordless impact wrench. It's intended to be used for professional impact screwdriving applications, like driving lag screws and loosening large, corroded nuts. It's also useful for driving fasteners in wood, metal, and concrete.
The handle has a convenient, textured anti-slip grip. The transmission is made of durable metal. In terms of design and interface, the DC820B has variable speed control, built-in LED light, heavy-duty, and an onboard bit storage. The forward/reverse button is present as well.
However, note that this model comes without a battery and charger, so you are supposed to buy them separately. It also has large ventilation vents, so it can't be used during bad weather conditions.
The charging time of the battery lasts from 3 to 5 hours.
Pros
Frameless motor for longer operations, increases the durability of the tool
Compact dimensions and weight of the tool allow the user to access the few available areas and reduce your fatigue while working
1,740 pounds per minute for a wide range of fasteners
2,400 RPM / 2,700 IPM to increase the application speed
Variable brushes that increase the usability of the tool
Cons
There is no battery indication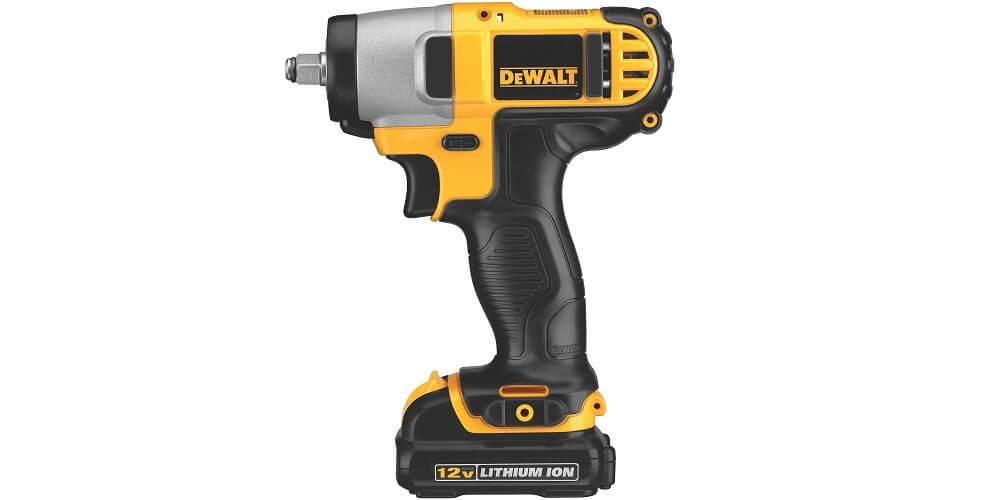 The DCF813S2 uses a 3/8-inch hog ring anvil. This model features 1150 in/lbs of torque which is enough for tightening and loosening many types of fasteners. It has a no-load speed of 2450 RPM and an impact speed of 3400 IPM.
This Dewalt impact wrench features a user-friendly design with a fast socket changing system.
This model comes with everything you may need to start your project. In the box, you will find two 12V lithium-ion batteries (1.1A each), a bag, and a charger. It takes 30 minutes to one hour to recharge such batteries.
Pros
Small dimensions of the case allow you to work in hard-to-reach places
Three annular LEDs provide maximum coverage of the work area
The parabolic switch profile allows you to control the speed of rotation
Ergonomic, modern design and convenient grip reduce vibration while providing comfort and ease of use for the user
Cons
Not enough torque
May not be suitable for huge projects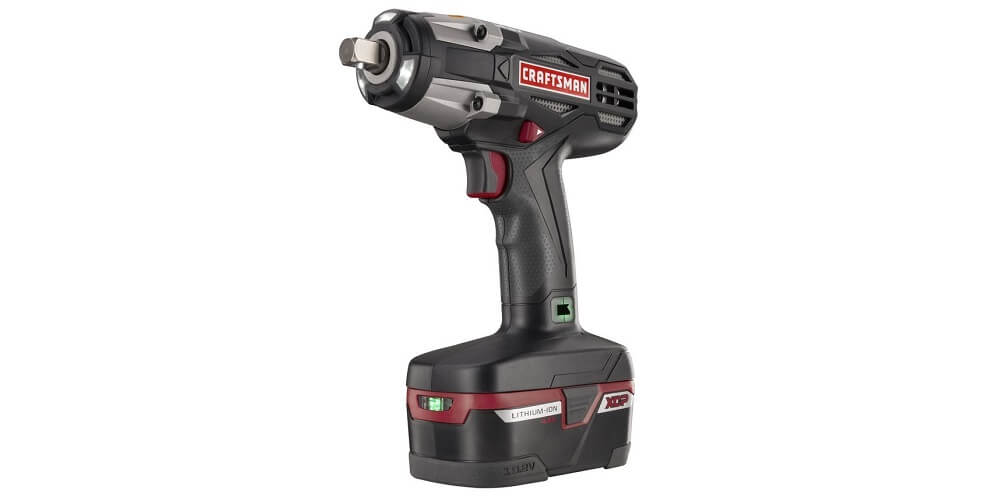 The first thing that attracts buyers of this model is the price. If you need power, but you do not want and are not ready to spend your hard-earned money on the tool, the Craftsman C3 is created for you. You will get 38 Nm of torque — modern tool with a quick 30-minute charge.
The best electric impact wrench provides the user with not only the portability but also the power of the engine. And the Craftsman can boast its power. This model has great power, it can easily loosen the hardest twisted nuts and the most securely fixed bolts.
The weight of this device is only 2.2 lbs, which will allow average users to carry the device easily with them and work with it anywhere.
In addition to all these features, this wrench is one of the best portable impact wrenches, it has a 4Ah XCP lithium-ion battery, which makes it an indispensable helper for quickly changing rims even on the road.
Pros
High torque
It takes less than an hour to fully charge the battery
Cons
Hardly copes with axle nuts
Buyer's Guide
We have described all variants of the best cordless impact wrench and provided full information on the features and capabilities that each of these devices performs.
As you can see, more expensive models allow a wider range of work, the cheaper ones are ideal for a small amount of work, for example, at home.
So when you decide which one will be best for you, take into account following criteria.
Criteria for evaluation
Weight – the lighter the device is, the more convenient it is to use for a long time.
Power – the more powerful the engine of the tool, the more work it can do.
Versatility – these are the tools that are suitable for home work, and for professional use, for example, for construction.
Comfort – the tool should satisfy several conditions: light weight, light function, powerful engine, comfortable handle, large capacity of the battery
Anvil size – a cordless impact wrench must withstand the maximum power that is required to operate.
What features should I consider choosing an impact wrench?
LED Lights allow you to work in low light or unlit areas.
Comfort grips let you keep your device comfortable while working for a long time.
A brushless motor enables you to load the tool.
Power regulation allows you to work in different modes, if there is a lot of pressure, turn on one necessary mode, when the operation is easy for the device, switch on another mode.
Easy functioning of your model.
The extension bar allows you to work in different places.
Impact wrench performance
Torque — the higher this indicator, the faster the device works.
Revolutions per minute, or RPM — the higher the speed, the faster the device will work with different materials.
Impacts per minute, or IPM model — the greater impact per minute, the faster it can overcome the resistance and work faster.
FAQ
We have answered all the most often asked questions about choosing and buying a cordless impact wrench.
Can 1/2 drive impact wrenches be adapted to use 3/8 sockets?
Unambiguous answer: yes, perhaps 1/2 drive impact wrenches are adapted to use 3/8 sockets.
1/2 "to 3/8" adapters are currently available on all the tool trucks and many other places that sell tools.
It is important that you use sockets that are suitable for the connector because devices that affect the connector itself and the wrong connector for the device can be damaged by using impact wrenches.
What does an impact wrench do?
The mechanism of operation of this device is quite simple, it performs work on the separation and fastening of nuts, bolts, various connections, and other similar fasteners. In the factories, workshops, construction sites, and in everyday situations in your home, this device is a priceless tool for fixing or disassembling various fasteners.
For example, the two elements are disconnected, in order to connect them: torque and hammer action. The cordless impact wrench makes a huge torque to twist the nut that you can't do it manually.
Despite the fact that you do not have to use a cordless impact wrench every day, but there are such days when you come across a hard-welded nut or bolt, then there is no other device that will be compared to it.
It works as fast and powerful as possible, which saves you time and money and adds convenience when used.
Why do I need an impact wrench?
This device performs quite a bit of action, but its main aim is the twisting of threaded joints. The impact wrench does it well and quickly, saving your budget. Also, no owner of the car can live without this tool, when you need to remove a tire.
The cordless impact wrench is usually used to remove car nuts, but they can also be used in any other household situations.
To date, the device is easily accessible, and each user can buy such a device to meet their needs. They are able to twist or unscrew threaded joints of nuts that are roughly tightened. When using these devices, loud noise is produced, so hearing protection should be worn.
Besides, be careful when you twist the threaded connection using a cordless impact wrench, as it is easy to twist it, which can lead to a stretch of the mechanism.
Can you use an impact wrench as a drill?
We can say one thing. It depends on how accurate the drilling location should be. For the needs of large construction, which require large openings to pass different wires, to create communications, then it is necessary to set the correct key. Nevertheless, the exact location of the hole, its size, circularity, and all of these factors are crucial, then you should use the usual drill.
Which battery type is best for a cordless impact wrench?
The main component of this cordless impact wrench is the battery. The battery should be lithium-ion, also, it should hold a charge for a long time, and even better, if there is a backup battery in the device, to increase its work time. It depends on its technical characteristics, working time, and power.
Brush vs brushless motors
The main advantages of brushless DC motors (BLDCs) are high reliability and low maintenance compared to brushless motors. Indeed, all these benefits can extend the life of the engine to approximately 15,000 hours, which adds to the durability and reliability of the device. Also, brushless engines guarantee high performance – fast acceleration and light reversibility, very high working speeds, and stable rotation characteristics. The freewheeling engine provides a lighter, smaller diameter, it is more compact. In addition, since permanent magnets are used for the field of the motor BLDC instead of electromagnetic different windings, as in shield motors, they have thermal cooling, heat dissipation is easier and faster to the external environment. Thus, the BLDC engine can produce more energy than DC motors, compared with its size, the energy loss is virtually eliminated, which is a great advantage for engine efficiency and is much more efficient in operation than shield motors.
Brushless motors offer several advantages over-geared motors, including:
High torque
Increased efficiency
High reliability
Reduced volume at work
Long service life (no erosion of the brush and switch)
Removal of ionizing spark from the switch
The absolute reduction of electromagnetic interference (EMI)
1/2″ vs 3/8″: which cordless impact gun is the best?
The two-stage driver that's used here, as a rule, has much more power, the torque is higher and it is a key indicator. Due to greater power, they are in most cases always larger than the size of the 3/8 option.