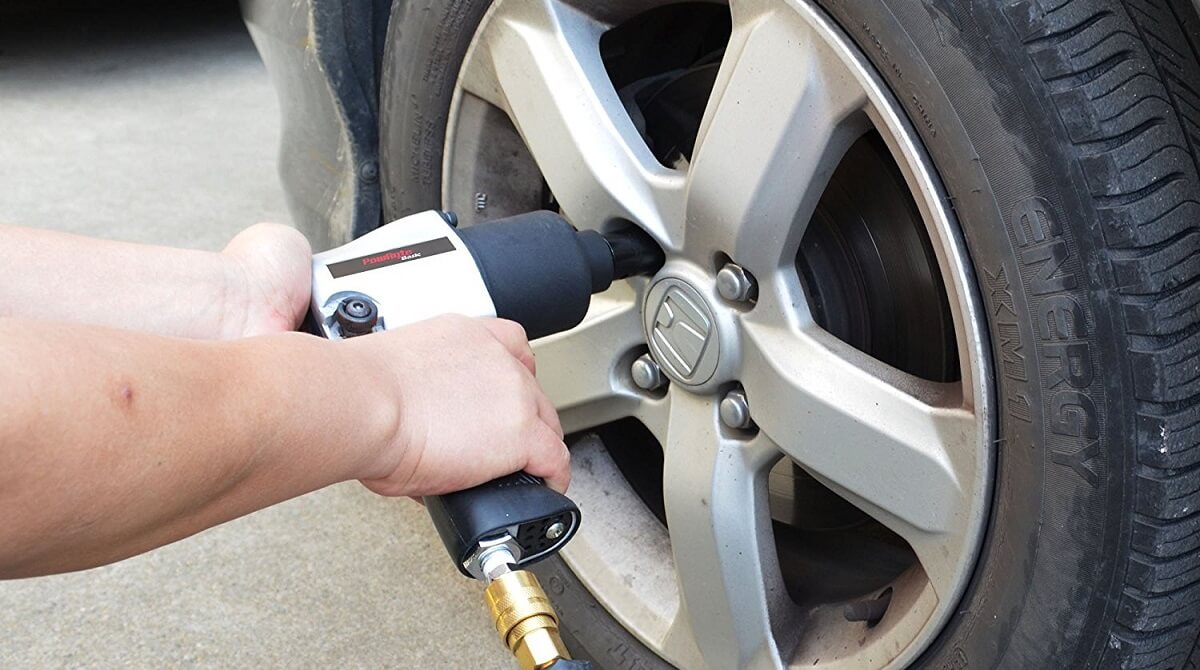 An air impact wrench is a device commonly used for professional purposes. It is widely used in car repair services since it can quickly and easily deploy rusty or painted nuts. Independence from the energy source, modest dimensions make the best air impact wrench an extremely mobile, portable tool for any work. The best pneumatic impact wrench must fulfill all the tasks and objectives that are set before it.

The principle of this useful tool is quite simple and does not require a professional experience for understanding: the blow strikes in the direction of rotation. In the design of air impacts, there is a so-called "hammer", which, in the event of resistance to rotation, hits the "anvil" (an anvil is a part of the spindle, which is presented in the form of faces or slots), while creating an additional angular momentum in continuous mode.
The best pneumatic impact wrench does all the work quickly and with high quality.
Air Impact Wrench Reviews
1/2-inch Air Impact Wrenches
AIRCAT 1150 — Best 1/2 Air Impact Wrench

This impact wrench for tires can be applied for removing, installing, or rotating the tires with an adequate 1295 ft-lbs of loosening torque and 200-950 ft-lbs working torque.
What sets this tool apart from many others of a kind is how quiet it is thanks to a patented technology which makes it produce the noise under 86 dB. As for the design, the handle has an extra lip for a better grip. However, the controls like the on/off buttons are designed differently from the other similar tools and not in the best way.
It's a fair investment, and you expect to get several years of service out of a tool like this, as you constantly drop it to the floor while working. This one looks like a reliable tool with its solid aluminum body.
Pros
Such a powerful tool that can handle any lug nut
Ergonomic handle
Twin hammer mechanism with a hard blow
Cons
With time it can start loosening and slide easily while working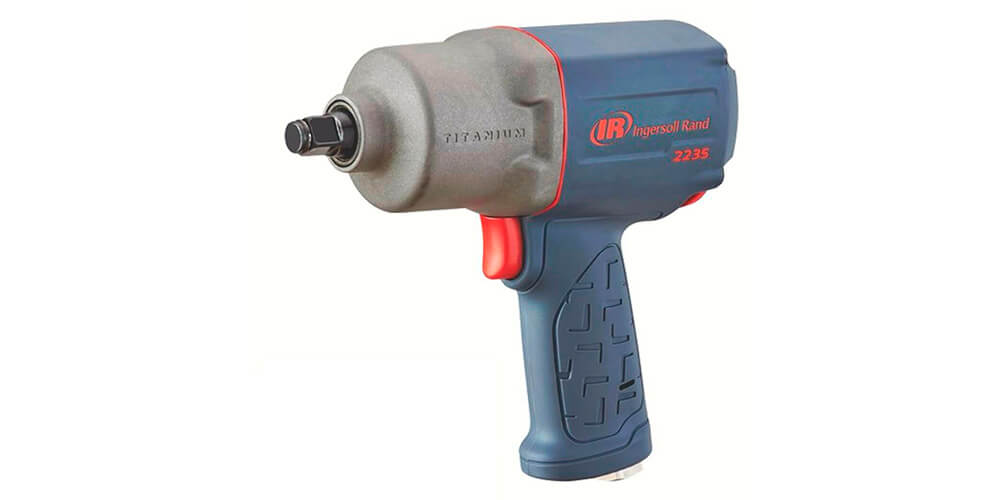 This heavy-duty impact tool combines the high nut busting power with the precise regulation mechanism and relatively lightweight design. Its casing and internal mechanism are intended for long-lasting use and fit multiple assembling and disassembling tasks including wood and metal construction, machinery maintenance, etc.
The tool draws 6cfm of air at average or 680 L/min at load, which isn't a small consumption. Yet, this impact wrench provides the 1,350 ft-lbs direct torque dismounting even the strong rusted nuts and bolts. For the reverse mode, the maximum torque makes 930 ft-lbs. The weight of this unit equals 4.6lbs making it user-friendly and fit for long-lasting projects. The 7.6-inch height, 7.48-inch length, and 2.91-inch width make it a compact unit that is easy to operate in various locations.
It's equipped with the twin-hammer mechanism ensuring the precision and low vibration of the tool during operation. The ½-inch drive fits the majority of applications including the large lug nut replacement (e.g. on the truck). The drive is square, with the hog ring fixing the socket. The direct / reverse control is a separate one-hand button.
The ½- inch air impact wrench by Ingersoll Rand provides the four-position torque control and enables the exact power application at the specific work area. The tool's body is made of composite material, while the working parts are mainly steel. This ensures high durability and damage-resistance of the tool. The handle has multiple contoured slots to provide a non-slipping grip and comfortable position of the hand.
Pros
Hammer parts are made of titanium and are resistant to damage
Intuitive placement of the trigger and controls
Smooth trigger depression, easy to control the power within the modes
Cons
In the reverse position, the switch often bumps into the hand and gets half-pressed
Too loud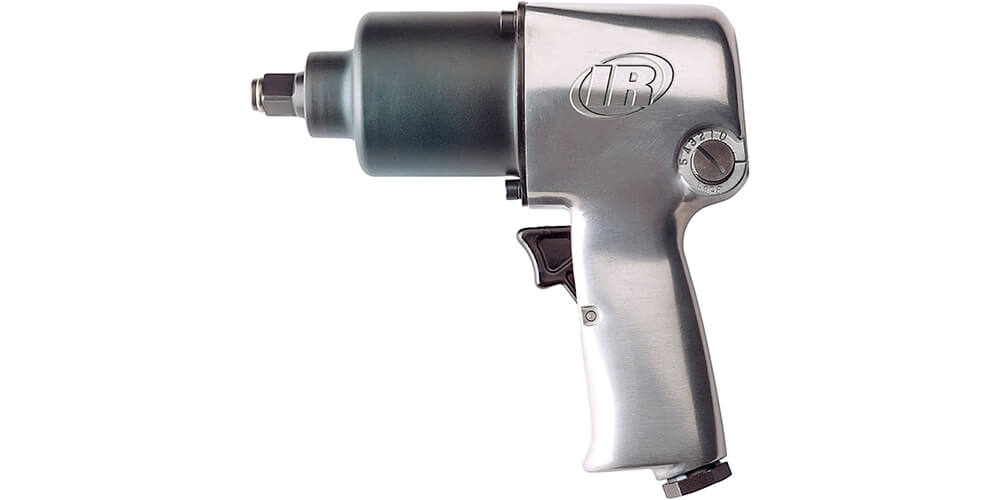 Simple and sturdy, this high-quality air impact wrench is a bit heavier than competitors. Still, the 5.8lbs body isn't tiresome to operate due to compact design (7.3-inch long, 2.81-inch wide, and 7.7-inch high) while producing enough power to break rusted and stubborn bolts, lug nuts, or secure them in place.
The air impact wrench has the heavy-duty build and is wear- and damage-proof. It consists of two parts, which ensures less vibration and a more streamline impact. The socket fixation type is a sturdy hog ring keeping the socket in place even at the vertical work. The drive size is ½ inches.
The tool features the ¼-inch air inlet and can fit the air hoses of ⅜-inch size up. It takes about 22cfm at load, while the average consumption makes 4.2cfm. This means you can hook up the 231C impact wrench to a standard car air compressor for the quick job (the 90PSI pressure is required). The small consumption also means less electricity spent adding to the economic benefits of this air impact gun.
The energy-saving design doesn't affect the power of the tool, though. The no load speed of the drive makes 8,000 RPM while the working impact rate makes 1,200 IPM. The forward torque reaches 425 ft-lbs, with the reverse torque making 600 ft-lbs and detaching the strong nuts within seconds. The maximum torque can be regulated within five positions providing flexibility for different tasks.
Pros
The torque dial is accessible on both sides of the tool for quick adjustment
The forward / reverse switch is well accessible yet out of inadvertent reach
Smooth finish, doesn't get scratched easil
Cons
Needs cleaning and lubrication once in a while; otherwise, the trigger gets stuck
The handle is smooth, isn't the optimal grip design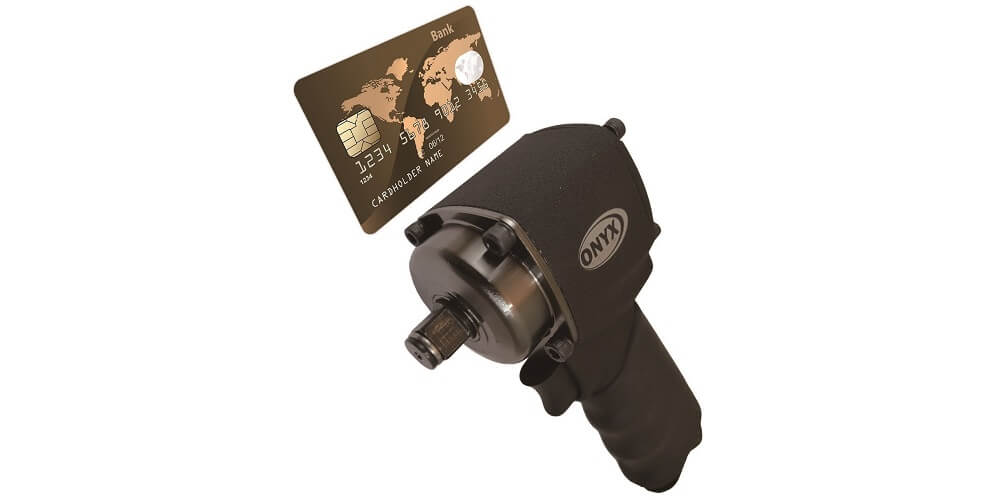 Thanks to the Astro 1822 1/2 you can work in completely different places. The device weighs only 3 pounds, so thanks to it, it can be used 24 hours a day due to its ease and compactness. The device is similar in size to a credit card! Because its actual dimensions are 3.9 x 2.4 x 7.5 inches. It is worth noting that this model is 50% smaller than other similar models.
The best thing about this tool is the power provided by the high torque that can form the model – 450 ft.-lbs, which is sufficient for the simple and medium complexity of work, as well as for minor car repairs.
Also, this tool is considered a semi-professional model. The Astro 1822 1/2 provides you with high quality at a reasonable price.
Pros
450 ft of maximum torque
The extremely light weight of the tool, which is 3.0lbs
3 forward modes and 3 reverse setting modes
Innovative, modern design
Low price
A 1-year warranty from the manufacturer
Easy to work with fasteners
Cons
Some tool materials are not of good quality
Hard trigger
Inability to work with the switch with one hand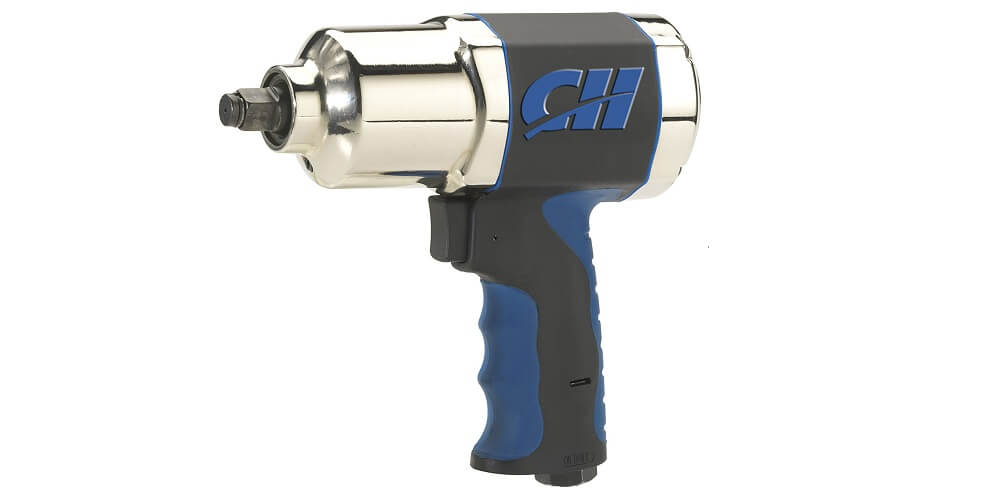 Use the Campbell Hausfeld tool for quick work on twisting or unscrewing nuts. This device offers 250 feet of torque, which provides sufficient power required for fast work. The impact wrench set contains a backup switch located at the front of the tool, which allows you to change the direction for additional convenience while working.
Without considering the power, this 1/2-inch tool provides comfort when working with it, due to the body, which is not only made of quality materials that are resistant to damage but also, it is comfortable to hold in your hand, respectively, you can work for a long time without feeling tired.
Pros
Modern design
Includes case for safe storage of the tool
250-Feet lbs. of torque
Lightweight – 5.2 pounds
Convenient clamping
A 1 -year warranty from the manufacturer
8500 RPM
Sufficient power for light and medium complexity, especially for most industrial works, as well as for work for the car repair and regulation
Low price
Cons
Does not provide any additional functions other than basic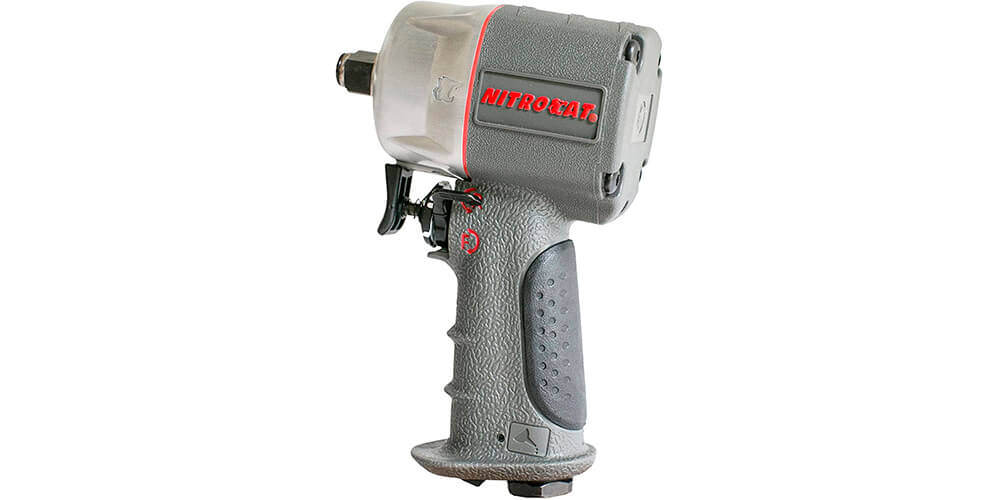 With several patents registered, this small tool will perform the majority of the professional tasks in a car shop or household. The gun is very compact being 7 inches high, 3 inches wide, and only 4.25 inches long. The shortened design lets use the impact wrench in the confined places and makes the tool handy to manipulate with one hand.
The Kevlar composite material makes the 1056-XL an extremely lightweight air impact wrench (weighs just 2.5lbs). At the same time, the inner mechanism (the hammer and the drive) is made of steel alloy seasoned by the triple heating. The unit implements the jumbo hammer technology, which provides high durability and good impact efficiency. It produces 1,650 IPM on the ½-inch drive and removes lug nuts from an SUV or small trucks swiftly and easily.
The RPM number at the free rotation makes 9,000. The torque is adjustable and reaches 550 ft-lbs, with the nut-breaking power of 750 ft-lbs. This entails considerable air consumption making 8cfm on average. As with most air impact guns, the 1056-XL unit has the ¼-inch air joint and fits the standard ⅜-inch air compressor hose. While the recommended level of pressure makes 90 PSI, for the high torque, the compressor should be able to supply more cfm as well. The torque is regulated via the special switch, which is also a selector for forward / reverse mode and is located at the trigger base for quick single-handed operation.
Pros
Special exhaust muffler technology reduces the noise to 85 dB
The tapered handle with the rubberized back part provides a firm non-slipping grip
High assembly quality
Cons
Vibration is high at the load
Rimmed handle base might be inconvenient for big hands
DEWALT DWMT70773L
— Best Air Impact Wrench for the Money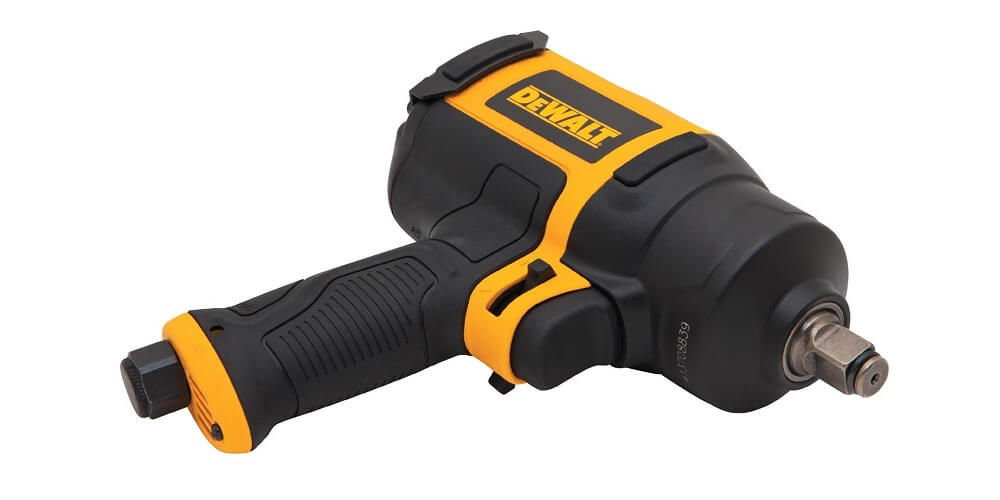 The Dewalt air impact wrench is assembled and made of high-quality materials, capable of withstanding various kinds of damage, including mechanical, change of temperature mode in the working area. The case itself is shock-resistant, it is difficult to leave traces, to switch the direction of rotation quite conveniently with one hand, the production of exhaust air takes place at the bottom of the tool, the handle is comfortable and ergonomic due to the fact that it is made of expensive materials. A special switch allows changing the direction of rotation in order to screw in or out all nuts.
Pros
High torque
Housing made of high-quality materials resist damage
Power controller
Compactness
Easy to operate
Ergonomic design
Cons
Being small, it can't cope with very tight nuts
Nitrocat 1250-K — Best Air Impact Wrench for Home Use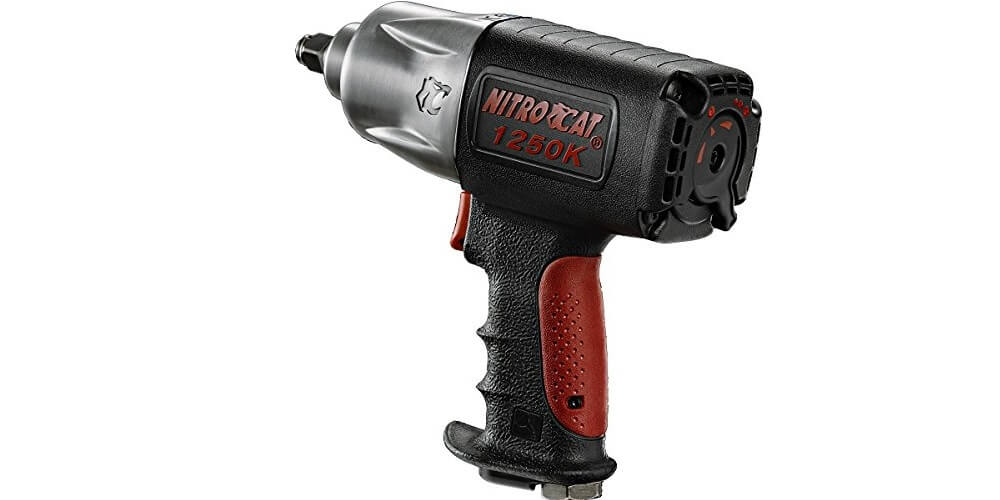 The Nitrocat 1250-K is based on innovative technology and cutting-edge solutions. This device will provide an amazing 1300 ft-lbs of loosening torque when working. The device is designed with the Twin Clutch Xtreme engine, which was designed for high engine power. We recommend using this tool in conditions that require high power and ease when working with the appliance.
Quick impact action — 1000 beats per minute. The manufacturer provides a warranty on the device. It contains an ergonomic handle and an easy roller lever for more comfortable work, it can be said that it is an excellent tool for performing diverse work. The AirCat 1250-K is a 1/2-stroke mega-power tool that performs any work in its class.
A dual-clutch is best suited for heavy-duty work (framework, work with medium and heavy trucks).
Pros
Stylish, ergonomic design
Limited edition 1250-k NitroCat
Convenient ergonomic handle
Double coupling mechanism
Strongly reinforced casing
Low noise at work
Cons
The switch is made of non-quality materials
The tool is dust-sensitive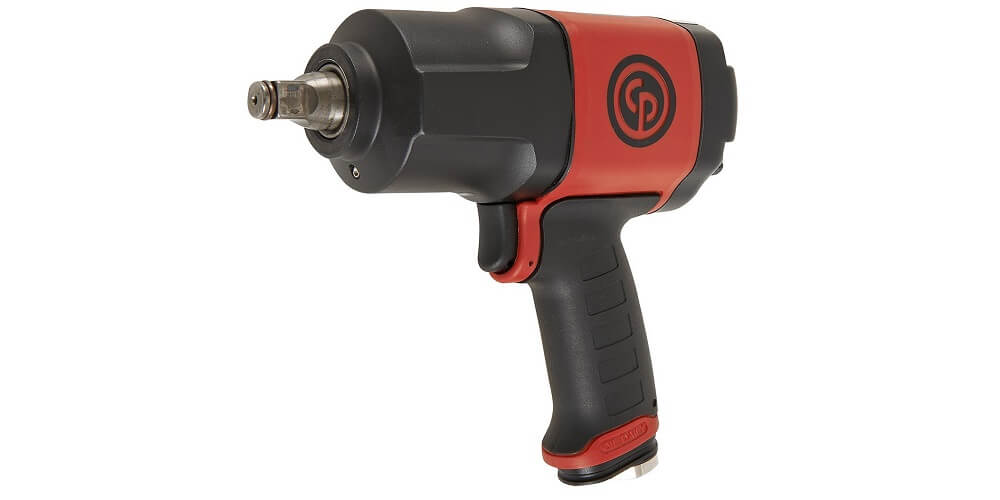 The new Chicago Pneumatic CP7748 is one of the best and most powerful impact wrenches in its series – a durable, high-quality, and powerful 1/2-inch nest impact wrench that comes with the basic component of composite tools. The low price and, at the same time, high reliability and quality allow using the Chicago Pneumatic CP7748 for tire installation, general car maintenance. The device is also suitable for the simple maintenance of various industrial equipment.
The back cover of the tool and the case, including the clutch made of a material such as aluminum, which makes the tool design rigid and resistant to external damage. In the wrapping mode, the device works in three versions of torque – 245 Nm, 650 Nm, and 990 Nm.
The Chicago Pneumatic CP7748 is a durable, high-quality device that has a high capacity of ½ inches while being inexpensive and reliable.
Pros
Lightweight is achieved due to composite durable and high-quality body
New and modern design of the handle, which is convenient in operation
A new design of the reversing switch
Easy reversing control
Made of aluminum
Fast and smooth start
A slight noise at work (93 dB (A))
Ergonomic, rubber-less handle with a smaller diameter handle that is resistant to chemical and mechanical impact
Twin hammer
Low vibration
3-way power switch
Composite case
360 ° swivel start mechanism
Cons
Poor quality of the reverse switch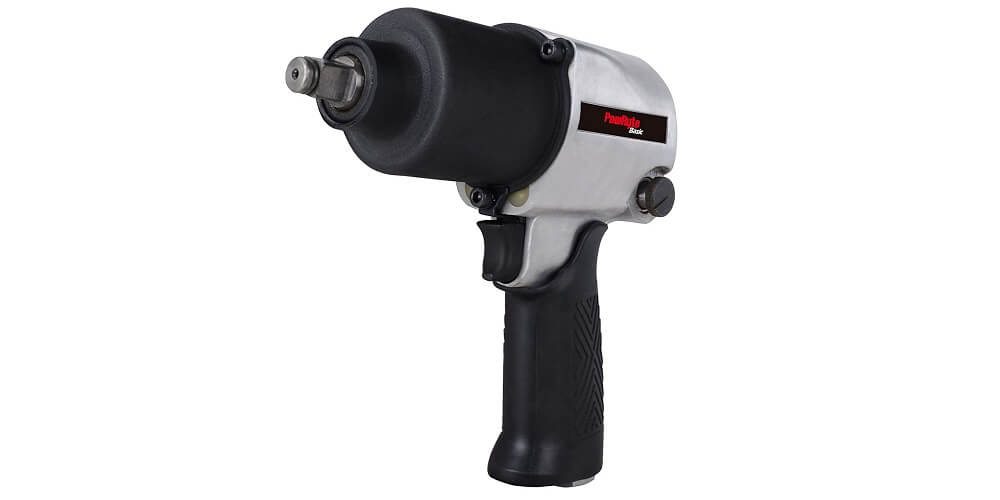 The PowRyte 1/2-inch Combined Lever Hammer Model – Twin Hammer perfectly performs repairs of automobile tires, brakes, exhaust, and in particular, works on unscrewing or tightening of different nuts, bolts with high speed and high compressive air power.
The 600-ft maximum reversing torque provides a high-quality and fast performance of any job with this tool, which weighs just 4.5 pounds, making it portable and easy to carry. Additionally, its efficient and powerful air engine is energy-saving.
It is equipped with a robust hammer in addition to the impact mechanism on a 1/2-inch drive, providing an impressive speed of 1,000 RPM for efficient operation. Direct and reverse controls make it easier to change directions.
This 1/2 air impact wrench contains an adjustable torque regulator that has 3 torque parameters with the possibility of one permutation. The body of the device is made of durable, resistant to external damage materials with a contoured handle for your comfort.
With an exhaust that extends through the handle to allow safety with an internal muffler, which also significantly reduces noise during operation. It has a pressure of 90 PSI and a 1/4 "NPT filter with the air inlet. This device includes a 1/4-inch NPT kit and owner's manual.
Pros
Energy efficiency
Multi-functionality
Suitable for both professionals and amateurs
Extremely lightweight
The robust and comfortable body provides comfort at work and reduces fatigue during long-term tasks
Powerful shock mechanism for maximum torque and low vibration
The eccentric design of the cylinder provides greater output power
An ergonomic, comfortable and soft rubber grip
Built-in power control lets you choose 3 x settings for versatility
A unique reverse mechanism provides ease of direction change
Low price
Cons
The airspeed regulator does not work properly
AIRCAT 1000-TH — Best Air Impact Wrench for Lug Nuts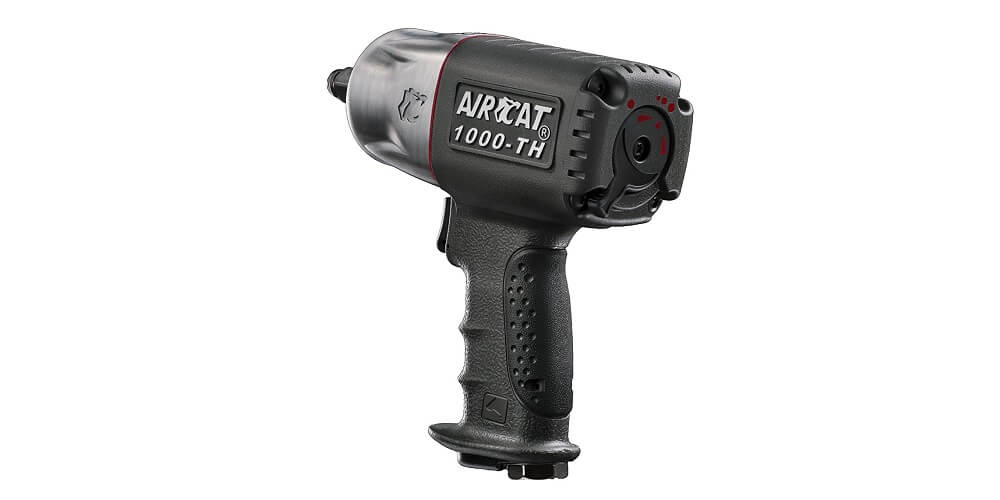 This device is one of the most affordable 1/2-inch tools in its class at its price. Durability, quality, and reliability provide popularity among potential buyers. The device has the features of a double hammer mechanism called "Super Clutch" and 1,000 ft.-lbs of torque. The body is made of resistant to damage, durable materials. It is a composite, ergonomic handle allows you to work in different conditions and provides comfort during long work, the exhaust system (86 dB) is tuned, and the airflow is 90-120 PSI. All this allows the device to remain popular and make it a potential buy in the eyes of people who are looking for a tool for convenient and high-quality work at a low price.
Pros
Ergonomic stylish design
Sturdy housing
Compactness
Hammer mechanism – "Super Clutch"
Ergonomic handle
Cons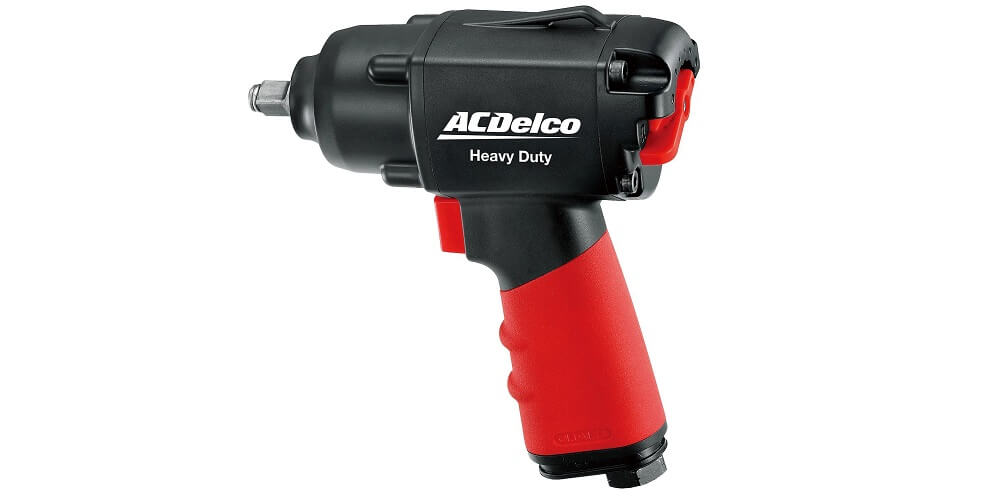 The hard and durable hammer mechanism provides 500 ft of torque. The case is made of aluminum alloy – the material of which allows the body to be not only resistant to all kinds of external damage, but also to work under different temperature conditions. This tool has been built by following the latest trends and standards and is designed to be used in difficult conditions.
The 3-step power controller allows you to choose the speed you need to work easily, which is necessary for you to achieve the perfect tension on the nuts when working with them.
Pros
Powerful, made for long-term and high-quality work, durable shock mechanism TWIN HAMMER
Strong casing made of aluminum alloy
High-quality shock mechanism
Speed of 7000 RPM
5/8-inch bolt size
Air consumption: 5.3 CFM
Overall length: 7-1 / 8-inch
Air pressure: 90 PSI
A 1-year warranty
Cons
Sufficiently large instrument weight – 5.58 pounds
1-inch Air Impact Wrench
Goplus ET1130s
— Best 1-inch Air Impact Wrench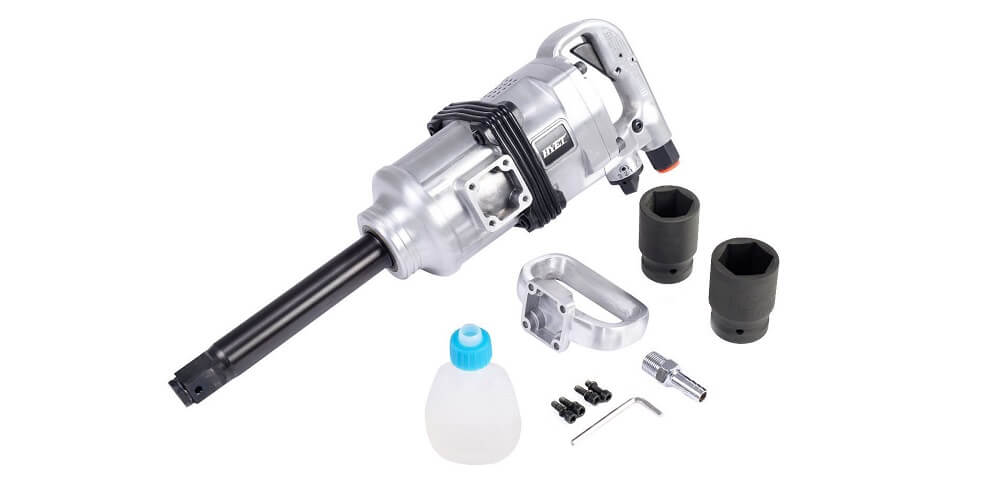 Power and durable materials that were based on this tool such as high strength aluminum alloy, specially treated anti-corrosion coating, makes tool withstand difficult working conditions. All of these factors provide a long service life, which makes the device be a need in the garage or at home.
The functionality of the device: the maximum possible pressure of air is 175 PSI. Nominal speed is 4200 RPM. The maximum torque is 1900 ft.-lbs. The device shows 6 possible levels of speed control, namely: 3 forward speeds and 3 speeds back. Ideal for carrying out various repairs on trucks, tires, and other heavy equipment. It is used for both home and commercial use.
The impact wrench set includes a 1-1 / 2 "(38 mm) and 1-5 / 8" (41mm) slot. The tool makes it easy to operate an internal hex wrench and also includes an oil pot. The case is made of durable materials that are resistant to mechanical damage and retains the shape of the tool.
Pros
Power
Pressure 175 PSI
High nominal speed – 4200rpm
The highest torque of 1900 ft.-lbs. 6 possible levels of regulation are presented
Strong casing made of aluminum alloy, anti-corrosion cover
Easy to operate
Excellent device for replacing 18 diameter wheelsets
Cons
Weight of the tool — almost 41 lbs
3/4-inch Air Impact Wrench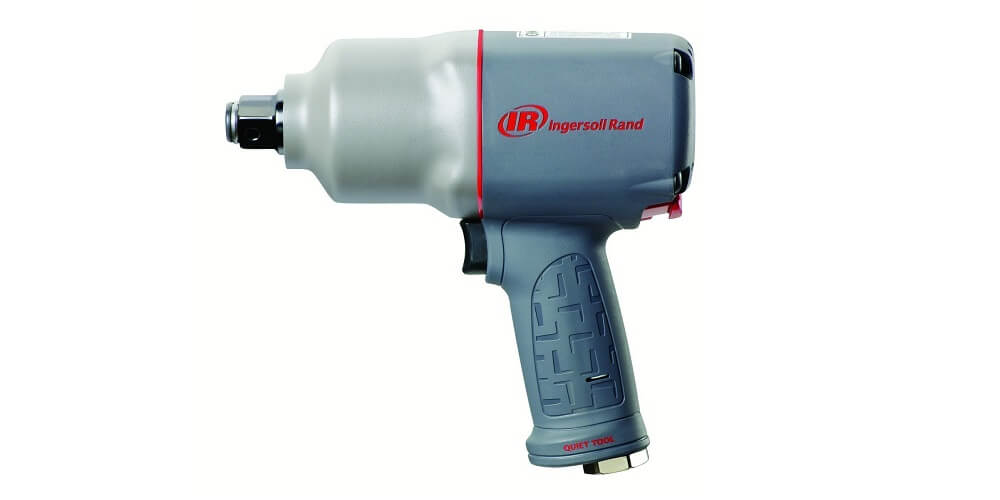 The item is designed and constructed from quality materials that can withstand rigid operation and different conditions of use in completely different environments. A two-year limited warranty is standard and issued upon purchase.
The maximum performance is provided by an aerodynamic engine, which is much more effective in long-term operation. Seven electric motors provide more power and performance.
Pros
Compactness
Quality materials
Well-designed
Sturdy housing
High impact speed
Does not make a lot of noise when working
Cons
The tool needs a larger hose
Too heavy
3/8-inch Air Impact Wrenches
The ONYX Air Impact Wrench Astro Pneumatic Tool 1828 provides high-quality, fast operation, can be used in conjunction with 3/8-inch shock-absorbing sockets, making it an ideal device for use in confined spaces, for example, such as an engine, a gearbox, or in other places. The machine contains 3 speeds forward and 3 speeds back, its full length is less than 3-7 / 8 inches. Moreover, it is lightweight at a power of 3lbs. Specifications are quite good: 10,500 RPM, Twin Hammer, Max torque — 450 ft. – lb, working torque — 400 ft., actuator size — 3/8 inches. Air consumption — 5.6 CFM, noise level — 85 dB, total length — 3.85, net weight — 2.98, pressure — 90 Psi.
The body of the device is made of durable aluminum alloy, which allows you to use this device for a long time and in limited spaces without experiencing any discomfort. This device makes it easy to work in one hand! You can adjust and change the speed modes, operate the forward / backward switch, and implement a power management process that is always available to you.
Silent operation and high performance increase the popularity of this 3/8 air impact wrench among potential buyers. Regardless of the type and working conditions, the device minimizes the noise level for comfortable operation, while providing high power and a large set of functions. It features patented Silencing Technology, which reduces noise to 89 dB!
Pros
High power
Extremely low weight
Compactness and portability
Built-in trigger, combined reverse, and power management switch
Ergonomic handle for easy operation in one hand
Strong casing made of aluminum alloy
Jumbo-hammer is a high-quality engine while providing maximum power
A 2-year warranty from the manufacturer
Cons
Intensity of the torque is not enough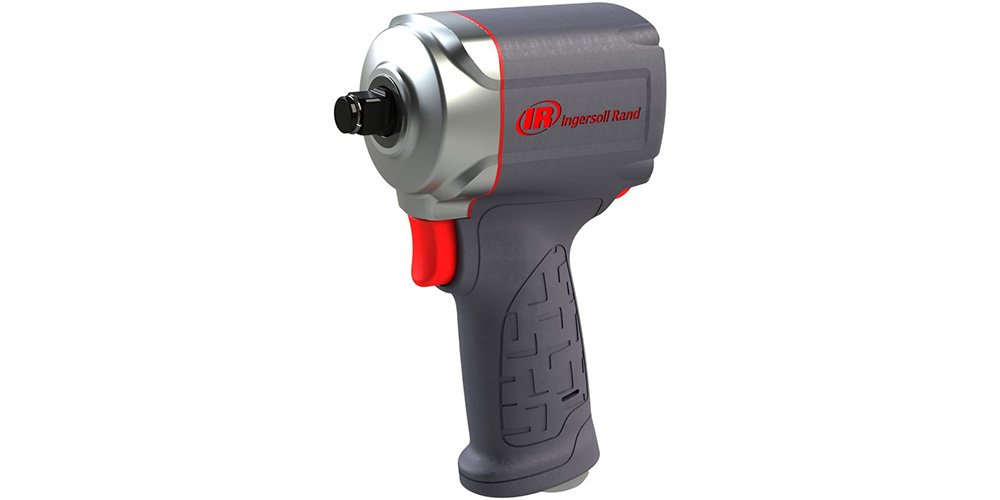 For work in difficult locations, the Ingersoll Rand 15QMAX is one of the best tools in its class – it's just a device that allows you to perform various work quickly. The device provides users with a powerful twist back and torque. It is ultra-compact impact with quiet technology for silent operation.
The 15QMAX is designed to handle work in more rigid and limited spaces.The maximum horizontal 90° angle is 450 ft-lbs maximum torque. Easy to handle power dial features allows to set up 3 different forward regulation settings. Also, there are forward and reverse buttons located on the rear side let use it with one hand only.
Pros
A 2-year warranty and
Compliance with standards
Lightweight
3-mode power regulator
Cons
Less powerful, copared with other models
Buyer's Guide
Types of Air Impact Wrenches
These tools we are looking at in our review are pretty standard, both in function and in a form that is specifically designed for specific purposes. However, you hardly knew that these tools are divided into classes that are related to the size of their square, which denotes a rectangular square tape that is intended to hold the nest at the end of the tool. This phenomenon is explained by the fact that the torque supplied by the tool, is limited by the extent to which this square can operate without breaking.
This tool comes complete with a set, which often includes a set of sockets and an air freshener, supplied together with a small tool – mini or 3/8-inch size.
Mini air impact buttons come in different sizes, often 1/2-inch size. Such devices are made with compact enclosures, which fit into tough spaces, allowing you to work in different conditions. 3/8 inch tools often have larger sizes, respectively, increased torque. 1/2 inch is the standard size of your home use tool for various housework, and it is not used for professional purposes, although the device is large enough to provide sufficient power that the home master may need. The 3/4 inch tools are usually used in heavy industrial or agricultural industries. These devices can easily handle large bolts and nuts and provide enough power to spin them. 1-inch tools are less commonly used, as 3/4 "tools have increased their productivity. You will find applications for these devices for the repair and installation of heavy equipment.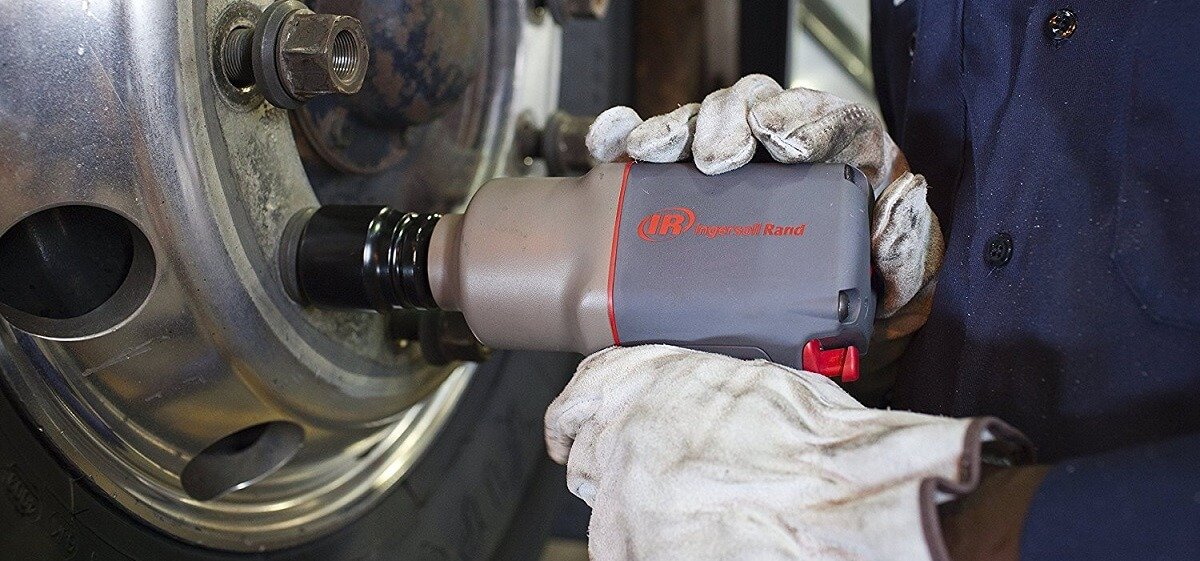 Impact Driver VS Impact Wrench
In simple words, impact wrenches are heavier than compact impact drivers. Impact wrenches have their main purpose of use – it twists and unscrews the nuts by 1/2 inches, while air impact drivers work with 1/4 inch nuts.
Although their main functionality remains unchanged, in essence, it is the same but the very torque is different, respectively, the purpose of these two powerful tools are changing.
Impact wrenches are high-torque devices, respectively, these tools allow you to work longer and do more work. On the other hand, impact drivers are extremely versatile and practical for home use. They are comfortable and easy to work with and do not require special skills to work.
Electric vs Air Impact Wrenches
Electric impact wrenches have a bit less power than air impact wrenches, but for certain users, electric impact wrenches are more comfortable and portable. The electric impact is more commonly used for home use. Electric impact wrenches are less cumbersome, compact, and portable, allowing you to work with it in different environments than air impact wrenches. Air impact tools should include power and durable materials.
How to Buy and Impact Wrenc
To make the right, analyzed choice, you need to consider the main factors when buying a tool:
Torque – the higher the power, therefore, the higher the speed of the process of performing any work.
Weight – lightweight let use it for long.
Air Compressor requirement – parameters for the hose of the tool and other materials.
Size – the smaller the size, the larger the type of work the device will be able to perform.
Power regulator – provides power level control.
Reliability – it depends on the quality of the materials.
Drive size – depending on the size of this parameter, the device provides a different work plan.
Noise suppression technology – the less noise the device produces, the more comfortable to work with.
No load speed – allows you to perform various types of work quickly.
Ergonomics – the modern ergonomic design allows for the production activity of the device in diverse works.
Warranty – allows you to return the device to a service center in case of a failure within a specified period by the manufacturer.
FAQ
Why do I need an impact wrench?
An air torque wrench provides the power that is required for comfortable working conditions. Fixing heavy structures became easy and quick with these tools because the best impact gun provides enough power to perform various types of work.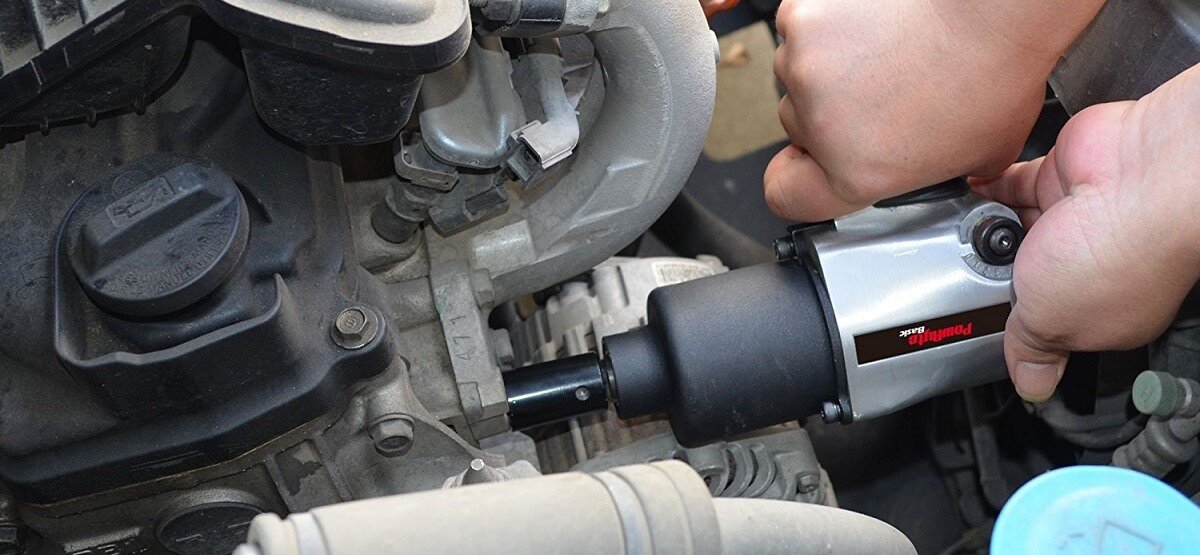 What type of air compressor is needed?
For one unit, the air compressor should provide a minimum of 6.5-7 CFM at 90 PSI for an average ½-inch tool that needs 5 CFM. If you have to use more than one device at a time, then you just need to add the CFM together, and each of them requires your device. Your compressor provides more than their sum, to run them at maximum power values. Best air impact guns review lets you understand how devices are built and how to work with them.
What are PSI and CFM?
PSI means the number of pounds per square inch and provides a measurement of the amount of compressed air in a given space. PSI is a term that means the amount of air storage but not a continuous airflow.
The concept of CFM means the number of cubic feet for one minute. This term measures the amount of airflow at a certain time point.
How to use an air impact wrench?
So before starting to use this tool, you need to make sure everything is safe for you. You should keep an eye on your hair, especially if you have long hair, wear gloves when working, and always remember to wear the most comfortable clothing. Always keep your work area clean, to make it safer. Also, before starting work, you must read the manual at least once. Always consider these steps before using air impact wrench kit:
Check your tool before starting work, see if there are any defects in it.
Check air pressure – for most of the factory settings, you need to reset the 90 PSI and only then can start working.
Check the torque of your tool because it must have the correct settings for safe operation.
Check the pressure and trigger effect of your device in advance, as you can spoil the workspace you are working on.