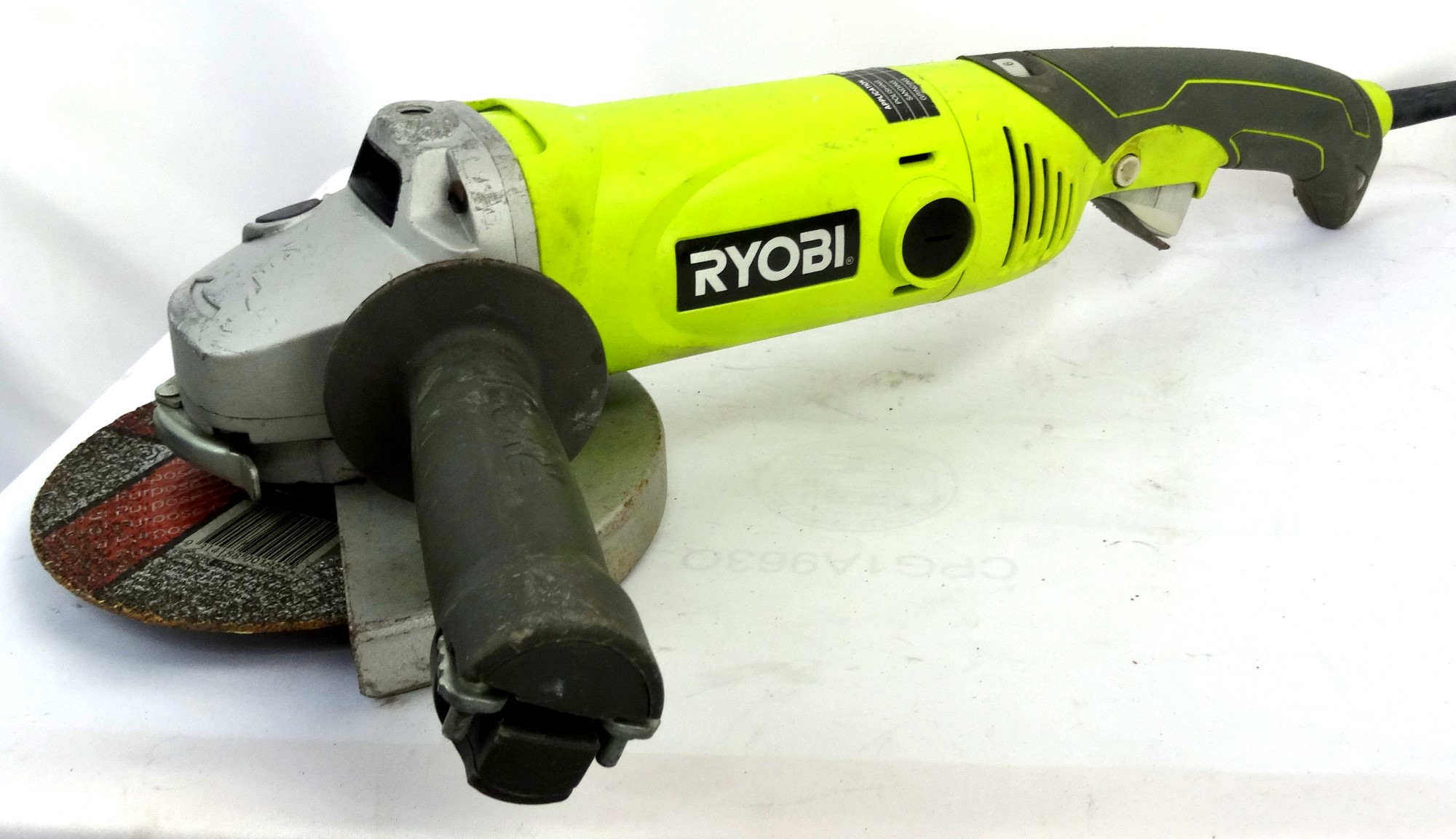 Ryobi Grinder Tool in Action – Video Review
Ryobi Grinder FAQ
What is an angle grinder?
An angle grinder is a hand-held power tool with an abrasive disk that spins at an impressive rate. The owner can use the unit to perform the grinding, cutting, and even sanding. It can be exploited in any fields of activity, but most often this tool is used:

– by plumbers – the professional cuts pipes with it;
– in house building and restoration projects – also pipes cutting, as well as channels, pavers, ceramic materials, etc.

The grinder works by rotating the spindle, on top of which a specific nozzle is installed, such as a special brush or disk (grinding or cutting).
How to use it?
Whether you have the Metabo, Hyundai, Makita or Ryobi grinder, here are the main points on how to use this tool:

– Apply safety gear.
– Check the revolution of the disk at idle before starting work.
– If possible, clamp the material that needs to be cut in a vice.
– Carry out grinding only with a required disk.
– Use it away from combustive, lubricating materials, and electrical wiring to avoid fire from sparks.
– Do not use attachments from other cutting tools, even if they are suitable for this device.
– Move around the object only with the turned off tool.
How to cut pavers with an angle grinder?
– Workplace preparation. When cutting pavers, a lot of dust is released, so it is better to cut the material on the street. A cut line with a pencil is applied to the pavers.
– Tool preparation. You should choose a required diamond blade and perform its installation with the figure up.
– Cutting process realization. Draw the cutting line across the surface of the paver via a pencil and a square. Mark the line on the paver's underside. After placing the paver onto a non-slip mat atop available work surface, you have to adjust the saw blade in order to make cuts to a depth of a 1 inch. Cut linear, beginning with a shallow incision at the surface, and make a few back-and-forths passes until reaching a depth of nearly 1/2 to 1 inch. Repeat such a process on the underside. Take the paver and tap a little bit on it in order to break the paver down the cutting line. It is not necessary to tap hard as this can destroy the material.