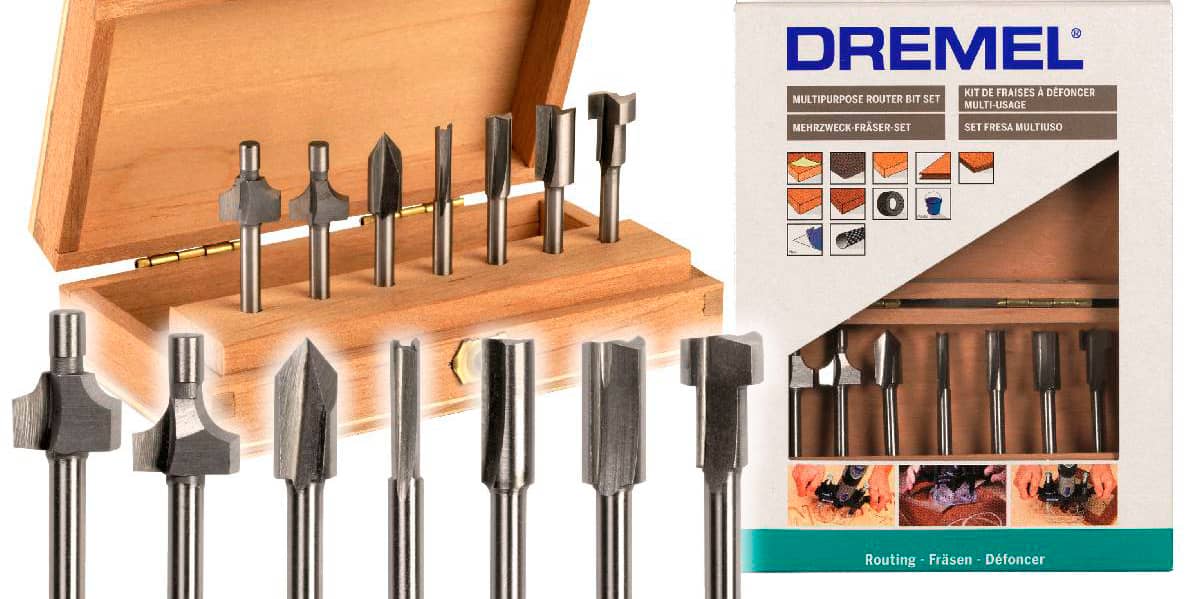 Dremel Router Bits Video Review
Dremel Router Bit FAQ
How to use it?
For making various cuts on different types of wood (planks, solid wood, etc.), ensure the stable base and secure fastening of the material you work with. Wear the working clothes and the safety goggles.

The following tips will help you master multiple types of clean cuts: 

– Go clockwise and counterclockwise. The latter is perfect for cutting the shape by the outside edge. Cutting something inside (e.g. a frame), use the clockwise router motion.
– Use support boards for cutting into thin and narrow planks. Ensure a stable position by nailing or fastening a stop board as well.
– Make the pattern sets for performing the identical grooves, bevels, or other cuts. Use the fiberboard or another middle-hard material (e.g. plywood) to make the templates.
– Use a jig for making dadoes. The appliance is simple to build while saving time on making the perfectly leveled dadoes.
– Go gradually with the deep cuts. Even if the router bit allows cutting it all, plunging deeper step by step will preserve the edges smooth and unchipped.
How to change a router bit?
Before replacing a worn-out bit or exchanging it, ensure that the router tool is turned off and unplugged, and the engaged bit is cool. Take the next steps:

1. Hold the router tool shaft with the wrench securely and apply another wrench onto the locking nut keeping the bit in. Unscrew the nut counterclockwise.
2. Take out the bit and the nut.
3. Dig into the shaft and remove the collet. Clean the collet and the shaft if needed.
4. Put the collet back and place the locking nut onto the shaft.
5. Insert a new bit into the shaft gently and slightly push up a bit once it encounters the collet.
6. Fasten the locking nut tightly.
How to sharpen a router bit?
Got your bit dull? If you wish to sharpen your Dremel router bit (or any other model), follow the guide:

1. Take a diamond paddle (costs about $15 – $50) and fasten it to the working bench with the clamp.
2. Unscrew the bearing from the bit (if any).
3. Slide the back part of the bit's blade back and forth along the paddle. Count the number of passes you made.
4. Repeat with the second blade with the same number of passes.