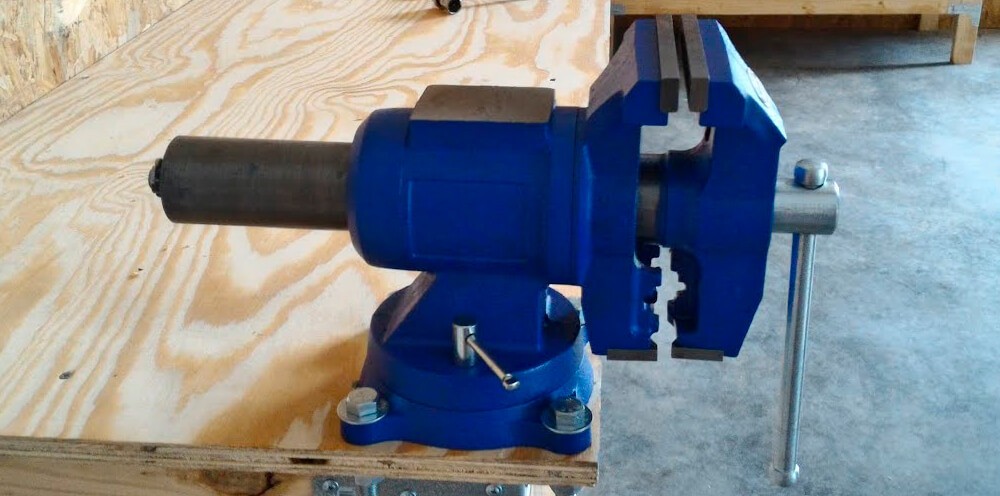 There are many reasons for you to make a present for yourself and buy the best bench vise available on the market today. This versatile tool has a significant potential to enhance so many complicated professional and household applications, as well as make your workbench more functional. However, those persons who have minor experience of dealing with bench vises may face certain difficulties in their desire to buy a reliable and durable bench vise.

In this context, I decided to make short but informative reviews describing five amazing models that can fit the needs of different customers regardless of their income and occupation. I believe that this article will be really helpful not only to average consumers but also to professional woodworkers and metalworkers, as it concisely provides the major benefits and shortcomings of these popular vises. After reading this article, you will also learn the main types of bench vises, different applications that you can perform with a bench vise, and the method of mounting your bench vise on a workbench.
Bench Vise Reviews


Keeping in mind its functional properties, I can fairly say that this heavy duty vise can definitely bring more value to your workbench. This model looks solid and sturdy, as it is made of heavy-duty ductile iron that measures in at 60,000 PSI. The use of this extremely strong and robust material is that it empowers the vise with 6,600 lbs of clamping force making many applications much easier. In my opinion, this model boasts user-friendly design as both its head and the base can be rotated 360°.
On the one hand, the head can be firmly locked in with a pull pin at 12 different positions (each within 30°). On the other hand, the base of the vise can be locked in any position you want to have it fixed. At this point, this useful tool can help you reliably hold the workpieces of different shapes without damaging them because you are allowed to lock the jaws wherever you need. This product also has the diamond pattern on its grips meant to make the grip more solid. The Capri Tools 10519 comes in medium dimensions (19.9 x 7.8 x 13.7 inches), although being considered a heavyweight vise weighing as much 57.3 pounds. However, its weight might not be a problem for potential consumers as this bench vise is expected to be mounted on a workbench.
Pros
The head of the item looks rock solid despite its rotating features.
The item can be mounted easily on a workbench through its three mounting holes.
This product works smoothly even when the heavy clamping force is applied.
Cons
This is a high-priced bench vise that is not affordable to all customers.


After testing this model properly, I have no doubt that Tekton is good at making simple but reliable tools. In fact, the 54004 can be successfully used for different applications in which you are expected to keep a workpiece fixed deadly. This good-working bench vise looks very solid and sturdy thanks to the cast iron construction that measures in at 30,000 PSI tensile strength. It should be also mentioned that this heavy duty bench vice features replaceable serrated steel jaws that are designed specifically to hold a workpiece with a secure and non-slip grip. I can also confirm that the product's base feels incredibly strong, though having the capability of a 120-degree swivel. By the way, its dual lock-down nuts act very well when it comes to keeping a workpiece in place firmly.
Another upside of the model arises from well-polished steel anvil providing a smooth and clean work surface for a wide range of different workpieces. In addition, the model's acme-threaded screw moves smoothly without any sign of stiffness intrinsic to some low-quality vises. At the same time, this bench vise seems to be very compact (10.8 x 5 x 5.6 inches) and lightweight (13.23 pounds), which is a positive feature for such a strong tool.
Pros
This product is sold at very affordable for most customers.
The item can be mounted on any workbench in no time thanks to its user-friendly design and three tight mounting holes.
The item is pre-lubricated properly, so you can work with it out of the box.
Cons
This bench vise does not work that good when you are challenged to hold uneven or large workpieces.


Working with this model was associated with positive emotions only as this professional tool has a lot of power and reliability behind its clamps. The first thing that helps this option to stand out is the fact that it is made of heavy-duty 65,000 PSI ductile iron castings that are stated to be three times stronger than conventional cast iron vises. This strength is further supported by large 2.7-inch x 3.5-inch anvil work surface, which means that you will have enough space and power and to work with large-sized workpieces. The second thing that makes this model so popular is the ability of its head to rotate 360° with the locking position at every 30° (in other words twelve different locking points).
Moreover, this high-quality bench vise also comes with a 360-degree interlocking (geared) swivel base that is complemented by two lock downs that help adjust the direction of the tool's jaws properly. With the Quick Action Pull pin, you will be allowed to rotate the vise quickly and with no effort. I think that the exceptional versatility of this potentially the best vise provided by both rotating head and base is perfect for dealing with various workpieces of different shapes. The model's four mounting tabs are meant to allow users to mount the tool on the workbench in no time. When speaking about the vise's dimensions, it looks compact when mounted properly. Weighing as much as 63 pounds, this bench vise should be better used as a stationary tool.
Pros
The product is made of high-quality materials.
This bench vise is pre-lubricated properly to let workers use it right out of the box.
The clamps, jaws, and the main screw work smoothly.
Cons
The item is very difficult to clean inside.


This model is ideal for those customers who have no desire to spend a lot when purchasing a new bench vise. Basically, this option has everything that an average person might expect from heavy duty bench vises. This product is built using cast iron but at the same time, it features steel jaws for holding the workpiece firmly. Coming with the built-in pipe jaws, the LV-4 gives users an ability to hold small pipes and tubes ranging in diameter from 0.6 inches to 1.85 inches. Besides its obviously low price, the model allows users to rotate the base up to 240° to help them find the most appropriate position for the workpiece they are going to work with. What I really value in this modest bench vise is its durable blue powder coat that is meant to make this product more durable.
Furthermore, it also comes with the zinc-plated main screw that uses an acme thread. The locking C collar of the model ensures quick engagement and disengagement of the main screw. Another positive characteristic of this item is its small size and modest weight (9 pounds), so you can even take this item with you if you need it. Keep in mind that it has 4 tight mounting holes for being mounted easily on any workbench. Overall, this model copes good enough with simple tasks (holding a small tube or a mower blade), but it cannot be recommended to those persons who have to deal with large objects.
Pros
The item works smoothly and easily.
This is an easy-to-use bench vise.
Cons
This tool is good for a limited amount of applications.


This mechanics vise is equally good for both professional tasks and household applications. After testing this model properly, I can admit that it has enough clamping power in its jaws to cope easily with large-sized objects. I like the way this bench vise is built as it looks sturdy and durable with its four-lug base design. The product also features a 25,000-pound casting, which is pretty cool for an average vise. I find it so practical that the 63302 is equipped with double lock downs, so you are sure that the vise will hold the workpiece tightly with no accidental movements.
In my opinion, the most significant upside of this product arises from its easy gliding U channel. It should be also mentioned that the product is easy in maintenance, as you can easily reach all the parts of the tool when cleaning grit, dirt, and debris. Moreover, the item features a special anti-corrosion coat to help it prevent rust and serve longer. However, this decent tool looks bulky (18.2 x 8.5 x 9.7 inches) and weighs a bit more than 44,1 pounds, so it is meant to be used primarily as a stationary tool with a permanent place on your workbench. In fact, this item allows you to work even with relatively large objects, so this bench vise is the best bench vise for the money it costs.
Pros
The item does not cost a lot, especially when keeping in mind its exceptional capabilities.
It can be mounted easily and quickly.
Cons
The product may require additional lubrication shortly after you have bought it.
Buyer's Guide
How to Bolt Down a Bench Vise?
Despite the fact that a bench vise is so popular with so many folks, some people are still eager to know how they can mount the vise on their workbench. Here are some simple steps you need to follow in order to bolt down a bench vise successfully in no time.
First of all, you have to make sure that you have all the necessary materials and tools at hand to perform mounting. It is your task to have bolts (depending on the number of mounting holes your bench vise has), washers (underside and top), tape measure, lock washer, nuts, pencil, drill, drill bit, and socket wrenches prepared at your workplace. You should properly measure out and mark the mounting holes by placing the vise at the desired position on a workbench. Stick to the manual provided by the manufacturer.
Secondly, you will need to use a drill with a drill size of the required size to make the mounting holes for your tool in a workbench.
Thirdly, test fit a washer over the vise holes and align the tool over the workbench by putting the bolt into each hole.
Then, place a washer, lock washer, and nut on the underside of all holes one by one tightening them with hand. Now finish the process with the socket wrench. Do not tighten too much in order not to damage the workbench.
What are Usually Bench Vises Used for?
This answer is mainly addressed to those persons who still do not know the benefits of having a bench vise in their garage or workshop. In fact, a bench vise is an extremely versatile tool that can be used for different purposes. There are six basic applications, which might not be performed properly without the bench vise:
When using glue in woodworking applications cannot get done in an appropriate way without the jaws of the vise bench.
When using a saw to cut some wood piece that needs to be fixed.
For cutting or modifying a metal object in metalworking.
For drilling a precise hole in some workpiece with your drill.
When finishing a workpiece with a piece of sandpaper.
When cutting an electrical conduit to keep things secure.
Overall, you can find so many applications that you can perform easily with the help of a bench vise. Everything depends on your occupation and fantasy.
What is a Working Principle of a Bench Vise?
There is still someone who has no idea how such a simple tool as a bench vise actually works. To shed the light on this issue, I think it is important to briefly describe different types of bench vises and explain the principle of their work.
The first category of these tools is called woodworking vises. As can be understood from its name, these tools are used for allowing individuals to work with wood materials. A woodworking vise usually has plastic, wood or metal jaws that pose no threat to the fragile structure of some kinds of wood.
The second category comprises those metalworking vises that are designed specifically to hold metal pieces in place for modifying them later. Metalworking vises are mostly made of cast iron steel, though it often happens that they are made of cast steel. They often have replaceable jaws, so you can use soft jaws for fragile metals (e.g. aluminum) and cast iron jaws for rigid and strong materials.
You can also find chain or pipe vises, which serve for allowing users to hold pipes in place. The main difference in them lies in the fact that chain vises hold tubes in a V-shaped supported by a chain that clamps securely around the pipe, while pipe vises are compact (often portable) tools that serve for holding pipes of different diameter.
Apparently, professional best bench vise comes with replaceable jaws to let you work with different materials and change the jaws in no time.