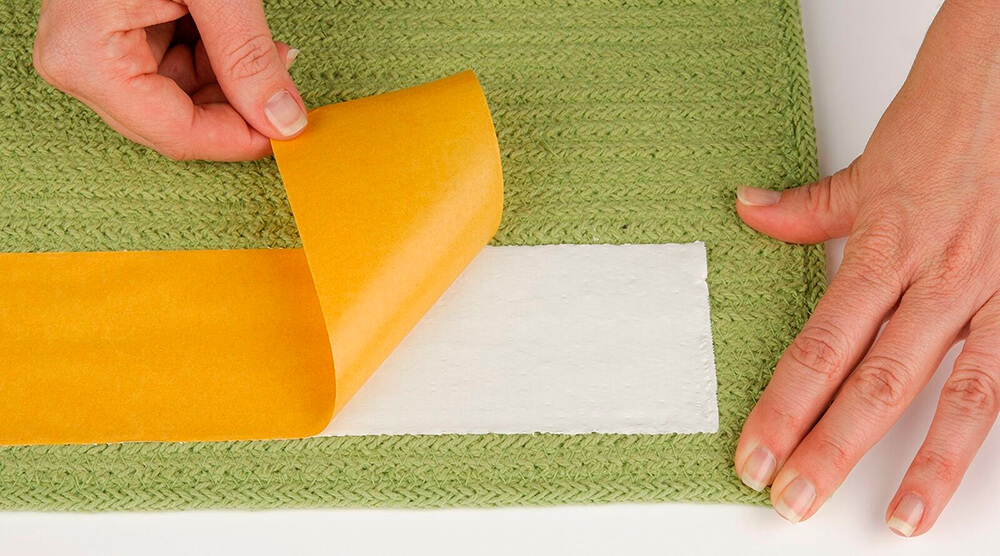 When attaching stuff to a variety of surfaces, the best double-sided tape is necessary to ensure strong and durable adhesion. Generally, it is referring to any pressure-sensitive roll (requires pressing to flow and make the bond between surfaces) that features the adhesive on both sides. However, this product is manufactured for various purposes and has some differences in its construction and purposes.

For instance, some people need permanent tapes since they're not going to remove items they've stuck. The others look for the removable, to prevent the surface from the residue after they will remove the stuff (re-hang the paintings, for example).
The following reviews allow choosing the best double-sided tape from the standpoint of both size, quality, and range of applications. Besides, these items have different length, width, and thickness. For example, some devices are good at sticking together only paper things. While many advanced products are designed for several different surfaces, including even metal ones.
Double-Sided Tape Reviews


The unit comes with six dispensers and six separate tapes in the box. Each roll is ½ inch wide and the length of 13.8 yards per roll. It's definitely longer than the majority of other similar products. This item is 3.5 mils thick. It's very sticky and might be the best two-sided tape for gift wrapping, scrapbooking, and other paper crafting hobbies.
It is intended to be permanent, that's why it doesn't stretch. Generally, it's designed like scotch tape and it unrolls just like regular, but both sides of it are adhesive.
Regardless of being produced for paper, the tape is able to hold some very lightweight stuff on the PVC pipe but not for very long. If using the unit for putting fabric on the wall, it's better to do it on a hidden inner-closet surface since it might damage the wallpaper.
This item is not recommended for mounting light strips. It is able to hold plastic insulation on the window, but it might be a problem to get it off the glass without a scraper. Since it's a rather strong double-sided tape, it's not meant to be removable (to reposition a photo in an album, for example).
Pros
The tape includes minimum acid that's why it's safe for color photos.
It's color-free, that's why it's not visible on surfaces.
Cons
It doesn't hold laminated photos or cards on the foam boards.
The serrated edge that cuts each piece of tape is blunt, making the process more time-consuming.

The Gorilla mounting tape is permanent, that might slightly damage the surface or leave a residue if removed. It depends on surfaces, for example, it came off without a mark if using it on granite and on the tile. Besides, one can use the dedicated fluids or lemon essential oil to remove the sticky adhesive on most surfaces.
It has 60 inches in a roll. It comes with a dimension of 1.27 x 3.38 x 6 inches.
This double-sided adhesive tape is weatherproof, it is rated for temperatures between -40°F to 194°F. Consider this range when using it for holding stuff outside. One should also note that, according to the manufacturer, the unit handles objects weighing up to 30 pounds. It's true and pretty good since the majority of similar products are between 15 and 40 pounds.
It's intended for brick surfaces, but they should be flat and dry, as well as free of dirt and oil. It won't adhere well to the fibers. The adhesive is difficult to stick stuff to foam-like materials. This double-sided tape is claimed to work on glass surfaces, but it can't cope with items that are over 0.75 inches in depth. Bear it in mind when choosing a blink camera to stick it to a window, for example.
Pros
It works well for adhesion to wood surfaces and has a strong stick to metal, plastic, and ceramic too.
Doesn't fall off even in hot temperatures.
Cons
It is a bit difficult to find the edge of the roll to peel from the second side.
Melca DS-CT — Best Double-Sided Carpet Tape


The adhesion works indoors or outdoors on smooth or rough surfaces and on all flooring types, including brick. It's very strong and fits a wide range of wall hangings.
This item is durable enough to be detached and reattached numerous times for cleaning purposes. Additionally, the tape roll is 30 yards long. This unit is also remarkable for its width of 2.5 inches.
It can be used to put an area carpet on top of the hardwood floor and the tape leaves no residue on it. It also sticks well on rubber gym matting on ceramic tile. This item can be used on PVC garage floor mats for attachment to concrete if the floor is clean. The unit is compatible with the laminate floor when placing it in the middle of the planks.
It should be noted that the unit tends to stick to scissors or knife when cutting it and leaves a residue on the tool (it can be removed with solvent). It's not a big flaw in this case since it is easy to rip by hand.
Pros
It can keep acoustic foam on the wall.
It's wider than most competitors are.
Cons
Though this item is very sticky, it is quite thin (0.009 inches) making users consider the weight of the stuff they're going to stick.
It's hard to remove from the paper tape it comes attached to.
HitLights — Best 3m Double-Sided Tape


It's a thin double-sided tape (0.024 inches), but, at the same time, it features great holding power. This item is 0.94 inches wide and 16 feet long. It is handy for so many things – sticking pictures, wall hangings (even a small shelf), etc. It provides good adhesion with LED strip lights, rubber, and plastic, as well as with ceramic tile. Just make sure that both surfaces are clean and dry.
This unit should be used on smooth but not on textured surfaces. It also sticks well to concrete, glass, and wood. It fits aluminum that comes without other metal impurities. This waterproof mounting tape is very sticky and it can be used for brick walls.
The tape is strong and easy to cut. Once it's applied properly, it does not come off without a decent bit of effort. The unit is easy both to apply and to peel it off the protection on one of the sides to reveal the second sticky side.
Pros
This item is able to cope with low surface energy plastics that are traditionally fastened with nuts and bolts.
It can be used on automobiles.
Cons
It holds only small things –1 pound at max.
It stretches when removing the outer layer covering.
3M 5952 — Best Double-Sided Foam Tape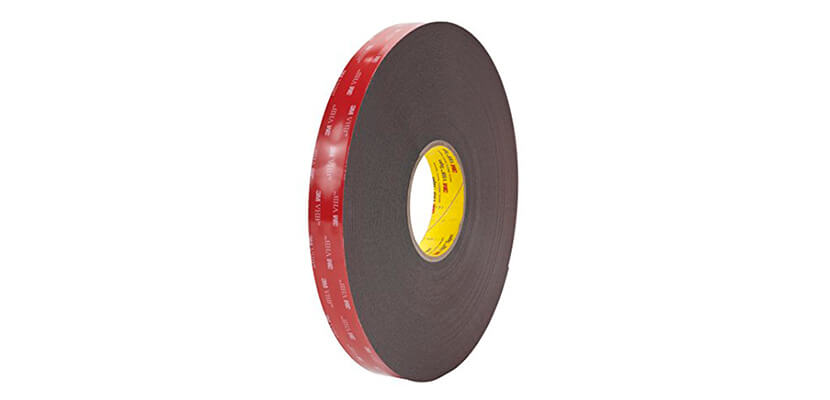 The 3M VHB double-sided tape comes with a width of 0.125 inches and 5 yards of length in a roll. It is suitable for car mounting. It is often used for mounting solar panels on RV roofs. It sticks the door bumper strip to the rear passenger door, plastic fender flares on trucks, or side skirts on the car that are meant to be screwed on. In the latter case, it's necessary to clean both surfaces with rubbing alcohol before sticking the tape. It also bonds window visor plastic to the rubber top of the car door frame. This item is used for attaching a rearview mirror on a windshield, dash camera, or GPS unit to glass.
The tape works flawlessly up to 230°F. It also holds well in 22 below zero temperature. Preliminary cleaning is also important. It's a strong tape and might take off the paint while mounting strip lights, for example. Note that there should be no wetness on the surface where it is applied. Besides, it's not a conductive unit or an insulator since it's designed as an anchoring system. When sticking something to silicone, make sure the material is strong enough and won't tear, as the item is stronger than super glue.
Pros
The product is water-resistant and can be used on boat hulls.
The unit is good for studios since it works with acoustic panels made of the soundproof foam.
Cons
This double-sided sticky tape is described as converted from a 3M VHB product. It means the third party re-rolls the tape that usually makes it less effective.
Buyer's Guide
How to Take Off Double-Sided Tape?
Actually, there are several techniques to handle the problem. The first solution is relevant to the walls and doors. Just take a hairdryer, spray the WD-40 (effective material that doesn't damage anything), scraper, and dry cloth. Then, go ahead in the following way:
Heat it up with the hairdryer.
Remove residue little by little while heating up. Be careful with the scraping to prevent the surface from damage.
Spray the surface with the WD-40 for a few seconds.
Take the cloth and wipe the place to make it clean.
Another method means using a tissue paper. Put it on the double-sided tape and apply heat on it with an iron. Then slowly remove it from the wall. This trick works for small pieces.
To remove as much of the tape from the glass as possible, use a butter knife or even your nails instead of a scraper to avoid scratches on the surface. Then, spray residue with the window cleaner (or cooking oil) and wipe the wet zone with a scrubbing sponge making circular motions. Take the soft cloth and use rubbing alcohol to clean the window.
If dealing with unpainted surfaces, it's possible to use some acetone or nail polish remover to get rid of the tape. When removing residue from fabric, plastic, and wood, use rubbing alcohol.
How to Use Double-Sided Tape?
Technically, everything is simple. Take a roll, measure the proper length, and cut off or rip it. Stick it to the surface with the adherent side, then uncover another side and stick the necessary item to it. Don't forget to clean the surfaces and dry them.
However, how to use it in terms of the variety of applications?
Some units are appropriate for craftwork – die-cutting or scrapbooking to adhere to photos and decorative elements.
Wide and strong tape is good for sticking carpets, mats, and rugs to the floor. For this purpose, it's important to consider the floor covering to make sure that the tape fits it – whether it is about concrete, hardwood, or laminate.
Some tapes are able to isolate the sound and they are usually used in the acoustic and video studios to hold special foam panels.
The two-sided tape is indispensable at exhibitions since they hold demo stations and POS materials. In this case, the removable is required rather than a permanent one.
Weatherproof units are great for using them outdoors and adhere to accessories in cars, decorations, LED strips, etc.
Various types of tapes also offer different uses. Foam units feature either open or closed cells and come with the acrylic sticky sides. It can be used instead of gaskets and for effective soundproofing.
Fabric tapes are made of woven cotton or synthetic cloth and they feature a high adhesive coat weight. They are used for carpet laying, bonding of polystyrene and aluminum, fixing signs, laminating leather, textiles, and foam.
Paper tapes are coated on both sides with a rubber adhesive and fit simple bonding applications for temporary sticking. They work well on uneven surfaces.
How to Choose Double-Sided Tape?
First, it's important to consider the material that is planned to stick together. There's no need to overpay for multi-functional tapes if, for example, it is used only for gift wrapping.
However, even the same material could feature surfaces of different qualities. Some items work well only on a smooth surface and the others can handle the textured or rough ones. So, if you are going to work with non-uniform or highly patterned surfaces, tapes with the thick bonding system will be suitable. Some cheap units come with not acrylic but rubber adhesives. They might be strong but not durable that makes them suitable only for short-term applications.
If gap filling is required, bear in mind the gap size to choose the item with the right width. When planning to hang things, take into account their weight and the tape's manufacturer instructions since each unit has its weight limits.