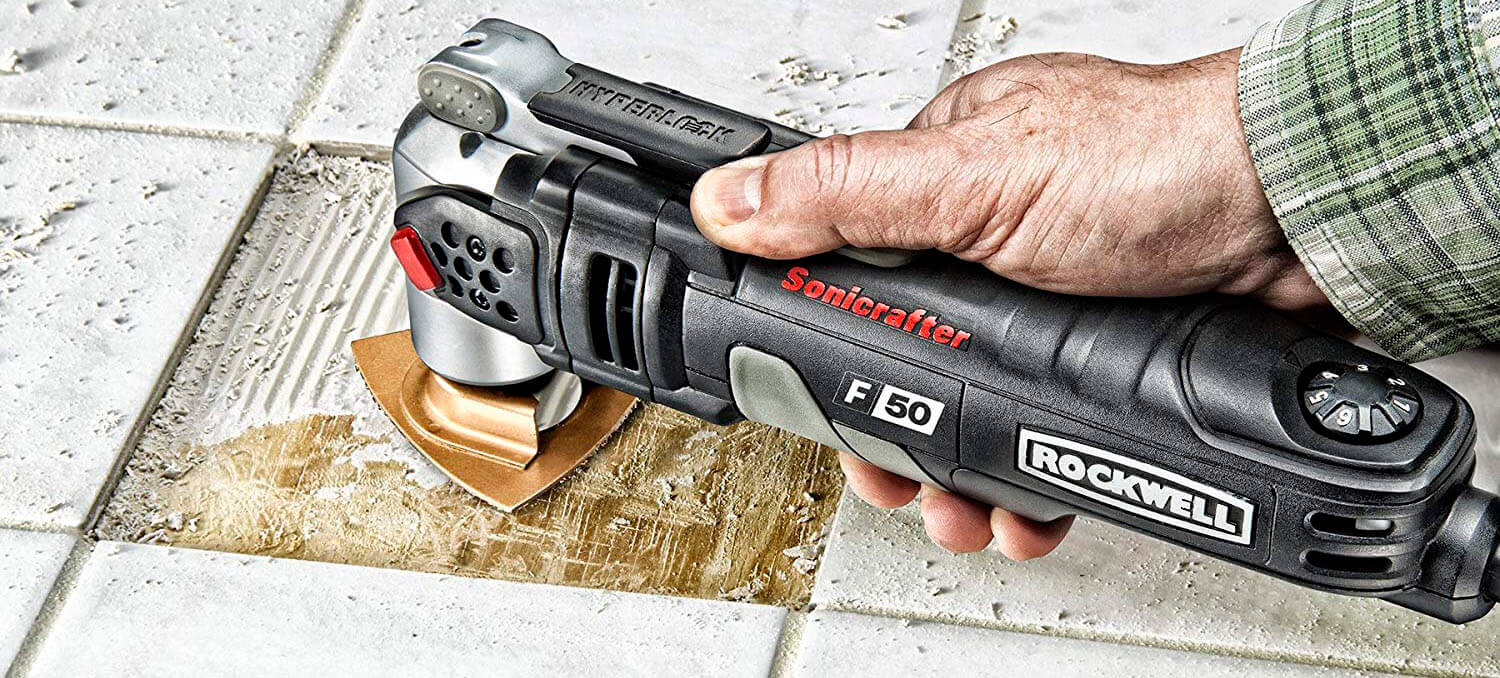 Both handymen and contractors often look for the best oscillating tool to widen their repair skills. It's a relative novelty among the workshop tools that's why let's reveal what is it. So, it's a portable device with several attachments that are powered with a battery or electricity. The attachment does oscillating motion providing accurate curved or straight cuts in hard-to-reach areas.

Its prototype was a medical tool for removing casts. The modern consumer models are developed to scrape, sand, saw, polish, and do tons of other home improvement repairs.
In this article, one can find the oscillating tools of both cord and cordless models and check their features to assess their value to the required types of jobs. Besides, it's crucial to pay attention to the set of accessories and their quality. For example, if somebody is going to work with the wooden object, it's important to get a model with a wood-cutting blade in the kit. Bearing in mind the possibility of the attachment's affordable replacement is also crucial.
Keep reading to know more about the tools' construction, blade-mounting system, oscillation modes, and other specifications to choose the best oscillating tool for easy and comfortable use.
Oscillating Tool Reviews
Best Cordless Oscillating Tools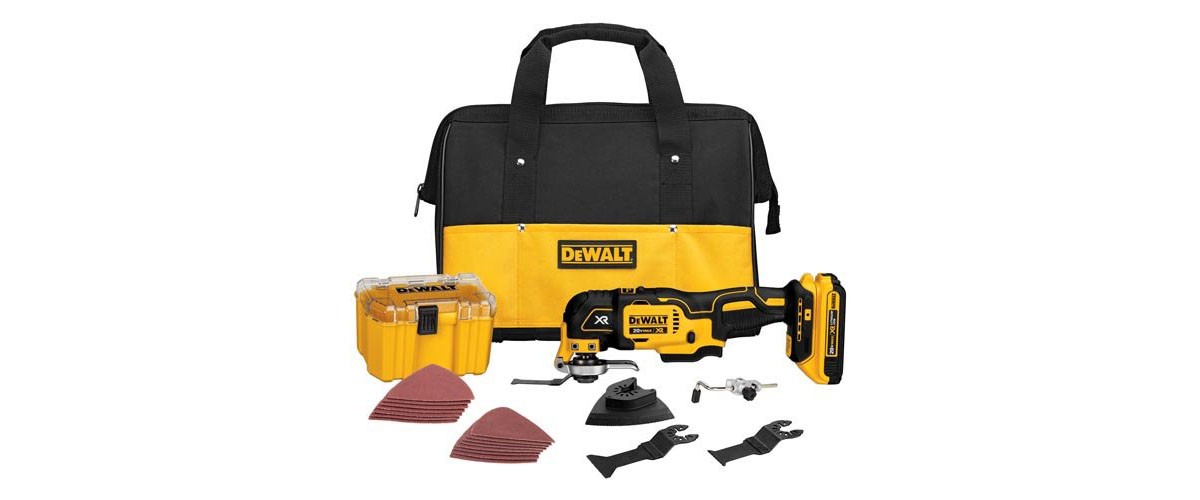 In search of the best oscillating multi tool, don't miss the DEWALT DCS355D1. Unlike the basic models with only a switch on/off option, it features a regulator to change speed and an ergonomic handle that is usually more typical for drills. Besides, it has an enhanced brushless motor for more efficiency and better performance.
This tool is rather lightweight considering its decent power of an 18/20V that allows working with a single hand effortlessly. This credit goes to 2.0 Ah Slim XR battery that lasts for a long period. By the way, its level of power is always visible on the LED indicator that displays three green stripes when the battery is full. Note that the charger is included in the set to feed the battery.
A large area of its surface is covered with a rubber coating that makes it more convenient in use. In addition, it has a LED light on the front, this feature lets work in the dark corners. The DEWALT DCS355D1 comes with a decent-sized bag that keeps all your stuff in a spot.
This unit isn't the fastest one, but it does 20,000 oscillations per minute that are quite enough for the majority of home improvement repairs. It's a versatile model since it has many attachments for different cutting and sanding. The DCS355D1 works quietly in the lower speed ranges and not too noisy at max.
Pros
It can handle rough sanding.
It makes very clean cuts.
Quick Change lever works flawlessly and provides fast blades and accessories replacement.
Cons
The trigger isn't perfect since it's necessary to hold it constantly in the position manually when working in average speed. It holds itself only at full speed.
Non-brand blades don't fit the quick attachment holes.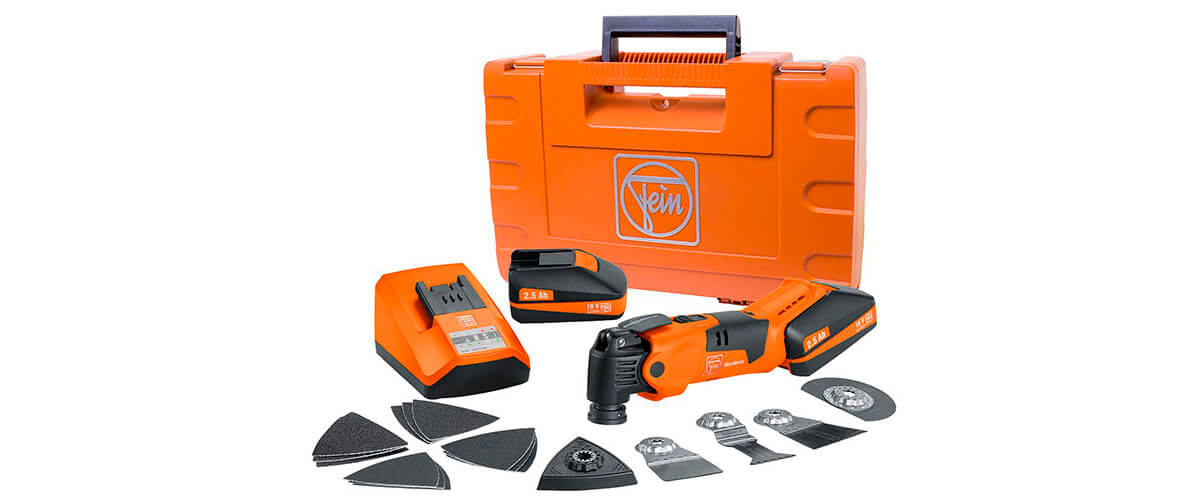 The oscillating multi tool reviews can't dispense the FEIN AFMM18QSL that comes with its brand StarlockPlus mounting system for quick attachments' replacement. It is a special lever that disconnects the blade and lets the user avoid touching hot accessories. This model is fitted with a standard power clicker and variable speed dial.
The unit contains a couple of 2.5 Ah batteries that are more lightweight than 5.2 Ah that is placed in some other models. However, their lifespan gives enough time (35-45 minutes) to make a good piece of work. However, the tool's total mass is significant. Note that it's possible to use 4 Ah and 5.2 Ah batteries if desired.
Despite its six speeds, this one isn't the fastest model but still, it features perfect vibration control (due to a self-supporting motor) that means more control on the cut and low-noise level while working in any speed. In addition, it provides maximum transfer of torque and high precision of cutting and other operations that is critical on expense wood trim, for example.
Pros
Other brands of blades work with this model.
It's powerful enough to handle heavy loads.
Cons
It lacks LED light that makes it difficult sometimes to cut and sand in tight access areas.

When thinking of the best oscillating saw, take a look at the Makita XMT03Z with the lightest motor on the market that has lots of output to manage large projects. It can handle even 26 gauge sheet metal but requires slow operating in this case. It's fitted with the quick-change lever that does its job when holding the blade firmly in place, but its location precludes cutting deep enough and leaves no place for a LED light.
The assembly has a sturdy design with the low-vibration tech that enhances the accuracy of cutting significantly. It's also a reason for its solid weight that might be inconvenient for some customers. Still, its cabinet is well-balanced that doesn't let get tired too fast.
This model is suitable for everyday use for both remodeling and finish work that's why it's in demand at contractors. It also cut nails in a second without damaging anything if attaching a dedicated metal blade. In general, considering this assembly's versatility and frequent usage, it's crucial to buy top-quality blades to keep them sharp for a long period.
Pros
Fast and rough cutting is possible due to its 3.2-degree oscillation angle.
Its barrel grip is not thick that provides convenient handling.
The unit features adapters to attach accessories of other manufacturers.
Cons
Its battery is capable of just 20 minutes of the run (however, the feeding is fast) and gets hot.
Considering the fact that in the set there are no bag, a battery, and a set of attachments, this model is a bit pricey.


This model could become the best oscillating saw despite the lack of the brushless engine that produces continuous rotation for being more efficient. Still, it has an extremely ergonomic design when providing comfortable holding due to the convenient diameter and LED light in front.
It's rather heavy but well-balanced that facilitates long-term operating. Besides, its speed is as high as the plenty pro-models' speed and it's possible to regulate it within 12 levels to let the user match it with the application. However, this model doesn't have a quick-change system so the user needs the bolt to replace the attachment. In other words, it's necessary to involve hands. In this case, one should be careful not to contact hot blades. Besides, it takes time to handle the bolt.
The Milwaukee 2626-20 is also noticeable for its brand RedLithium batteries that are well known for their ability to "inform" a charger when they're full to escape overcharging. In addition, it is based in the corporate Constant Power Technology to keep the blade speed stable. This model has an adapter that allows attaching any kinds of accessories.
Pros
It features an all-metal gear case for higher durability.
This unit is developed to reduce vibration and it really does its job.
It works completely quite in any mode.
Cons
The unit comes only with the sanding pad and sandpaper pads, no blades in the box.
Its battery life is short, that's why an extra battery should be at hand.


The Ryobi P340 One+ is possibly top rated oscillating tool, it's really worth attention since it's compatible with other third-party accessories. In addition, it's easy to replace the unit's head with Ridgid JobMax powerheads. The tool performs well while it's giving a smooth edge along the definite pillars and peeling them up well in the process.
This model can cope with wood, soft metals, and plastic. It's well-balanced, lightweight, and lets the hand stay firm during the cutting even difficult areas.
The Ryobi P340 One+ has an adjustable speed up to 20,000 oscillations-per-minute, but this model is fitted with the trigger instead of a dial. So it's necessary to hold the trigger down in order to keep the certain level of speed and this spec decreases the accuracy of cutting.
The unit has a LED light to let the user see the work area clear. It also features a magnet below its handle to hold tiny nails and other small parts at hand while working.
Pros
It's possible to use diamond pads for light concrete polishing since the back of the tool features Velcro to attach to the diamond shape holder.
Cons
It doesn't come with a battery.
Not very powerful since many efforts are required for cutting through hardwood floors. On other words, it fits more for easier home projects.
Best Corded Oscillating Tools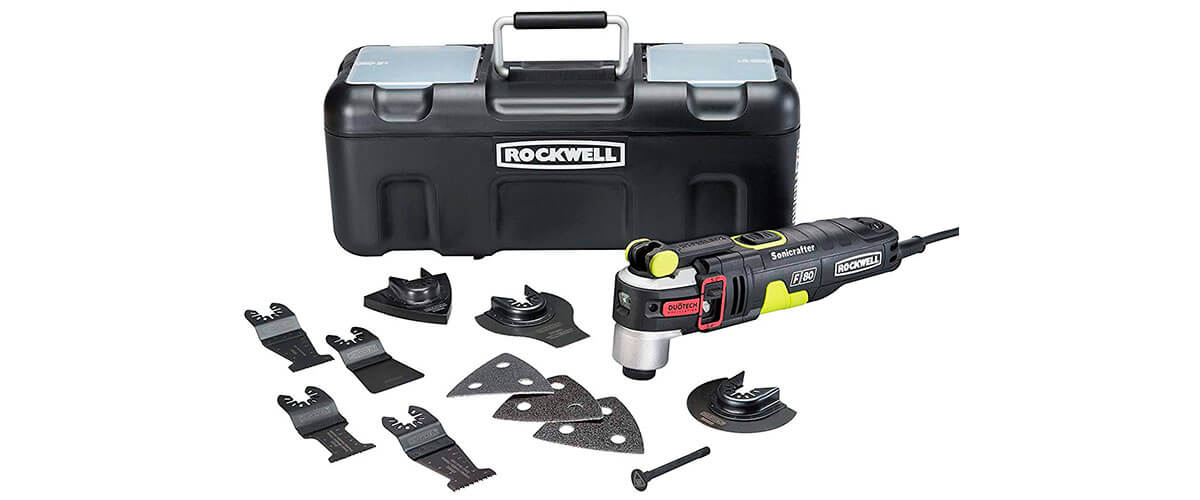 When dealing with the best corded oscillating tool, the Rockwell RK5151K comes to mind with its unique Duo-tech feature. This tech allows picking the proper angle of oscillation within a range of 3.4–5.0 degrees to reach the ideal outputs when performing a certain task.
The Hyperlock clamping system is another its brand feature that is developed to replace the accessories fast when locking all of them firmly to a set. The user can use a blade and all the others stay attached to a tool. A dedicated screw tightens up the fitting between two steel discs to keep the blades on their place while one of them is working.
The unit is also remarkable for its adapter-free Universal Fit System that makes all the accessories interchangeable (other manufacturers use adapters for this purpose) and allows attaching other branded accessories. Note that the supplied blades are very robust.
The RK5151K's is very powerful since it is able to handle heavy-duty objects with high accuracy and stable speed. The latter is adjustable and can be changed smoothly for a rough cut or finishing via a dial on the back panel.
Pros
Long 10-feet cord.
The additional blades and hard plastic case with two storage compartments are in the package.
It doesn't vibrate at all at any speed.
Cons
The LED light is too weak and not helpful.
It's possible to move the speed switch dial accidentally.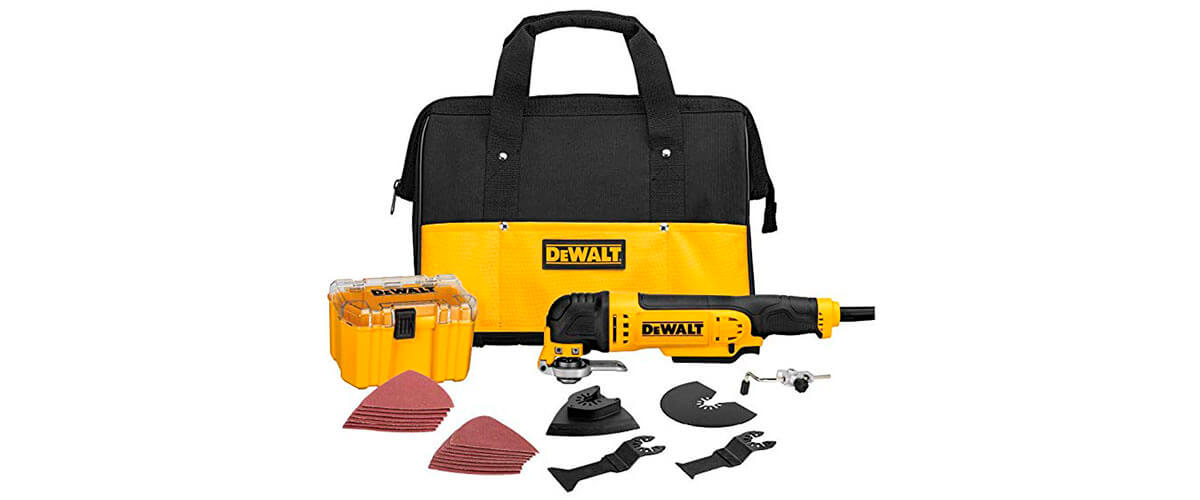 This model has every chance to be the best corded multi tool due to its Starlock system that allows changing accessories almost without touching them. Besides, it features a convenient handle to let a hand keep a natural and convenient position while cutting.
Although the unit comes with the trigger to regulate speed, it also has a good lock-on switch system. This provides good control and cutting accuracy so that the user can start to work slowly, increasing the speed as the cut progresses.
The DEWALT DWE315K is really fast and can reach 22,000 oscillations per minute. Its motor is powerful and demonstrates strong performance for cutting and sanding. Besides, it has a fence guide option to keep the tool on target and pre-set the depth of the cut.
Pros
It comes with the dedicated adapter to attach any other manufacturers' accessories.
The contractor bag and accessory storage box are in the package.
The assembly is perfectly balanced that makes it easier to hold it despite a solid weight.
Cons
This model isn't able to dampen vibrations completely.
It works as a sander but doesn't suitable for sanding large areas since it requires working slowly without applying much pressure.
The blades included aren't of the best quality.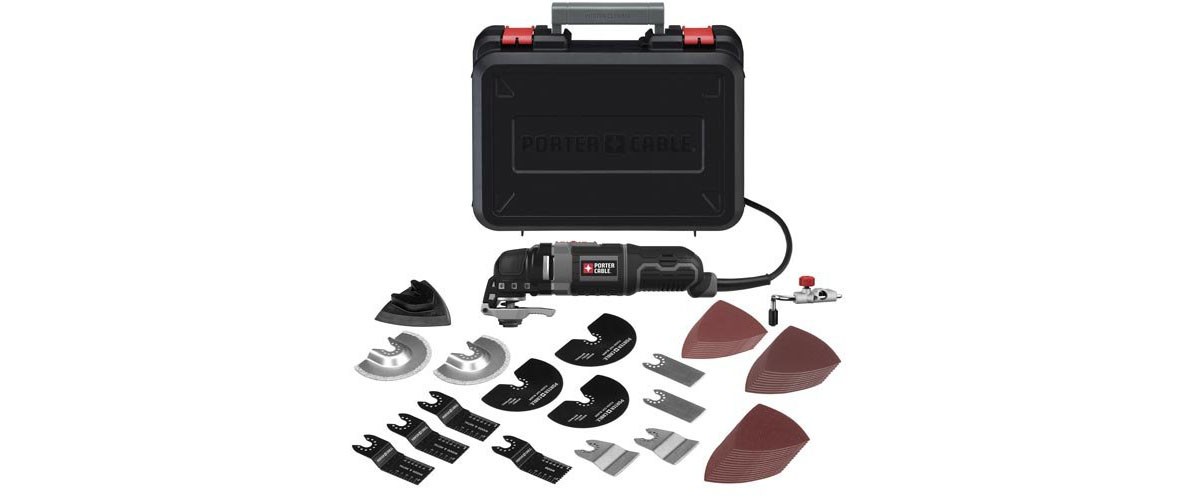 This model is remarkable for its high power and the ability to withstand the heavy loads that makes the tool suitable for both handymen and contractors. Besides, it's fast (runs up to 22,000 oscillations per minute) and can handle large projects on short notice. For example, the unit moves fast even through a rough place and it makes it completely smooth. Unlike plenty of other models in this price range, the PCE605K52's cord is long enough to dispense extension cord.
It has no bolts to change accessories since it features the tool-free system to replace attachments. By the way, a large assortment of them is included in the kit. Its size, weight, and rubber grips are well-balanced to make the tool convenient in use. It runs without vibration to be holding up well. However, the machine is getting warm or even hot if using it for a long time that's why it's better to work in gloves.
Pros
The case is in the box and it has a compartment for the full set of blades and sanding pads.
It's possible to regulate the depth of cutting.
It accepts any blades of other manufacturers.
Cons
High level of noise.
It moves too slowly through hardwood.
No built-in light.
Buyers Guide
How Does a Multi-Tool Run?
Whether it deals with the best cordless oscillating tool or the cord modification, the operating modalities are the same. All the models have a cabinet that doubles as a handle and a head for attaching a wide array of accessories to do various jobs – cutting, sanding, removing the floor covering, etc. There is a motor inside this machine and it implies the tool's power and acceptable loads.
The cabinet has different diameters and length and the head sometimes features the adapter to make all the attachments interchangeable. However, as it was mentioned in the cord and cordless oscillating tool reviews, not all models have them. Some units accept only brand accessories. Note that no attachment can work endlessly. They lose their sharpness rather soon and requires replacement.
So, to start working, it's necessary to choose the suitable blade from the kit, to insert it in the head, and switch on the machine.
Unlike a saw and other similar narrow-profiled instruments, this machine moves a side-to-side but not back-and-forward manner. The number of such movements per minute determines its capacity. The fastest models can boast up to 22.000 oscillations per minute. The average oscillation reaches three degrees. That's why the machine seems to vibrate while operating and those vibrations should be minimal to provide high precision of cutting and other applications.
Scope of Application of the Oscillating Tool
When choosing the best cordless multi tool, one would like to get a versatile machine to manage as many repairs as possible. In general, the tool is developed to cover a range of delicate operations for house renovation when it's necessary to cut small niches or get to the hard-to-reach places without damaging other details on the surface.
Now, let's take a look at the multi-tools' basic opportunities:
Trims and cuts in pieces of material (wood, plastic) with surgical accuracy, for example, trims the corners or the joints of furniture to make them look neat.
Undercuts door jambs to install new flooring.
Makes flush cuts easily and trims screws.
Removes old sealants.
Cuts grout and tile in the bathroom or kitchen.
Cuts slots and squares to install a sink, a pantry, and other similar stuff.
Renovates old wooden window frames.
Prepares a surface for painting.
Gets rid of mastics and vinyl floor adhesives.
Narrows edges and other similar surfaces.
Removes rust from the metal objects.
Sticks moldings without damaging the surfaces.
Polishes wood surfaces.
The number of options is variable and depends on the machine's quality and power. For example, the professional assemblies allow plunging cuts when working on heavy decking boards. Remember that it's crucial to know what type of blade should be attached to succeed with a definite application.
Is Multi-Tool Capable of Cutting Metal?
Thinking about "what is the best oscillating multi tool", customers usually look for a model that is able to work on any surfaces and with a lot of materials. It's well known that the oscillating tool handles wood, vinyl, laminate, tile, and plastic, but can it cut metal?
Actually, tough materials are beyond the control of the most powerful multi-tools and subject to the attachment of dedicated carbide teeth. In this case, it manages stainless steel bolts, galvanized pipes, and sheet metal. If using a typical saw blade, it will burn out fast and blow the whole works. The bi-metal blade is also acceptable if cutting both wood and metal. When working with harder metals, the semi-circular blade is required. If the user is going to make plunge cuts on a steel surface, he/she should take a dedicated plunge cut blade.
Cord and Cordless Multi-Tools – Diversities and Peculiarities
Cordless assemblies are battery-powered and they can work nearly an hour maximum. Then the user should charge the battery. To escape downtime, it's better to keep a spare battery on hand. When choosing a cordless modification, it's important to pay attention not only to the battery lifespan but also to the speed of its powering. Besides, it's highly recommended to get a top-quality feeder.
Such units allow operating in an environment where the electricity isn't available but all of them tend to heat fast while working.
Cord models are usually more powerful and allow working for a long period without a break. They require a socket as a source of power. Bear in mind their cable length since if its' too short, it's necessary to get an extension cord.
Both battery-powered and electrical models can feature a good set of accessories. So, the number and quality of blades and teeth aren't dependable on their source of power.