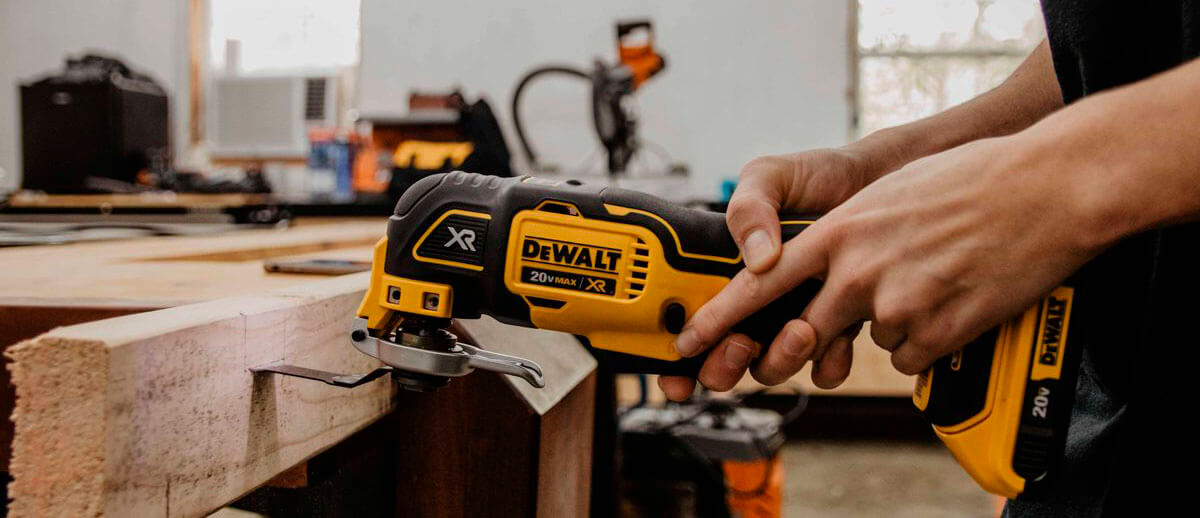 The oscillating tool has recently become a valuable device that is capable of performing various tasks that we may need to cope with from time to time. However, just buying the cheapest and low-quality version has no sense as you just will be disappointed with its performance.

Therefore, choosing the best oscillating tool is what you really need to do if you want to enjoy the real power of this multifunctional device. Obviously, with so many options available in the market right now, it may be very challenging to find an oscillating tool that can fully meet all your expectations. That is why we have analyzed the most popular tools and come up with these informative oscillating multi tool reviews to help you make a perfect choice. Moreover, this article will also teach you how to use the tool properly and what safety precautions to take in order to prevent untoward incidents.
Oscillating Tool Reviews

Our oscillating tool reviews start with this functional cordless model that uses the 18V LXT Lithium-Ion battery, which can deliver up to 20 minutes of continuous work. I would like to mention that the tool does not go with a battery and you will be forced to pay for the battery separately. However, this necessity is fully compensated by the MAKITA XMT03Z's cheap price. Having a standard 3.2-degree oscillation angle, the multifunctional tool is aimed at providing aggressive cutting and sanding. I think that the main upside of this low-priced device is its innovative variable speed control dial that will enable you to choose the desired speed from 6,000 to 20,000 oscillations per minute. Moreover, I also like the tool's small dimensions (4 x 13 x 5 inches) as the model weighs just 4 pounds making it very comfortable to work even with your hands extended.
Pros
Perfectly working tool-less clamp system, which allows changing the accessories quickly and easily.
The model goes with the LED light, which means that you can work outside even after the sunset.
The product has a pleasant level of vibration.
Cons
Poorly planned location and size of the model's Quick-Change lever may prevent you from cutting too deep when necessary.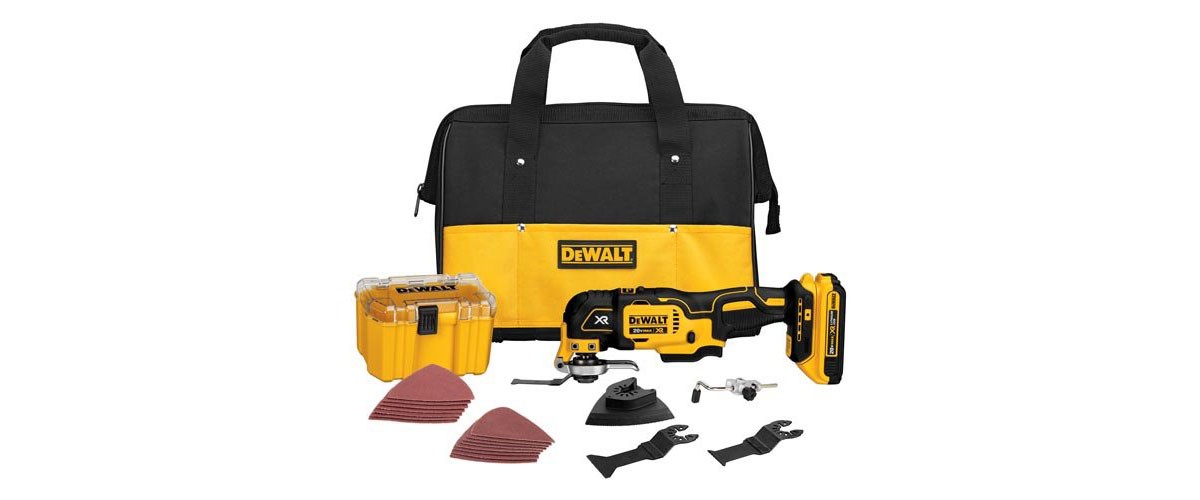 The first thing that impressed me hugely in the model was its powerful brushless motor that can deliver up to 57 % more effective run time over brushed. What is also good about the model is that it goes with the 20V XR Lithium-Ion battery, so you should not pay for it. I can admit that a generous 28-piece Dewalt accessory kit with storage box is an undoubtable upside of this oscillating tool as it gives you so much choice in terms of finding the most appropriate attachment for a particular task. When equipped with the battery, the DCS355D1 weighs as much as 7 pounds, which is pretty good when keeping in mind its rather bulky dimensions (17.2 x 5.1 x 9.8 inches). Its weight may also make it difficult to work with it when staying on the extension ladder or keeping it in the fully extended hands.
Pros
The model has a trigger switch mid handle activating the motor and front-facing LED light.
The product's Quick-Change system allows users to quickly replace the attachments.
Works very quietly and efficiently with minimum vibration.
Cons
The accessories other than Dewalt's will hardly be accepted by this oscillating multi tool.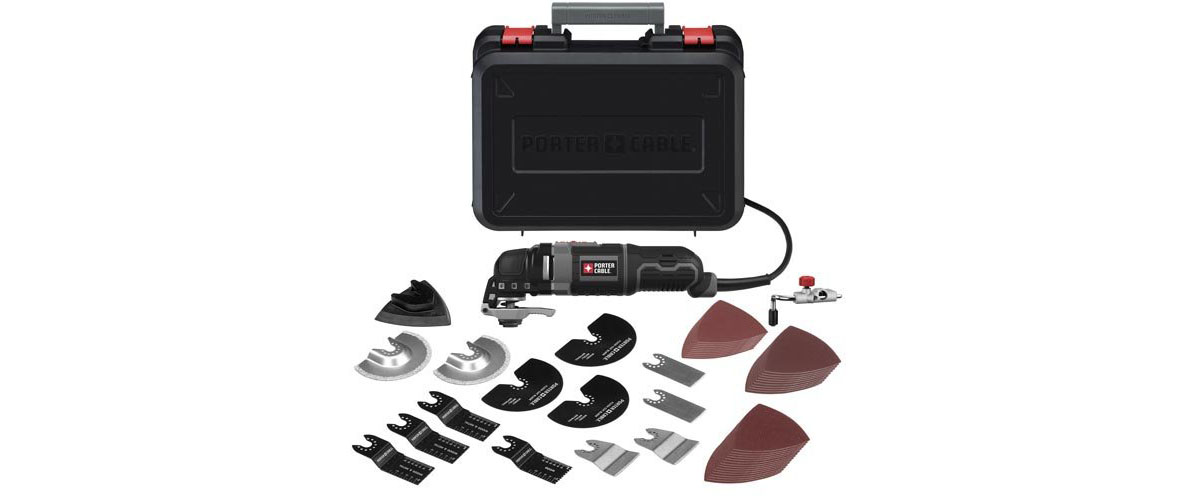 After testing this particular model, I wish to note that the PCE605K52 has a very powerful 3-Amp motor, which is meant to help you perform cutting, sanding, and other tasks way faster. On the one hand, the model has a 10-foot cord, so you will unlikely face any problems with reaching some distant places in your house with your tool. On the other hand, it also means that you will not be able to normally work in the yard of your house without having an extension cord at hand. I am disappointed with its bulky design, as it weighs as much as 7.65 pounds with rather big dimensions (15 x 4.3 x 11 inches). However, this downside derives from its powerful motor, so I can turn a blind eye to this undesired design feature. After all, the tool is sold with an impressive number of accessories (52 pieces), which is more than enough to be satisfied with the tool's extremely high functionality.
Pros
The model boasts its Quick-Change system, which allows you to quickly switch accessories when needed.
The tool offers multiple speed options.
This device also provides a precise depth adjustment, so you can work comfortably with different tasks.
Cons
The tool may get warm rather quickly making it difficult to work with it even in gloves.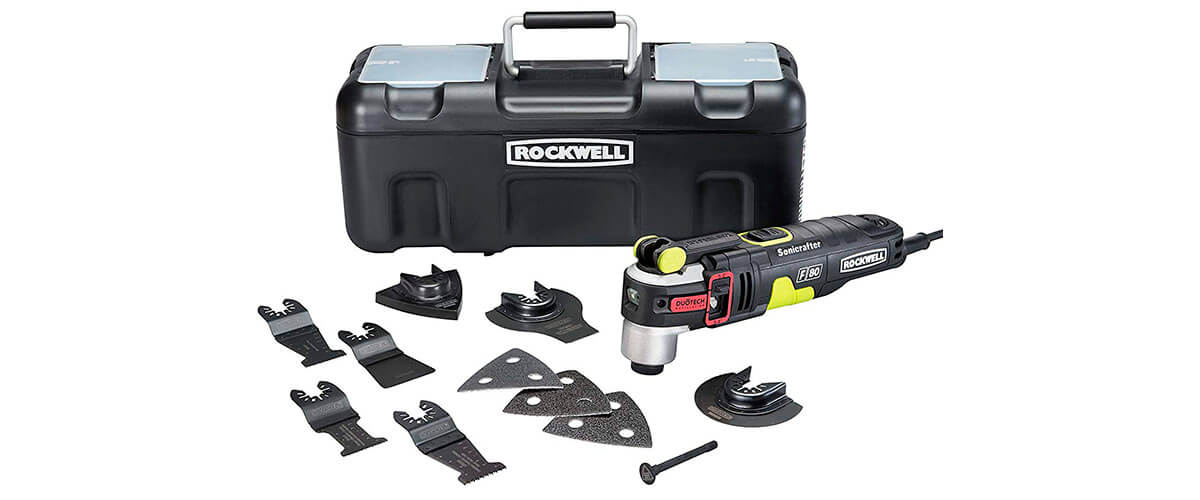 Well, I got really impressed with this tool due to its very powerful 4.2 Amp motor. You might understand that having such oscillating tool is an exceptional pleasure. With such a powerful tool in your hand, you can easily cut through stone and nails or perfectly sand your old door. Moreover, I also like that the device has Duotech oscillation technology which helps you select the optimum oscillation angle to reach the desired power and precision. What also impressed me is that its manufacturers managed to make it rather compact (11.6 x 3.5 x 4 inches) and lightweight (4 pounds), though the product is staffed with a very powerful motor. However, you should keep in mind that the product will likely require you to buy some more attachments as the RK5151K goes only with 10 accessories. At the same time, you may be very glad to found that it boasts Universal Fit System, which means that you can opt for accessories made by other brands.
Pros
The model works unbelievably quiet and with minimum vibration at any speed.
This tool allows you to quickly change accessories due to its Hyperlock tool-free blade change system.
The device gets warm very slowly, so you can freely use it long enough.
Cons
Lock lever is adjustable, so you should be very attentive when locking the accessories in order to achieve the desired tightness to prevent the accessory from losing its place while the toll is running.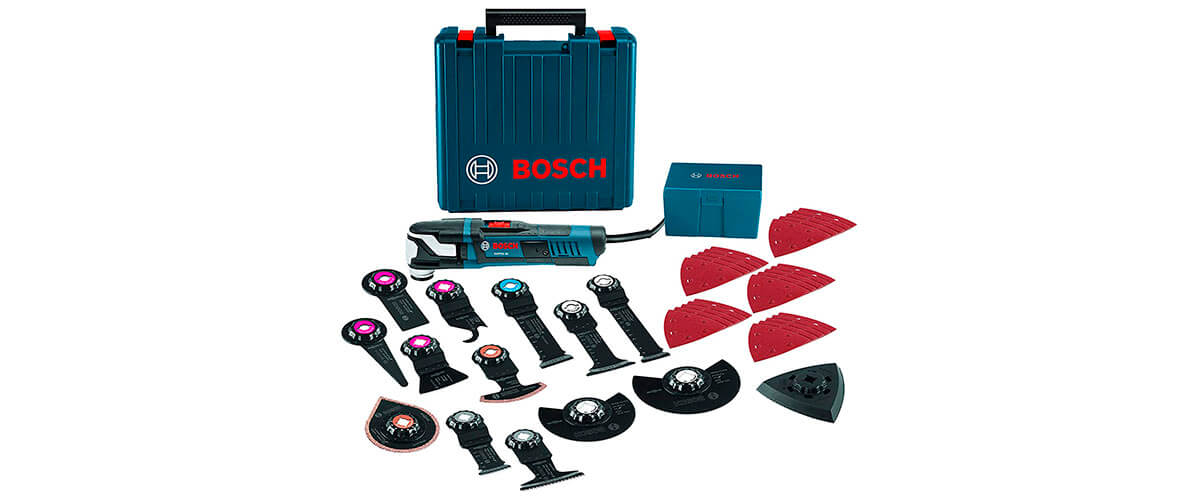 When sharing my impressions from using this tool, I want to first mention that it has an extremely powerful 5.5 Amp motor. Even top rated oscillating tools rarely have such an extremely powerful motor. Another very positive feature of the model is the Starlock 3-D tool-accessory interface, which is intended to provide a high-end blade grip to deliver more torque transfer. It should be also mentioned that the tool uses all Starlock, Starlock Max, and Starlock Plus accessories, so you will not spend a lot of time in search of new attachments. By the way, the product goes with 40 accessories to allow users to have enough choice options. The model is also rather small (11 x 2.5 x 3.8 inches) and lightweight (3.5 pounds), which is again a pleasant bonus for such a powerful tool.
Pros
The model has a variable speed at the backside, so you can easily switch speed options while the product is still working.
The locking mechanism fixes accessories very tight.
This oscillating cutting tool boasts quite work despite having a 5.5 Amp motor.
Cons
This model does not have the LED light, though the previous version had it in installed in front of the tool.
The blade release system does not work properly most of the time.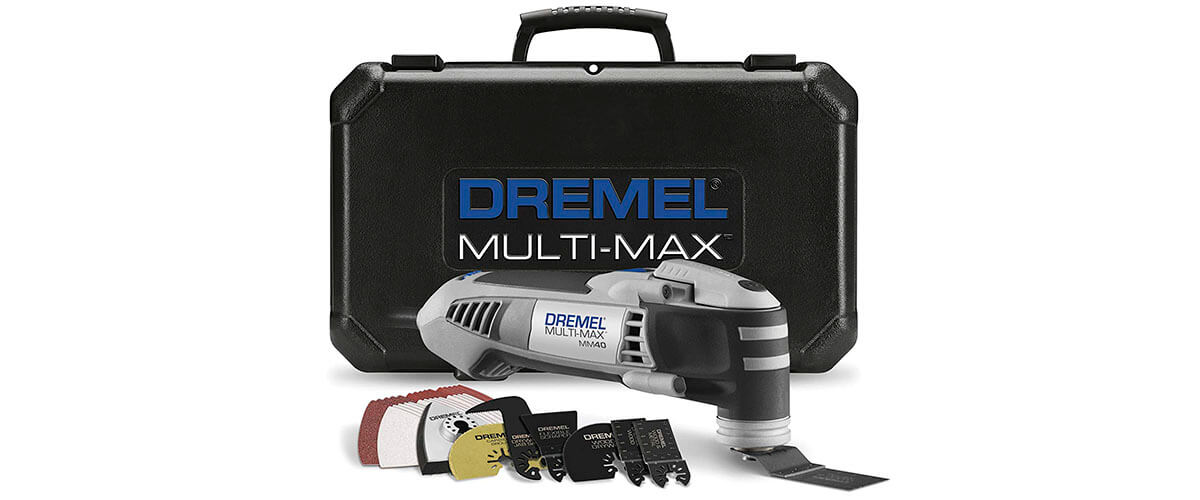 This particular model is a relatively cheap tool, though it is provided with 3.8 Amp motor capable of providing enough power to complete even the most difficult applications. I can also say that the manufacturers of the MM40-05 did a good job with locating up-front on/off switch, so the user can maintain speed setting while keeping the tool in the same hand. However, I was a bit disappointed with the noisy work of the model, as this is the issue where Dremel-engineers could have worked better. The model can be fairly called bulky (17.2 x 4.2 x 10.5 inches), although it weighs only 4.5 pounds, which is again a good result for a powerful oscillating tool. Plus, it goes with a sufficient amount of different accessories (36 pieces) ranging from cutting blades to sandpaper sheets.
Pros
The model boasts Quick-Boost technology allowing users to maintain a constant speed when dealing with the toughest applications and materials.
This tool has a Quick-Lock option designed to ensure tool-less and secure accessory changes.
Cons
The device lacks LED light, so it can be very challenging to work in dark areas.
The model tends to get warm rather quickly requiring you to work with small pauses.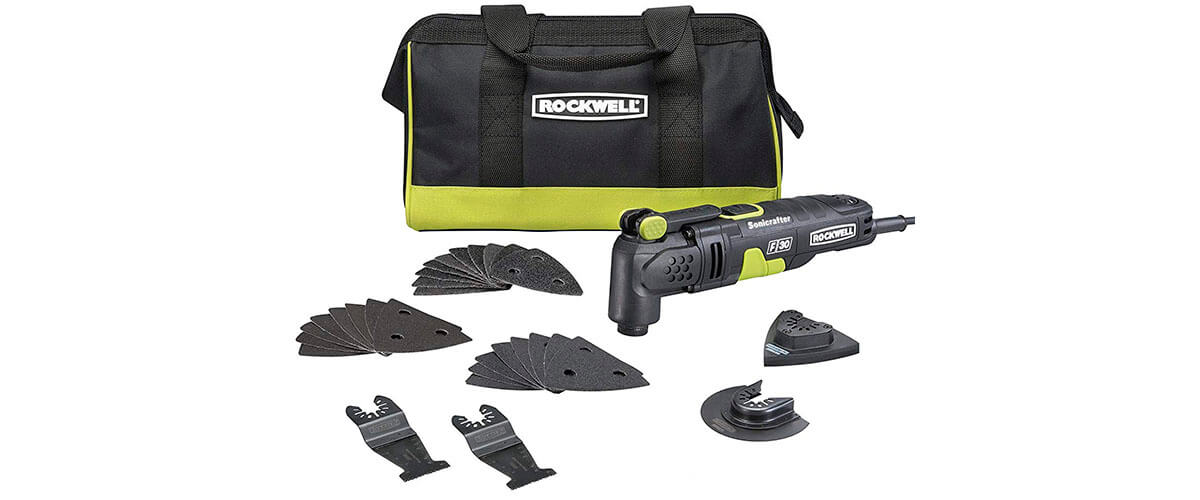 I would like to start this review with the fact that the model is very compact (11.3 x 2.3 x 4 inches) and weighs only 2.9 pounds. At the same time, it has a rather powerful 3.5 Amp motor that is capable of ensuring good performance of the tool even when dealing with the toughest applications and materials. It also has a Universal Fit System, so you freely use accessories made by other brands. Add to this a 32-accessory bag with lots of useful attachments and you have a very decent model, especially when keeping in mind that it is the cheapest decent model in most multi tool ratings. Moreover, it also has a 4-degree oscillation angle, which gives pretty aggressive cutting ability. However, this model is rather loud.
Pros
Hyperlock technology effectively prevents attachments from slipping.
The model gets warm very slowly.
Cons
The device produces rather high vibration.
Some of the sanding attachments may not work properly.
Buyers Guide
Essential Features of the Cordless Oscillating Tools
Cordless oscillating tools were designed to help people perform various applications when having no source of electricity at hand. An oscillating tool comparison tells us that cordless models may often lose to their corded counterparts in terms of motor power, but they still have a lot of useful features, such as:
Good handling, which derives from the fact that most cordless oscillating tools are very comfy as they rarely have a bulky design.
They work very quietly in most cases and produce less vibration compared to the corded tools.
These tools also usually have better ergonomics, as they produce less noise and are more user-friendly (commonly go with paddle switch, the LED light, and better grip).
Good performance even when it comes to plunge cutting.
Keeping in mind all these features, it can be stated that cordless oscillating tools have fully deserved their popularity in the market as they provide high-quality performance and lots of useful features to satisfy the needs of even the most demanding buyers.
What Tasks Can You Complete with the Help of an Oscillating Multipurpose Tool?
This device is called a multipurpose tool just because it really boasts high functionality and can help you cope with various challenging tasks. Here are the main applications that you now can do having the best oscillating multi tool at hand:
Plunge cutting has become way easier with the introduction of these devices. The only thing you need to do is to choose the right blade and you will find out how easy plunge cuts can be.
Orbital sanding is another essential task that can be performed with the help of an oscillating multipurpose tool. The most obvious benefit is associated with the fact that the tool ensures a comfortable sanding of small areas.
The device can also perform flush cuts in drywall, wood, and metal.
You can also strip, scrape, and peel with the help of an oscillating tool.
Removing grout and caulk is one more useful application.
The tool also provides the ability to undercut doors.
Power Multi Tools Safety Precautions
Obviously, excellent performance always goes hand-in-hand with following safety measures even you own the best oscillating tool. These are the main safety precautions that you must follow directly if you want to prevent serious problems and stay healthy:
Carefully read the user manual and strictly follow its recommendations;
Always wear protective gear;
Keep the tool away from water;
Keep your children away from your oscillating tool;
Be precautious when changing accessories;
Avoid working in loosened clothes;
Never use it after taking medications affecting your job performance. The same refers to avoiding alcohol at your workplace;
Always check your tool for any damage or defects before starting to work with it.