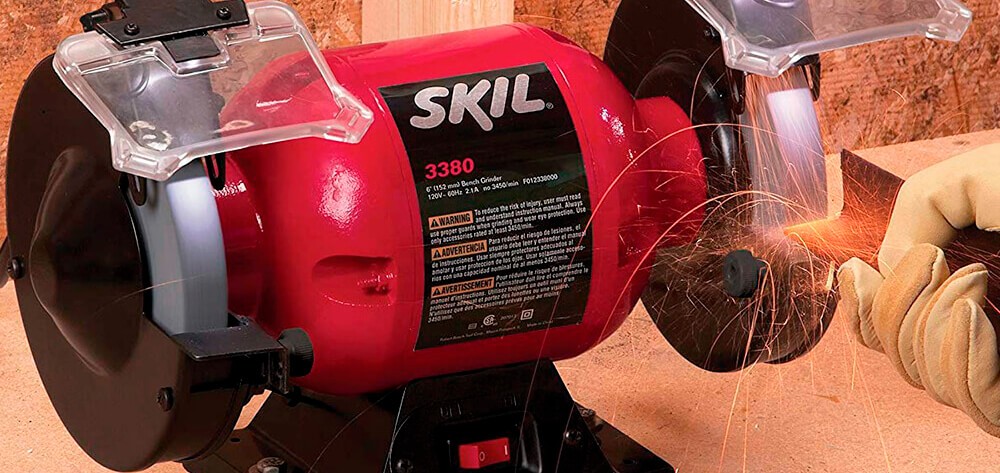 Having the best bench grinder can be a good fortune for you if you often need to polish some metal tools, sharpen your lawn mower blades, or remove rust from metal. In fact, you can even sharpen your knife with the help of this multifunctional tool!

Owners of the best bench grinders can perform a wide range of grinding applications by themselves so they can benefit a lot from keeping this tool in their home, garage, or workshop. However, it often happens that those individuals who have never worked with this tool before may face some problems with discovering the whole functional potential of this machine.
These informative reviews cover eight decent models of grinding machines available today, so you can pick up a product based on your needs and preferences. Moreover, this article is going to teach you how to use this tool correctly for sharpening the blades on your grass cutter.
Bench Grinder Reviews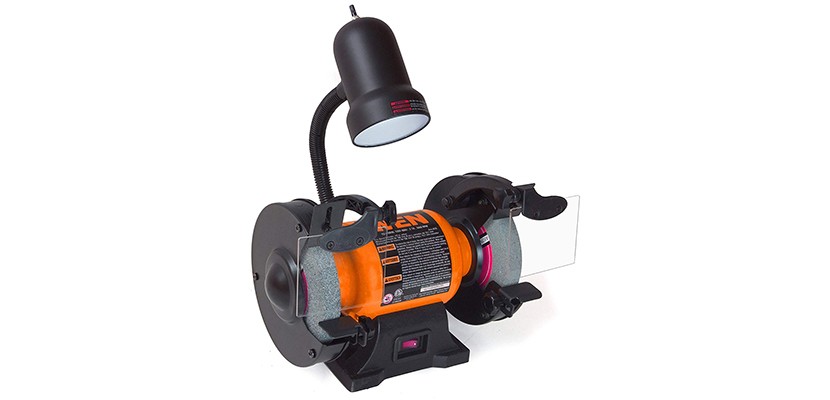 This bench grinder review is dedicated to a tool that can accommodate those buyers who have a limited budget and seek to find a decent tool at the lowest price possible. Moreover, this compact grinding machine can be very helpful to owners of small workshops with little space. The WEN 4276 features a quiet 2.1-amp motor that delivers smooth performance and steady speed at 3,450 RPM. I think that this fast speed is ideal for polishing, sharpening, removing rust, and deburring unwanted edges. The item comes with two 6-inch by 3/4-inch wheels (a coarse 36-grit wheel for faster material removal and a 60-grit wheel intended for excellent material removal). Similar to other user-friendly grinding machines, the WEN 4276 is sold with an adjustable work light for maximum precision and increased visibility. Being a very compact tool (14 x 9.8 x 15 inches), this model weighs just 4 pounds, so it can be even characterized as a portable grinding machine.
Pros
It comes with a protective, adjustable, and transparent eye guard on the wheel.
Adjustable tool rest for accurate grinding.
Cons
The product lacks power for industrial grinding applications and can easily get overheated.
It can be very noisy when it comes to very complicated tasks.
DEWALT DW758 — Best 8-inch Bench Grinder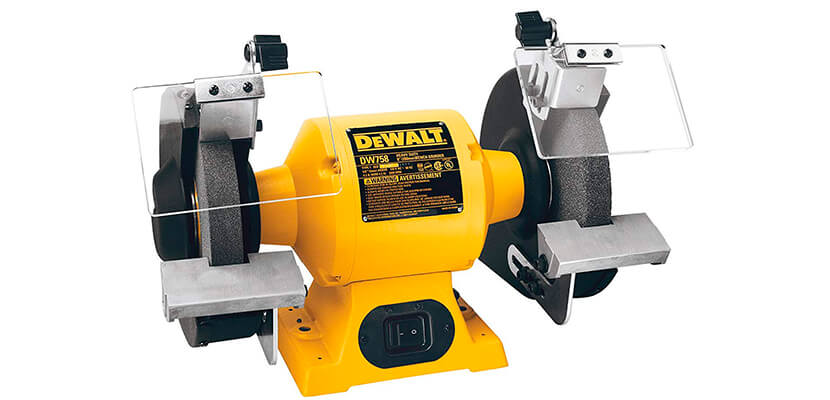 The DEWALT bench grinder is a perfect option for both novice users and experienced persons. This advanced bench grinder is stuffed with a powerful 3/4 HP induction motor that delivers up to 3,600 RPM, so it can easily deliver high-speed material removal. With this high-performance motor, you will definitely cope with lots of industrial grinding applications.
However, this amazing motor would be useless without adequate overload protection, so DEWALT manufacturers have made a good effort to include this feature for securing their tool and maximizing motor life. Additionally, I find it really great that the model has a tool-free adjustable guard that is meant to ensure quick guard installations and adjustments. The product's Rugged cast iron base and reliable motor housing result in increased durability. I should note that the model has a precision-machined aluminum tool rests that are designed specifically to allow the user to accurately and safely work with different materials.
Another positive feature of this model is that it has rear exhaust ports in wheel guards to provide smoother operation. By the way, this tool has a 12-1/2-inch distance between grinding wheels, so you will be able to handle larger and longer grinding applications. The product goes with 36- and 60-grit wheels, spark deflectors, and eye shields. This grinding machine has a standard size (17.8 x 12.6 x 10.8 inches) and acceptable weight for such a heavyweight item (39.5 pounds).
Pros
The additional power makes the process much easier.
It has a solid construction as it is made of heavy-duty materials.
Cons
This model produces very annoying vibrations even at low speed.
Requires a minute or more to stop after being turned off.
WEN 4280 — Best Variable Speed Bench Grinder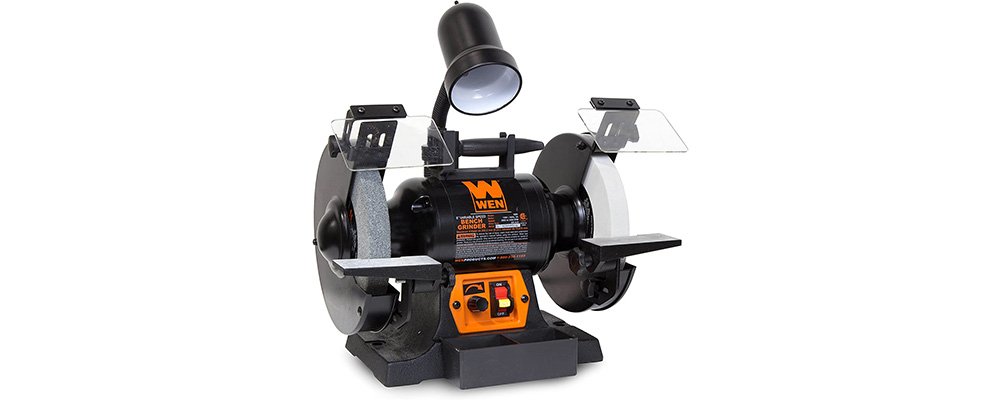 The 4280 comes with two grounding wheels — an 80-grit and a 36-grit 8-inch by the 1-inch grinding wheel. It is am 8-inch variable-speed model from 2000 to 3400 RPM to be able to dial in just right speed for sharpening. Low speed is perfect to sharpen knives or minor tools due to more precise sharp. However, high speed is a must to remove rust or deburr leftovers. Such speeding dispersion is possible due to a powerful 5-amp motor that doesn't bog down under heavy pressure, shaking just a little bit.
The Wen bench grinder is equipped with a work light that can be adjusted as you need and lit all the surface. Besides, its wheels are protected with two eye guards not to let sparks hurt your face
Pros
It comes with a wheel dresser.
The axle is straight and the wheels are balanced.
Cast iron base that successfully reduces vibrations.
Cons
The product lacks power for industrial grinding applications and can easily get overheated.
The bulb for work light should be bought separately.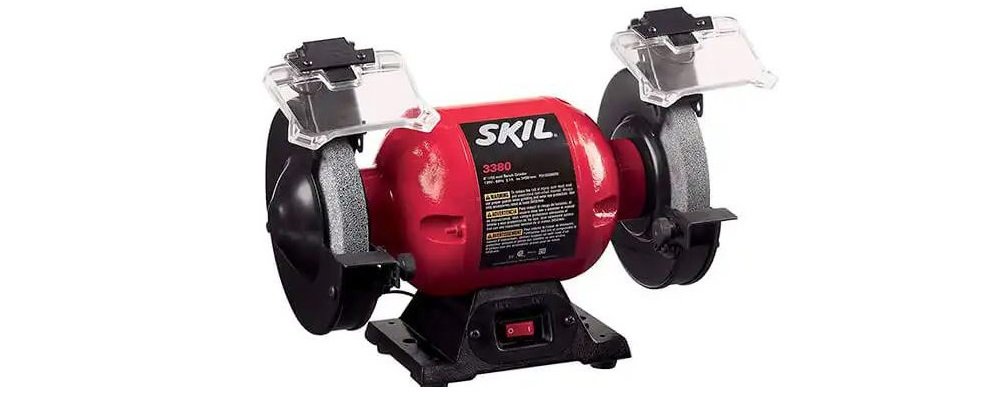 I think that this 6-inch bench grinder is a perfect option for those persons seeking compact tools in their pursuit of exploiting free space in their workshop or garage with maximum benefits. This small model (15.4 x 10.8 x 8.5 inches) still has a powerful 2.1-amp motor working at 3,450 RPM. I think that this tool has enough quality to perform various grinding tasks from sharpening knives and polishing surfaces to grinding down welded joints. The Skil bench grinder goes with medium and coarse wheels to let users work with a wide range of different materials. In addition to its compact design, the model features built-in LED work lights over both wheels, so it is very convenient to use this tool in places with poor lighting.
Moreover, this small bench grind boasts adjustable tool rests that guarantee accurate grinding. The model seems very stable on a flat surface thanks to rubber feet. I should also say that the model's weight can be counted for one more upside. However, it is not that good when it comes to working with large-sized items.
Pros
This is a super-cheap grinding machine.
The item is very quiet and has a barely noticeable wobble.
Cons
The product does not look like a durable bench grinder due to its lightweight construction and relatively cheap materials.
Rikon 80-805 — Best Slow Speed Bench Grinder for Sharpening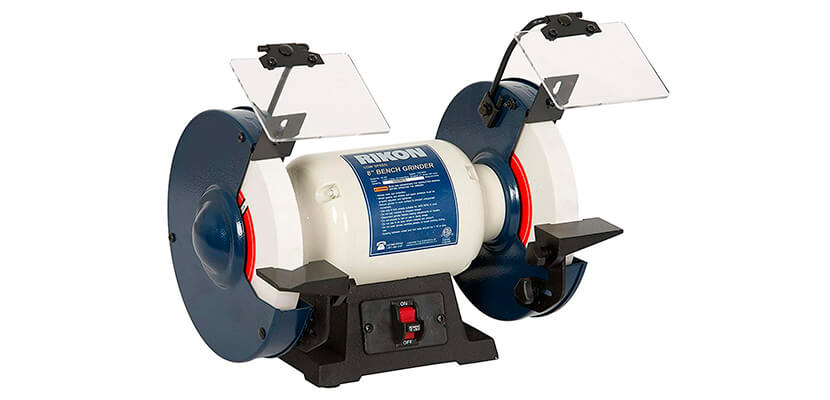 This high-quality bench grinder goes with 60-grit and 120-grit white aluminum oxide wheels. You should keep in mind that this model is a slow speed bench grinder that has a decent ½ HP motor delivering just 1750 RPM. Although this model is very modest in terms of speed, it can still allow users to perform so many grinding applications. I think that this product should be preferred by owners of small workshops and those persons who have never used these machines before. It seems very convenient that the Rikon's base is made of cast iron and has anti-vibration rubber feet, which means that the bench grinder will be stable during its work.
The Rikon bench grinder has also great characteristics in terms of adjustability, as you can easily change the position of eye shield and spark resistors to tailor safety issues to your needs. Additionally, I really appreciate the fact that the manufacturers of this product have designed a special groove in this bench grinder to allow for the sharpening of drill bits. The model features a diamond wheel sharpener, so you can freely use this bench grinder for sharpening operations as it reduces heat build-up. The item looks rather compact (16.4 x 10.8 x 11.2 inches) and weighs just 36.7 pounds.
Pros
The item is heavy enough to keep the vibration down.
This bench grinder works silently.
Cons
The insufficient clearance to install the mounting bolts. The wheels should be removed.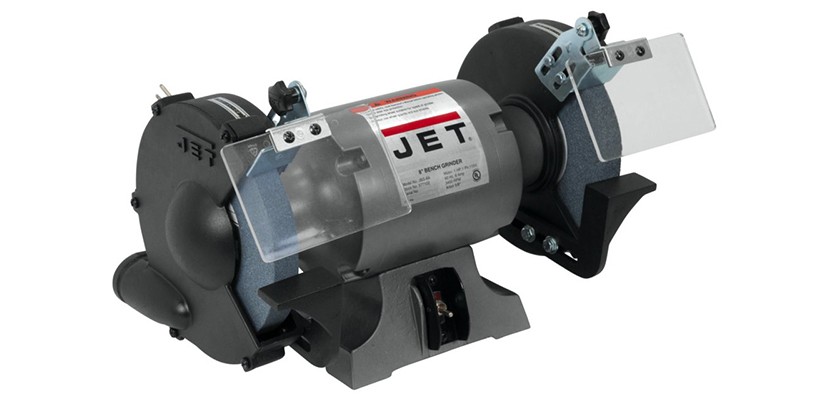 This model is a good choice for those persons who expect a powerful performance from a bench grinder. I think that the product's motor is one of its core advantages, as the Jet 577102 features 1 HP 115-Volt motor that can deliver up to 3,450 RPM. This model has enough power to cope with different industrial grinding applications from cleaning and sharpening to buffing and removing burs from metal. In particular, I like this 8-inch bench grinder as it has pre-lubricated and enclosed ball bearings to let the users enjoy the tool from the first seconds of work.
Similar to other reliable and safe models, the Jet 577102 goes with dust vents and cast iron wheel guards to protect users from potential injuries. I find it really cool that the product has adjustable spark guards and a heavy-duty guarded toggle switch, so this grinding machine has everything to ensure the safety of its users. With a 12-1/2-inch distance between wheels, the product is really versatile in terms of working with materials of different shapes and lengths.
By the way, the wheels are made of aluminum oxide, which is a perfect material for different grinding applications. Sitting on a rubber foot, this machine tends to be very stable on a flat surface. However, the Jet seems to be bulky (22.7 x 14.5 x 13.3 inches) and heavyweight as it weighs sensational 58.5 pounds.
Pros
The product is characterized by silent performance with minimum vibration.
The item is easy to assemble.
Cons
The tool rests are not level.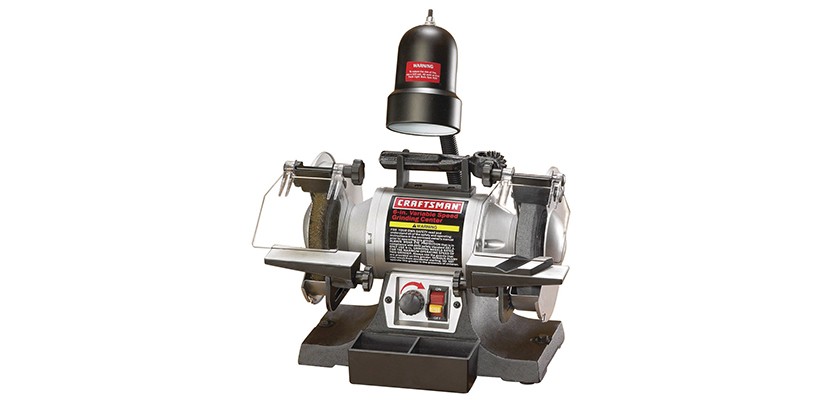 After testing this CRAFSTMAN bench grinder, I can confirm the fact the manufacturers have made a good effort in creating a reliable grinding machine that can work with a broad range of materials of different shapes and physical properties. The main advantage of this product is that you get a variable speed bench grinder that can be adjusted easily depending on the task requirements. This model can be used at different speed levels (from 2000 to 3450 RPM) with no load speed. By the way, this product is stuffed with a rather powerful motor of 1/5 HP and 2.5 amps, so this means that you will have enough power to perform plenty of industrial grinding applications and polishing metal with just one tool. I should also say that I like the way this model allows you to change wheel guards, as this process can be finished just in several seconds.
Moreover, it is provided with a water cooling tray and handheld wheel dresser, which both make the item user-friendly. Sturdy spark guards and large oversized cast iron base make everything to ensure the safety of users and reduce vibration produced during grinding. It is also necessary to point out that the item has average dimensions (15 x 12.6 x 12.2 inches) and weighs just a bit more than 30 pounds. Nevertheless, I am not sure that this product is good enough in preventing its component from overheating.
Pros
The wire brush works great for maintaining small tools from rust.
It goes with a large and flexible worklight with an independent On/Off switch.
Cons
The item seems to be noisy compared with other options mentioned in this article.
The product does not boast high-quality materials being assembled in China.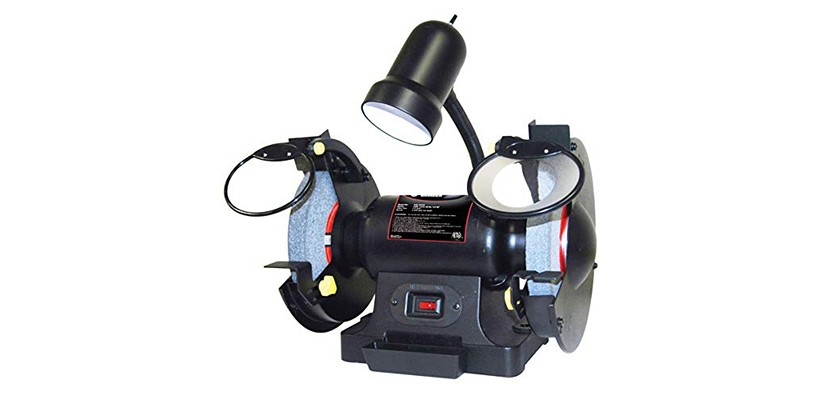 Working with this bench grinder is associated with multiple benefits. First of all, this small bench grinder is equipped with a heavy-duty ball bearing motor having the power of ¾ HP that helps this tool be good at performing various grinding applications. The item works at 3,450 RPM and has no load speed. Secondly, it has a dustproof switch and a cooling tray to prevent overheating. Thirdly, the ATD Tools 10558 features a special lamp intended to improve the visibility of materials you work with. It seems very convenient that the product's base has pre-cast holes designed for mounting if necessary.
It is important to note that this model sits well on metal tool rests preventing the bench grinder from undesired movements. This product also comes with adjustable shatter-resistant eye shields, spark guards, and two grinding wheels (medium and coarse grit). The item looks rather compact (20.8 x 13 x 12.6 inches) and weighs less than 9 pounds, which is a perfect result for a conventional bench grinder.
Pros
This bench grinder makes no binding and doesn't slow down during the work.
The item produces minimum noise as it works really silently.
Cons
Its work light seems to be poorly fixed, so it can wander all over the place while the item is working.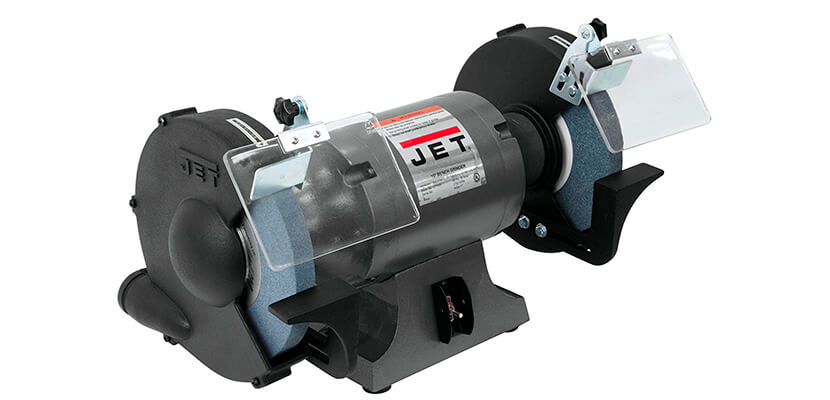 This is another versatile bench grinder that can be used for multiple grinding applications (e.g. cleaning, buffing, sharpening, removing rust and burs from metal, etc.). It should be also mentioned that its versatility is further supported by the fact that the product is sold with industrial-grade 24-grit and 46-grit 10-inch wheels. The Jet 577103 features 1-HP, 115-volt motor operating at 1,725 normally to let users effectively cope even with heavy grinding from sharpening knives to metalworking. I also like the fact this 10-inch bench grinder sits reliably on a rubber foot preventing any unwanted movement.
Moreover, the bench grinder can be even bolted down when necessary for maximum stability. The users of this product can be pretty satisfied with the heavy-duty guarded toggle switch coming with the Jet 577103. By the way, it was a pleasant surprise for me that this model is delivered with totally enclosed pre-lubricated ball bearings, dust vents, cast-iron wheel guards, quick adjusting spark guards. Add to this list large adjustable large eye shields and you will learn the true meaning of safety. It is really great that the model is very compact (13 x 24 x 12.5 inches) and lightweight in comparison with most bench grinders (it weighs only 13 pounds).
Pros
This is a professional model that works silently and with minimum vibration.
The item uses components of superior quality.
Cons
Shaft holding wheel flange, machined with 1/16 shoulder is too small to maintain the flange wheel combination parallel.
Buyer's Guide
What is a Bench Grinder Used for?
A grinding machine is a versatile tool that can be used for a wide range of grinding applications depending on the model's capabilities and technical characteristics. Most often, these machines are picked up by construction specialists, woodworkers, and metal workers. At the same time, this item is invaluable for those persons who often need to repair or sharpen tools. You should keep in mind that low-speed bench grinders are most often used by those persons who are involved with woodworking, while grinding machines operating at higher speed levels are perfect for metal workers. Moreover, this item can be still super-effective even when bought for small household-based tasks, such as sharpening your dull knives and other household metals. Polishing metals is another common application that can be easily performed with the help of a conventional grinding machine. Removing rust and burs from metal can be very easy with the best bench grinder you can order right now thanks to this article.
How to Sharpen Lawn Mower Blades with a Bench Grinder?
To handle this problem quickly and return your lawn mower blades back to life, you should do use a grinding machine. If you are a happy owner of a bench grinder, you just need to follow these simple steps that will help you make the blades on your grass cutter sharp again without the necessity to visit a special workshop.
The first step will be to access the blades. Be watchful and use a pair of protective gloves to prevent scars. It is also necessary to unplug this machine and detach its battery or the outlet and the spark plug (find a prominent wire on the front or the side of the engine and simply disconnect it). Then, your task will be to turn the device on its side (keep in mind that the oil from the engine may spill into the air filter). Oil spilling can be prevented if the mower has run out of gas or if you have already drained the oil. In most grass cutters mowers, a box-like plastic case commonly holds the two components. Look through your manual to find out the proper location of the blades if necessary.
The second step will be to remove the blades out of the mower. You should better mark the blades to install them correctly again after resharpening. Then unscrew the bolt holding the blades carefully.
The third step will be to prepare the blades for sharpening. This means to clean them properly from debris and grass.
Then, your mission will be to use a bench grinder for sharpening the blades. You will be required to gradually move the blades back and forth against the grinder's wheel to return their sharpness. Keep in mind that the blades will produce many sparks as well as generate lots of heat. Hence, you should cool the sharpened blades by putting them into a basin with cold water. Use a towel to make them dry after cooling procedures. Now you can place the newly sharpened blades into your lawn mower again and enjoy the process of cutting the grass!
How to Use a Bench Grinder?
Being a versatile tool, a grinding machine can be used for different grinding purposes. It can be used even for cutting sharp edges or removing rust or burrs off metal. Those persons who have never this tool before can be unaware of all the applications they can perform with this item. Moreover, it often happens that they even do not know how to use a grinder correctly. At this point, it can be useful to explain how this wonderful tool can be used.
First of all, you need to make sure that the tool is tightly secured to the bench. You should clean the working area and prepare the grinder for performing grinding applications. There can be tiny particles of metal or wood on the working surface, so it is necessary for you to get rid of this debris.
Secondly, you will need to adjust all protective parts for your height and wear safety glasses and steeled toed shoes. This is vital for protecting yourself from sparks and grinding dust. Good grinding machines usually come with lots of protective tools to help users avoid injuries.
Thirdly, you will obviously need to turn the grinder on and take the item you are going to grind. Remember that you should hold the material tightly in both hands and gradually push it towards the grinder until it touches the edge only. You should move the item forth and back against the wheel. Keep in mind that you should avoid the material touching the sides of a grinding machine at any time.
Finally, you will probably need to cool the worked item (if you are working with metal) in the water. You should better use a deep basin or a bucket to cool the metal off after grinding. Some big metal tools may require cooling even during grinding. Make sure to keep your face away from the basin with water to avoid the steam hitting your face.