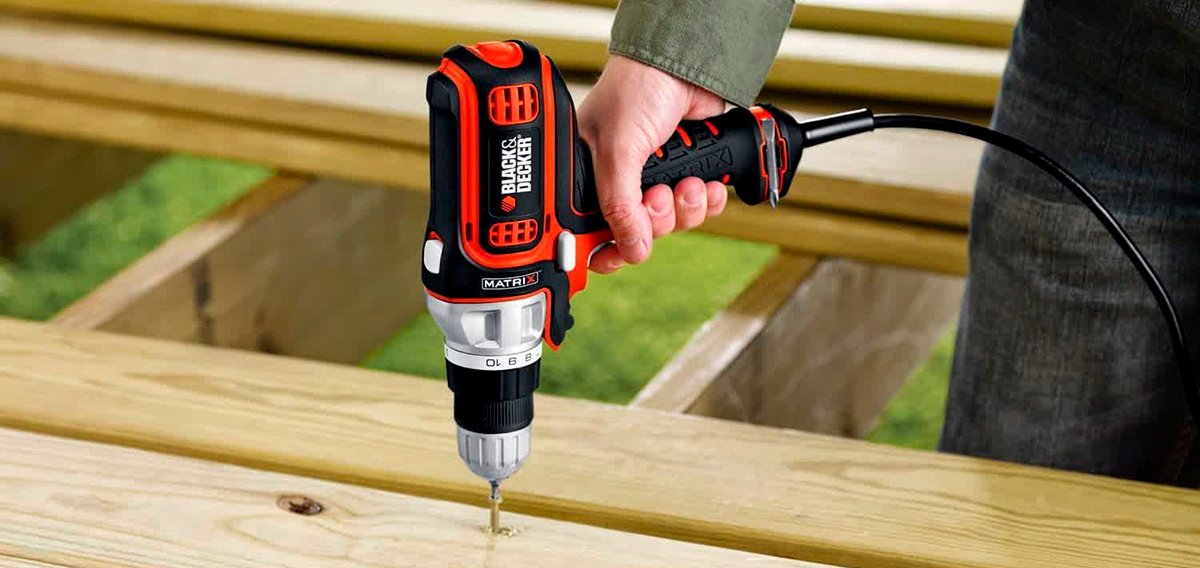 A drill is a pistol-shaped tool with a torque-driven turning mechanism designed for making round holes in wood, plastic, metal, masonry, concrete, and other materials, as well for driving fasteners. The corded models work from electricity and require a constant connection to an electrical outlet. The best corded drill delivers more power and higher torque than its cordless analog is able to provide. That is why it's frequently chosen by professional constructors, mechanics, engineers, etc.

The drill is among the most universal devices in any toolbox. It can help you hang a picture, drill a hole for hanging a chandelier, adjust the sagging door, fix something with the help of self-tapping screws, make a hole in the wall, etc. The cordless drills are always limited in power since they have to be energy-efficient to not to drain the battery too fast. For this reason, only wired models are able to ensure extensive power.
Of course, the corded drills can't offer great portability (however, you can always use an extension cord), and you will always depend on the outlet's presence and location. However, they are suitable for more challenging jobs such as making holes in concrete blocks, for example. That is why they still remain popular.
Thus, if you never want to worry that you will have to stop the working process due to dead battery, go through our top 11 corded models. Read about their main features, how they work, compare their pros and cons, and opt for the best corded drill. Our buying guide will help you form a deliberate decision by informing you about what else a corded drill can offer.
Corded Drill Reviews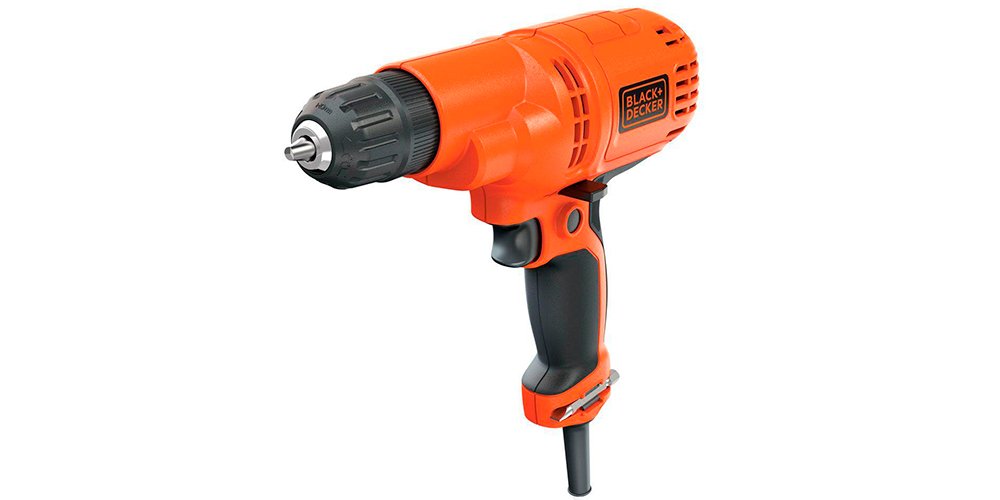 The present Black and Decker corded drill is endowed with a keyless, 3/8-inch chuck that allows for easy bit changing. It's also equipped with a variable speed switch, which can operate in the range from 0 to 1500 RPM. The lock-on button lets you set the tool to work at one constant speed which is much more convenient than pressing the switch. Plus, it's more useful when you need to buff out scratches on a car or use small sanding attachments.
There is also a forward/reverse slider that allows drilling in both directions. The tool provides a one-handed use as all the controls are located close to the trigger so they are always easy to reach.
Weighing 3.25 pounds and having 10.75 x 3.60 x 10.25 inches in size, it can be one of the best corded hand drills in terms of compactness and maneuverability. It features a powerful 5.5-Amp motor that will enable you to work with most home projects. Plus, its compact size means that it remains cool during work which is good when you need to hold it for a long time.
The bit storage is located at the bottom part of the handle which is a great feature for organizing the bits. However, safety should always be taken: the sharp end of the bit may injury your hand during work if you place it in the wrong way.
The grip is made of soft plastic, so the tool is convenient to hold when you have to work for many hours. The DR260C also has anti-fray housing with extra protection in the part where the cord meets the drill which helps prevent quick wear out of the cord, so this drill is also a safer solution.
The double-ended screwdriving bit that fits most common screws is included in the package.
Pros
The drill operates without emitting too much noise.
Thanks to a long, 6-feet cord, you can do most housework without having to constantly change the sockets.
The cord is not grounded which is great if you live in a house with old sockets as you won't need an adapter.
Cons
The chuck is a bit over tightened out of the box and requires adjustment.
The air vent for cooling the motor is so large that you can even see the components inside which means that you should be careful when using the drill outside during bad weather conditions.
The drill doesn't have an electric brake so it will continue to spin after you let go the trigger.
Video Black+Decker DR260C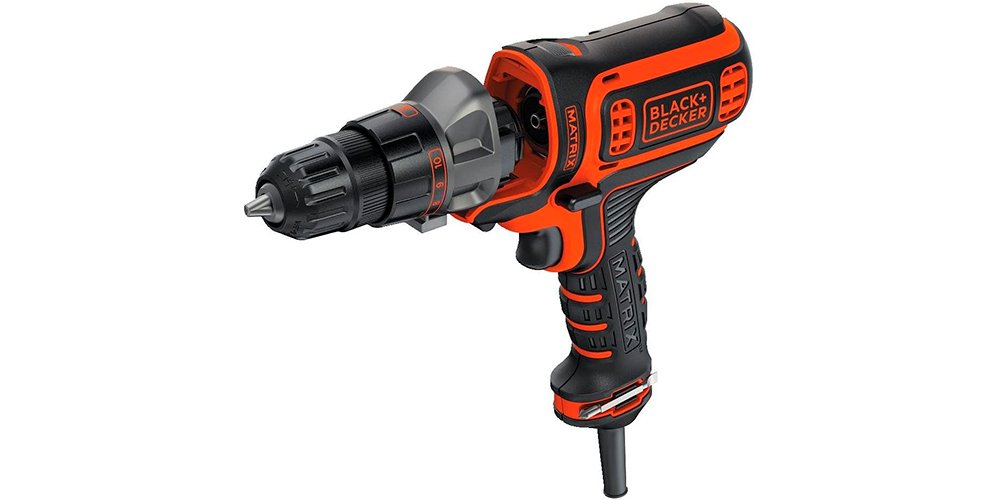 This corded impact drill will be a great choice for those who need to change the attachments frequently. You can easily take the attachment off thanks to the dedicated release button on the unit's top without having to use any additional tools.
The instrument features a keyless chuck system with a standard 3/8-inch chuck. Its control elements include a forward/reverse slider and a variable speed trigger (up to 1200 RPM). The bit holder for easier bit storage is present as well.
The BDEDMT is equipped with a not so powerful 4-Amp motor but features a compact size of 10.50 x 3.00 x 10.88 inches offering great angle efficiency. With such a motor, the drill can be used for most light-duty household applications. Besides, the tool accepts a wide range of attachments (oscillating multi-tool, detail sander, trim saw attachments, and many others), so it's one of the most multi-purpose models that can work as an all-in-one tool. Just make sure to buy the Matrix-compatible heads.
The padded grip on the handle feels nice to hold. The unit itself has metal-frame housing so it's well-protected against accidental drops that happen with drills quite frequently. It also prevents the device from overheating and doesn't make the unit heavy as it weighs only 3.31 pounds.
Among the included accessories, you will find a double-sided bit tip and one basic drilling/driver attachment.
Pros
An 11-position clutch gives you more control and prevents screws from getting jammed or tightened.
It works especially great for making accurate, small, quick cuts in metal.
The handle is located right in the center of the unit which makes it more balanced and easier to hold with one hand.
Cons
The noise level emitted by the tool during its operation greatly depends on the attachment. And with some of them, the BDEDMT is really loud.
Sometimes it can be tricky to fix a new attachment: the spring clip may not retract.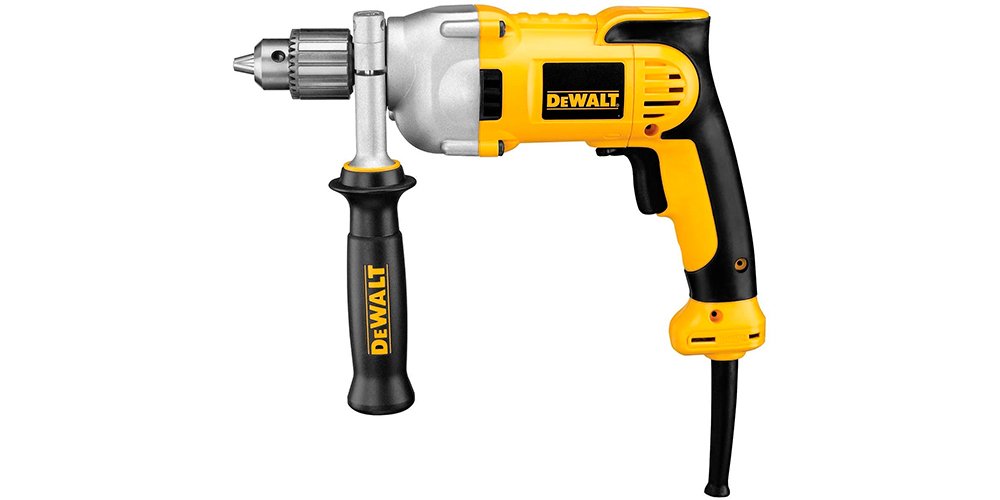 The Dewalt DWD210G comes with a handy 360° locking side handle that gives you a lot more control and versatility over the drilling process than standard drills are able to deliver. Note that it adds some more weight to the instrument so the DWD210G weighs almost 5 pounds. However, it terms of size, the tool is still quite compact (10.2 x 13.1 x 3.2 inches).
Featuring a 10-Amp motor, the DWD210G is definitely a high-power manual drill. This way, it can work with materials of different hardness. It offers a 3-5/8-inch capacity when working with wood and a 2-inch capacity when working with steel.
While most contemporary models use keyless chuck, this Dewalt drill goes equipped with a keyed one (1/2-inch) which is much more reliable. It grips the bit securely and reduces the possibility of slippage to the minimum. Thus, it can be one of the best corded drills for drilling at high speeds.
The variable trigger switch allows working at 1250 RPM max. Plus, the unit is equipped with a reversing lever which is great when you need extra power to make a hole or take a screw off.
The DWD210G is built with industrial durability in mind so it has a robust metal body and an anti-slip handle for extra convenience.
The unit doesn't have a bit storage, but a dedicated bit holder, along with a bit itself, is included in the package.
Pros
The motor features overload protection to extend its service life.
With a two-finger trigger, you have more control over the process of drilling and it's more convenient to use than a one-finger trigger.
The patented Dewalt motor delivers 50% more power than a usual motor of the same size.
Cons
The unit can't offer a one-handed operation as it has high torque.
The manufacturer claims that the drill operates at minimal speed of 0 RPM, but, in practice, it has a minimal speed of 400 RPM which is not good if you need the accurately finished holes.
The RPM control is overly sensitive.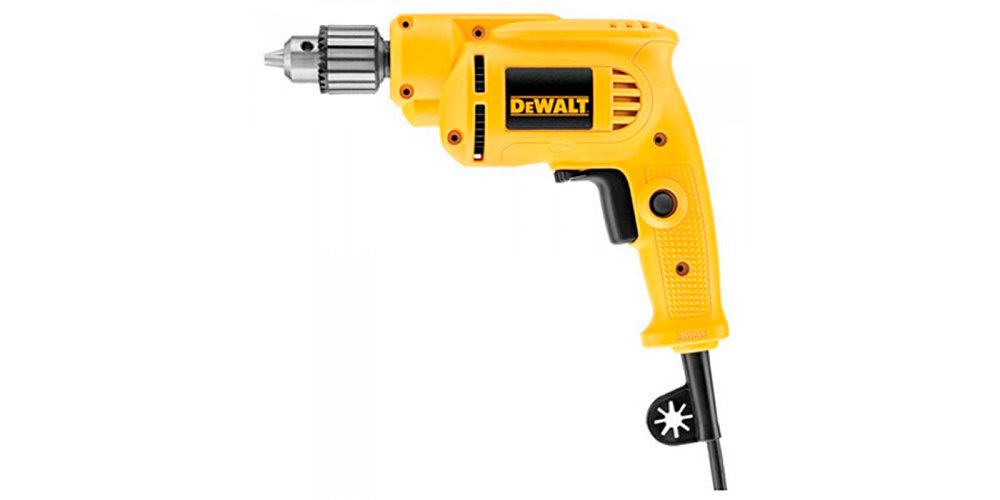 This Dewalt corded drill is supplied with a 3/8-inch chuck and powerful 7-Amp motor, which is suitable for both light-duty and heavy-duty jobs around your house. Besides, it's also a high-speed device as it can operate at the max speed of 2,800 RPM. Thanks to that, you can use it for drilling in many soft materials, like wood or plastic. Thanks to the variable speed trigger switch, you can set the speed by the amount of pressure you put on the trigger. The forward/reverse button to drill in both directions is present as well.
However, with high RPM and the absence of an adjustable torque clutch, it's not the greatest drill for driving screws. On the other hand, with such a high speed, it is very helpful in detaching the screws that got stuck.
The unit is compact (10.08 x 9.06 x 2.84 inches) and has an easy-to-manage weight of 3.55 pounds. It also has a pistol grip design with a soft, plastic handle.
The drill features a keyed chuck and has a key holder, attached to its bottom. This feature reduces the possibility of losing a key which frequently happens to keyed chuck drills users.
This corded electric drill is one of the inexpensive models but has no accessories included in the kit.
Pros
The lock-on switch allows for extended usage and reduces fatigue as you can keep drilling without having to constantly press on the trigger.
The unit includes a cord protector for added safety.
The drill features an advanced brush system. It will automatically turn off when the brushes wear out to prevent motor damage.
Cons
The cord isn't flexible which is bad when you use the tool in a cold environment.
The trigger requires some effort to push which also influences the speed sensitivity.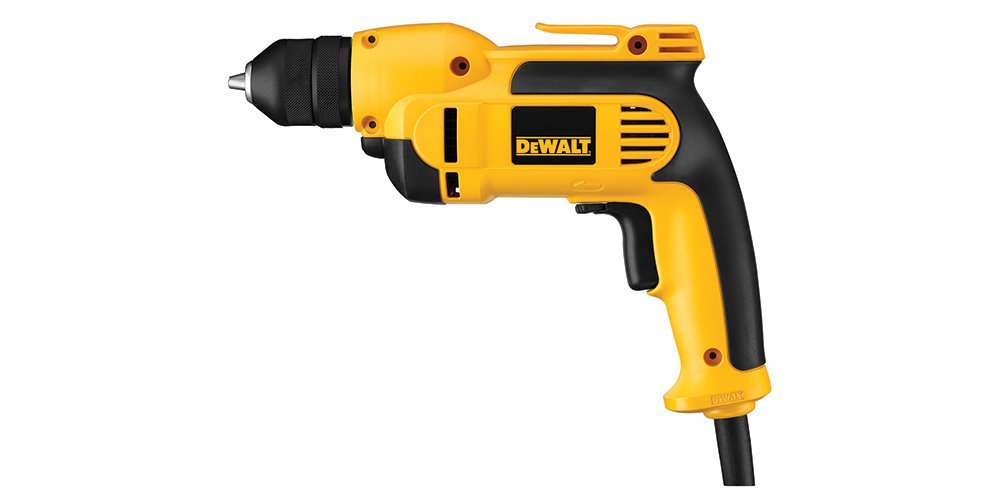 This model from Dewalt doesn't have a lot of features but still very solid. With an 8-Amp motor, it's targeted at professionals and non-stop heavy-duty use so can be a suitable option for commercial purposes. The motor operates at 2500 RPM max so this drill is flexible for many materials, from plastic to concrete. The VSR trigger mechanism provides better versatility for a variety of applications.
For superior bit retention, the Dewalt DWD112 is equipped with a 3/8-inch ratcheting keyless chuck that is made of solid metal. Thus, the drill is suitable for heavy loads on a daily basis, unlike those drills that go equipped with a plastic chuck. The handle has decent gripping surface and feels soft to touch which is another great feature for long drilling sessions.
The tool weighs only 4 pounds which is quite surprising considering the powerful motor inside. This way, the drill will not weigh you down. Having 9.6 x 10.8 x 3 inches in size, it's also quite compact and portable. The kit includes only manual.
Pros
The all ball-bearing design ensures increased durability and longer life, so it can be safely used on any job site.
Despite having a mighty motor, it drills without any wobble at all.
The drill includes a cord protector.
Cons
The trigger is sensitive which makes it hard to get the required speed.
As for professional drill, it lacks a hammering mechanism.
The torque is too high for driving screws.
Video Dewalt DWD112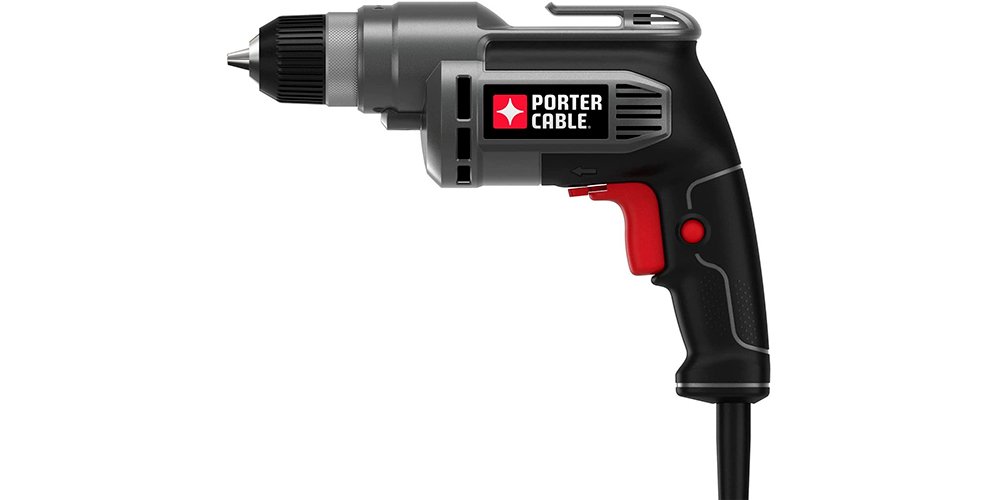 The Porter-Cable PC600D is equipped with a 6-Amp motor which makes it a great option for a great variety of demanding around-the-home applications. The motor generates a lot of speed (2500 RPM max) and uses a two-sleeve 3/8-inch keyless chuck. Such features as a lock-on button and reversing lever are present as well. The handle is soft but provides a sturdy grip even when your palms are sweaty due to long hours of work.
Thanks to high-torque gear design, the drill will easily handle pilot hole drilling, being especially suitable for constructors. The cord is manufactured of durable, high-quality material and, in addition, also has special wear protection for even more safety and durability.
The drill weighs only 3.5 pounds which makes it one of the most portable handheld models. It has an average size of 10.9 x 3.19 x 10.9 inches and features a solid, cast metal construction.
Pros
There is a belt clip on top of the drill for securing the tool on your belt so you can carry it around with ease while both of your hands will be free.
The drill clamp is extended in the open position to hold the largest bits.
The side vent slots put out a lot of air so the motor doesn't heat up much even during long drilling sessions.
Cons
The trigger gets jammed at times.
This drill is louder than many more powerful models.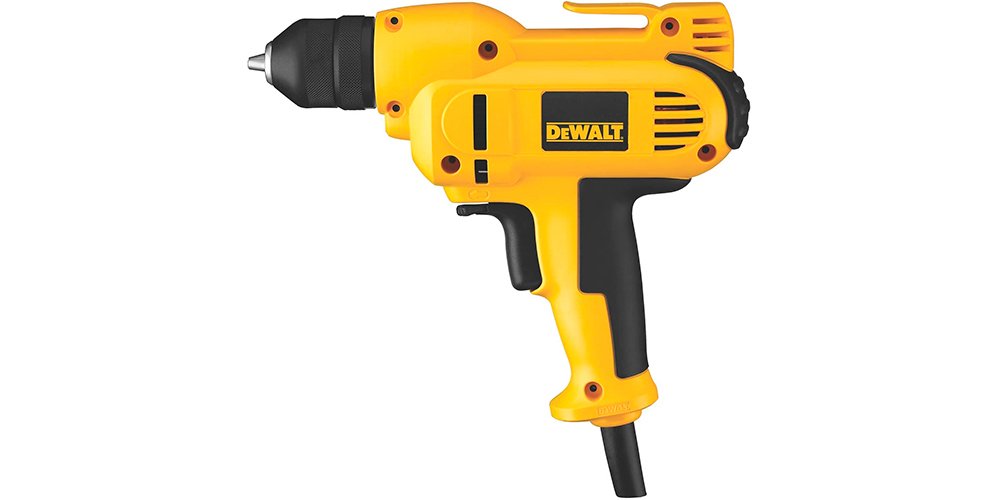 The Dewalt DWD115K is a solid drill designed for heavy loads and fastening projects thanks to a powerful 8-Amp motor inside and 2500 RPM of max speed. The 3/8-inch all-metal ratcheting keyless chuck makes changing bits an easy job and provides great durability.
The drill features a VSR trigger which means that it provides variable speed control and can go forward and reverse.
The DWD115K weighs only 4.1 pounds and thanks to the mid-handle grip design, feels much more balanced and even lighter to hold. The grip is soft and pleasant to touch, but the drill still may slip under pressure so be careful. This model has 13.06 x 12.75 x 3.44 inches so it's compact even despite having a powerful motor.
Pros
It comes with a durable box for storage and transport.
The drill is able to handle large-sized steel twist bits.
The trigger has the right level of sensitivity and is very easy to control.
Cons
The chuck locks badly and may refuse to open when you finally lock it.
The drill tends to wobble at high speeds.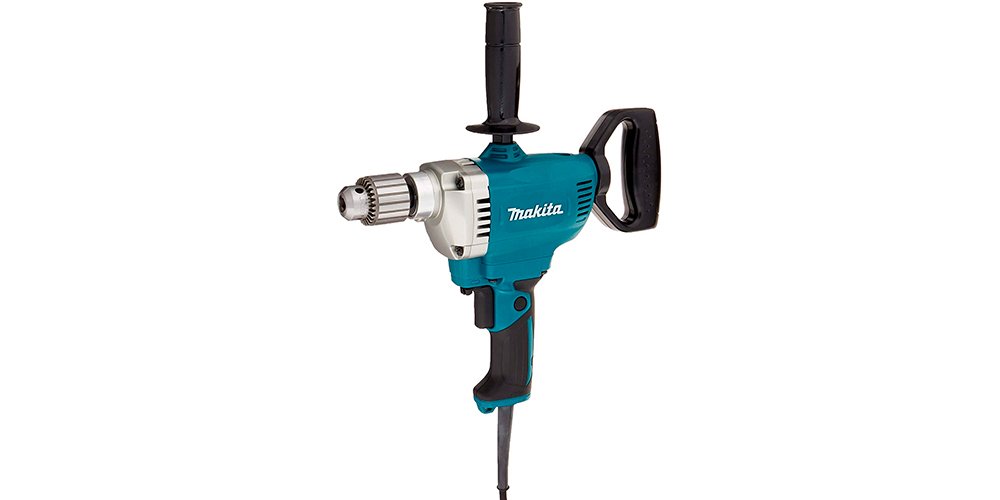 Thanks to the D-handle, attached to the back of the drill, this model is one of the most suitable options for mixing grout and other substances. For even more control, there is also another handle located on the drill's top. All the handles have a rubberized cover.
This Makita corded drill is a low-speed model (600 RPM max), so it provides better performance at higher torque. Besides, thanks to the 8.5-Amp motor, it will easily deal with high-density mortars. There is also a forward/reverse lever for added universality and optimal mixing performance.
The unit weighs 6 pounds which is not much considering that it's equipped with 2 additional handles. The overall size measures 14 x 4 x 13 inches.
This model is equipped with a heavy-duty industrial 1/2-inch chuck engineered specifically for superior bit retention. There is also a built-in chuck key storage.
Pros
The D-handle is 360° rotatable and can be multi-positioned with 24 locks.
The drill is equipped with a pulling wire.
The D-handle is screw-in, so you can detach it when you don't need it, as well as change it for a better one or when it wears out.
Cons
The trigger switch sometimes gets stuck on the "on" position.
The drill gets really hot when mixing mud so you may want to use a pair of gloves.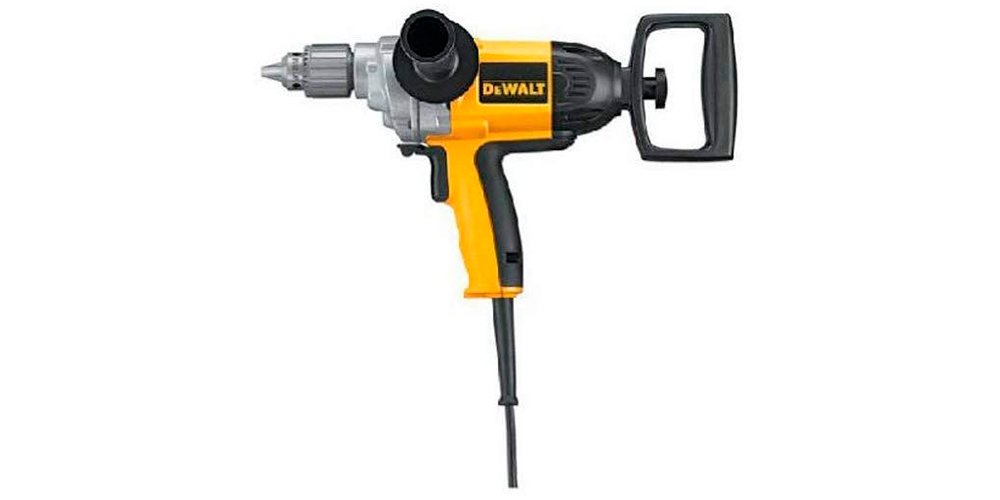 The DW130V comes with 3 handles: except for the main one, it also includes a 2-position rear handle and a 3-position side handle. Both of them can be detached if needed.
The drill uses a 1/2-inch keyed chuck and has a mighty 9-Amp motor inside being suitable for professionals and the heaviest loads. In this connection, the drill is fairly heavy (7.5 pounds). However, it may not be a problem when drilling in a vertical position as the weight of the unit only helps increase the force required for drilling. For horizontal drilling, such weight may be problematic. However, by detaching the handles, you can significantly reduce the drill's weight. It's also quite compact in size (10.88 x 13.06 x 4.88 inches).
Note that it's not a high-speed model as it operates only at 550 RPM max. It has an increased torque which is great for paint or drywall mud mixing and other applications that require higher torque and downward pressure.
This 1/2 corded drill includes a holder for a chuck key. The ergonomic handle feels soft to touch.
Pros
The variable speed reversing switch allows avoiding air bubbles when you use the drill for mixing.
It's compatible with a wide range of drill bits: self-feed, hole saw, auger, and many others.
The rear spade appears to be very convenient when you use the drill for mud mixing.
Cons
The drill starts getting hot after about 30 seconds of use.
It's doesn't have great self-ventilation so it's better to give it some time to cool down.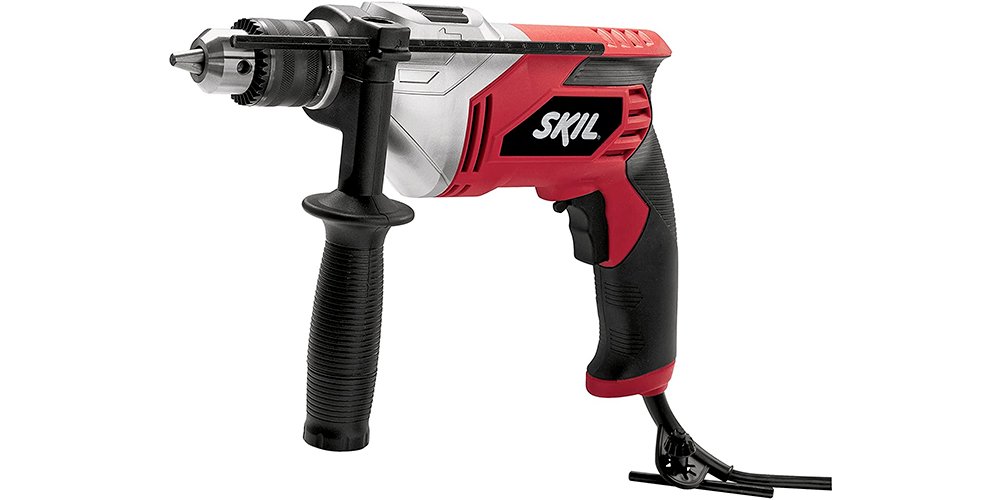 The current model can be the best corded hammer drill as it's able to provide enough impact to work with the toughest materials and features a powerful 7-Amp motor. This way, it works smoothly with wood and metal/concrete surfaces. Being equipped with a depth gauge, it allows for precise drilling depth measurement and will prevent you from punching too deep. Both the gearbox cover and depth gauge are made of metal. The unit also has a rubberized ribbed handle.
This Skil corded drill uses a 1/2-inch keyed chuck which accepts bits of larger diameters. It operates at 3000 RPM max. The reversing lever is located right above the trigger. Down below, you will find a cord protector and a lock-on button to fix the drill for work at a constant speed. There is also a chuck key storage area.
The drill is also equipped with a second handle. It can be turned by 360°, so it can be used at any angle and direction.
The 6445-04 weighs a bit more than 5 pounds and has 13.25 x 10 x 3 inches in size.
Pros
The second handle is reversible, so it's equally convenient for both right- and left-handed users.
The trigger accelerates from lower to higher speeds very smoothly.
The switch on top of the drill allows swiping between the hammer and normal drilling, so the hammering function can be turned off when it's needed.
Cons
The motor sometimes emits sparking.
The drill's casing starts to smell strange when the unit gets hot (maybe because of painting).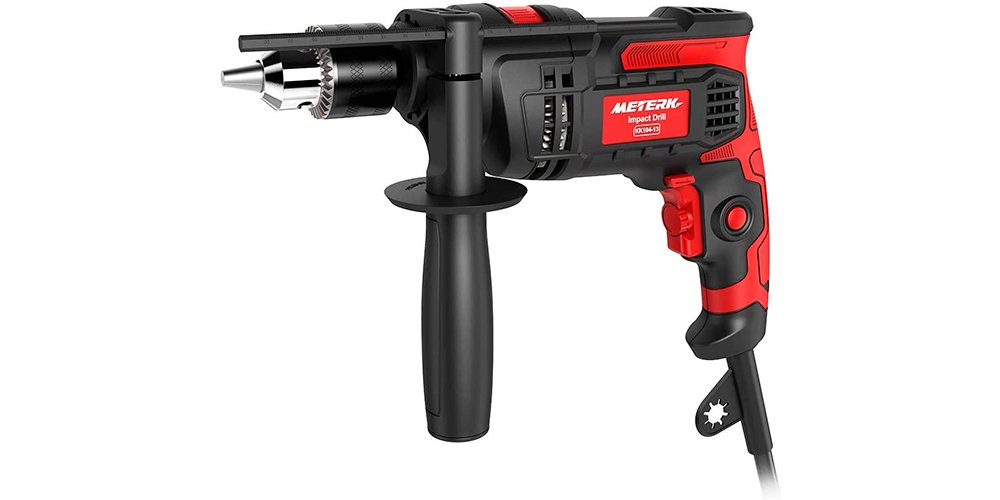 This model from Meterk is a feature-rich drill designed to deliver a top-notch performance when working with a lot of different materials. It also can possibly be the best corded power drill in terms of universality as it functions as an impact drill, electric drill, and screw extractor. As an impact drill, it can work with tough materials such as cement bricks, masonry, and concrete. As an electric drill, it works with materials like metal, wood, glass, ceramic tile, etc. Using it as a screw extractor will help you with various tasks like furniture assembly and equipment repair.
The drill has an incredible max speed of 3000 RPM. However it's equipped with a detachable and adjustable (360°) second handle, so you can reliably hold it even when working at the highest speed. The speed can be regulated with the help of a special wheel. Such features as speed locking button and direction switch are also available.
This corded power drill uses a 1/2-inch keyed chuck. The key can be stored in a special holder at the unit's lower part. Thanks to the metal gearbox, the drill will last for long and can be safely used in the toughest conditions. The grip is rubberized. The depth gauge design with the ruler on top of the drill helps calculate the exact drilling depth.
Be prepared that this drill is not among the compact ones as it has 14.17 x 10.24 x 3.94 inches in size.
Pros
The 7-Amp motor is made of pure copper so it's very durable.
The drill is equipped with a special switch for percussion drilling, located on its top.
Despite being a high-power device, it doesn't heat up quickly thanks to large exhaust vent design that ensures rapid heat dissipation preventing the motor from working at high temperatures.
Cons
This Meterk drill is more like a professional one and may be very confusing to use for those who have never used a drill before as it has a lot of extra features.
The drill weighs almost 6 pounds which makes it rather tiring for long working sessions.
Buyer's Guide
Corded Drill Advantages
As it was already mentioned, the biggest advantage of the corded drills is the ability to give out more power for heavier loads and provide uninterrupted power. However, they can offer a lot more benefits:
While the battery-powered model works for only about 30 minutes on one charge and requires hours to charge in full, the corded one will work as long as you need to. Plus, the heavy loads will drain the battery much faster while the corded model doesn't depend on the amount of load at all.
The is always a risk of burnout during heavy loads when you use any battery-powered model. The corded drill is more resistant to burnouts.
Due to the absence of a battery, it feels lighter in your hand. With less weight, the corded drill is more convenient to hold which is particularly important for long-term work in difficult conditions and hard-to-reach areas.
It's a cheaper solution (unless you don't need a professional/industrial model) as you don't have to overpay for a powerful battery and charger. In addition, wireless models require worn-out batteries to be replaced every 3 years of use.
With proper attachment, the corded drill can be used for mixing up the grout, mortar, and cement. Of course, the most powerful cordless models can be used for those purposes as well, but its possibilities here are very limited. It can't handle big batches due to the limited run time.
What You Should Expect Buying a Corded Drill?
Opting for any drill, you have to take into account a lot of things. Let's take a closer look at the most important of them.
Power and Speed
Power
The main thing to look for when choosing the drill is power. It directly influences the tool's ability to handle different tasks. Thus, firstly, you have to decide for which purposes the drill will be used to ensure that it will provide optimal drilling and driving.
If you are looking for a tool to work with dense materials, the motor's power has to exceed 7 Amps. It will provide a stalling-free performance and ensure enough amount of power for heavy jobs. However, for simple home DIY projects, there are no reasons to pay more for a powerful motor: 4 – 7 Amps will be enough.
Speed
The drills are rarely bought for one certain purpose. Their universality is provided by an adjustable speed. By switching between speeds, you get the opportunity to work with a broader range of materials. For example, the metal sheets need slower RPM while the other materials can be drilled at higher speeds. Drilling at slower speeds also allows creating accurate and neat holes. The high-speed level is great for extracting the screws. However, remember that the manufacturers always indicate the drill's speed with no load, so it may turn out to be slower than you expect. Most contemporary models go with a variable speed trigger.
Hammer Function
The hammer drills work similarly to puncher as they hammer while driving. However, the hammering function can be found in the other drills as well. It provides greater impact force and works especially great with the toughest surfaces. The drill with hammering mechanism will make the work with harder materials quicker and more efficient. However, it will be useless for easy household tasks and such materials as wood or plastic, for example. In addition, this function is among the most expensive ones and significantly increases the tool's price.
Chuck
The chuck is mounted on the spindle that rotates the bit. It's one of the most important parts of the drill and must be taken into account when you make a buying decision. Its diameter determines the drill's performance. The most popular models have a 3/8-inch chuck. In the case when the chuck is not big enough for the bit, you are going to need a special adapter.
The chucks differ not only by sizes but by types as well. The keyless chucks are very straightforward to use and save a lot of time when changing bits. You won't need anything except for your hands for that: just turn the drill's head in different directions to loosen or tighten it in order to change the bit.
The keyed chucks require a key but provide a more reliable bit retention even at the highest speed levels. It's more time-consuming and will be completely useless if you lose the key. However, it's a great alternative for those who got tired with keyless chucks that come loose when drilling.
The chuck's durability is very important as well. Make sure that it's made of sturdy and high-quality material. Otherwise, the drill will not serve you for a long time.
Reverse and Trigger Lock
There are two additional features that you may want to have implemented in your corded drill. The lock button allows you to drill at an installed speed. It comes in handy when you need to make a hole in a tough material. While most drills have a dedicated reverse button or switch, there are some models that have a reverse feature integrated right into the trigger. It's more convenient than a button when you need to drive a lot of screws.