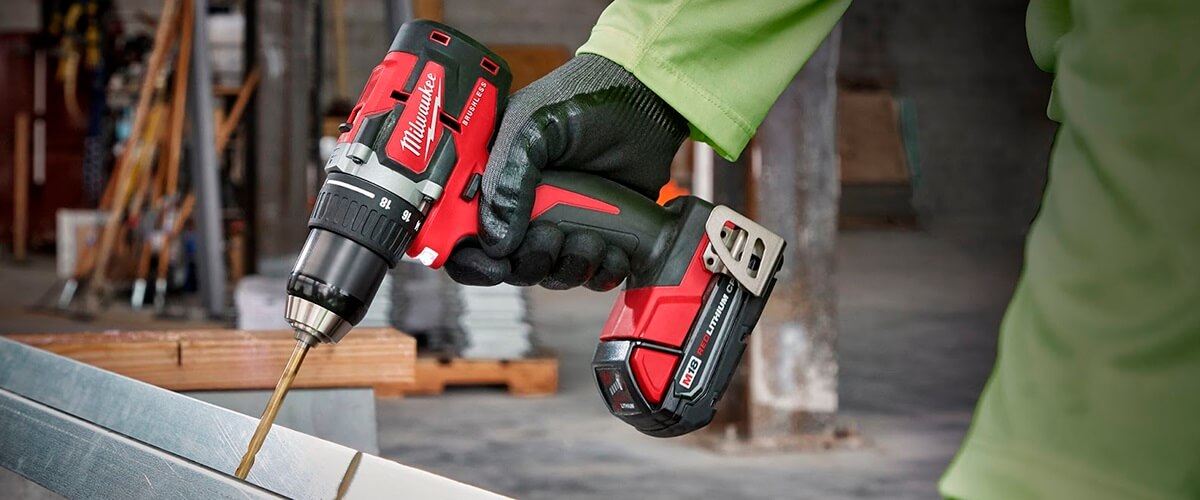 The best brushless impact driver will drive any nut and bolt with precision. It can also drill a hole if needed. Having a cable-free lightweight and versatile impact driver not requiring much maintenance (due to brushless motor) will make many jobs easier and more entertaining.

The best brushless tools in this category differ by parameters:
power and torque
impact and speed variability
battery size and life
size and weight
ergonomics
These and other specs are reflected in each brushless impact driver review below. Simply pick the one fitting your needs the most!
Brushless Impact Driver Reviews
Makita XDT13Z – Flexible & Powerful Heavy-Duty Impact Driver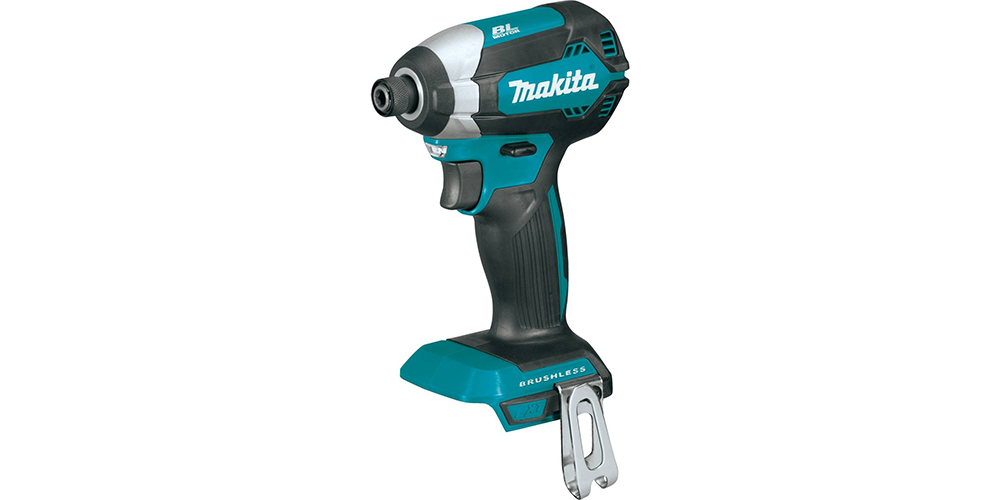 This cordless brushless impact driver provides great value for its price. It is equipped with the high-torque motor delivering 1,500 inch/Lbs resulting in maximum 3,400 RPM and 3,600 IPM. It drives the bolts into wood and metal without effort; making a hole in the metal section is a few seconds job. The speed is variable, so the user can adjust it to the material and the driving depth as planned.
The tool is sturdy, with all its premium metal and rubber components fitting immaculately. It works steadily and quickly letting out zero vibration even at considerable load (like driving lag screws, drilling solid wood and metal, etc).
The impact driver houses the 18V Lithium-Ion battery. Due to smart integrated system, the power consumption in this model is quite low, and the battery gets recharged fast. Having a spare one, it is possible to go for large-scale projects like construction of a gazebo or some serious repairs.
The unit is lightweight having just over 2 Lbs (without the battery). It feels comfortable in a hand, snugging into its shape due to the thick rubberized handle and good balance.
Pros
Special protection system prevents overloading and excessive heating of the tool / battery.
Quick and effortless bit insertion.
Integrated LED light for better workplace visibility.
Cons
No speed settings (just a pressure sensitive trigger).
Direction shifting switch is located unhandy.
Ridgid R86037 – Solid Middle-Class Impact Driver with Unique Design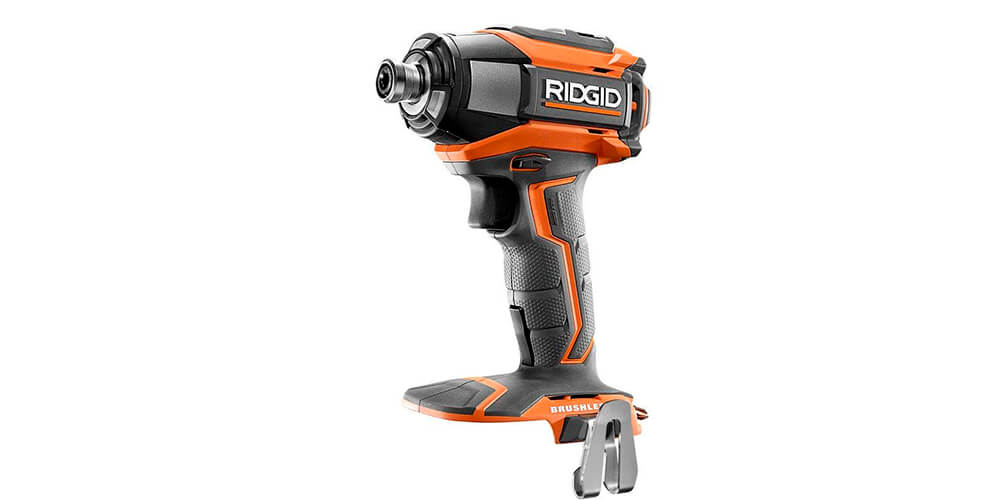 The sturdy build and unusual design are first to draw attention to this brushless impact driver. The chuck area is wide having the incorporated LED lights that turn on with the activation of the tool. The lights are bright and illuminate the workplace fully, with no shadows or dark areas left. The chuck protrudes from the wide front part of the impact driver and offers an easy insertion and removal mechanism for a hex bit. The grip sleeve is sturdy; yet, it is simple to pull and eject a bit.
The driver has an 18V energy bank powering the motor efficiently to reach 2,250 inch/Lbs that convey maximum 2,750 RPM. It drives the drywall, decking and other screws efficiently, with clean precision and not letting them strip or sway. For impacting work, the maximum speed makes 3,500 IPM, letting this device manage the screw driving into thick wood, concrete, metal, etc.
The tool isn't overly lightweight having 3,5 Lbs of net weight; however, its balanced construction makes it an easy-to-use impact device. The belt hook allows carrying the impact driver along when not working.
Pros
Three-stages speed control.
Handily located, solid switches / buttons.
Nice-to-touch tapered handle.
Cons
The battery gets drained quickly at full-load work.
High price.
Bosch IDH182-02 – Highly Versatile Impact Driver with Wrench Option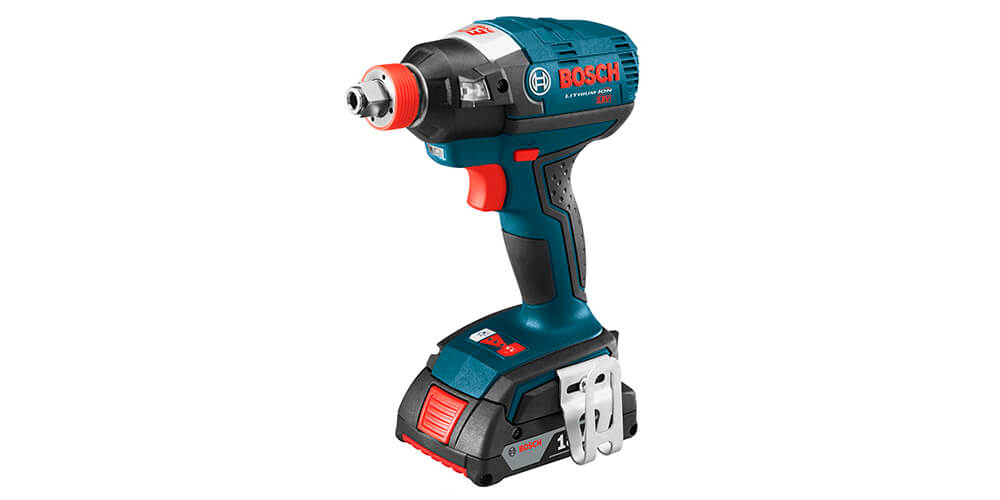 This impact driver offers multiple settings and possibilities for enhanced user's control and variety of feasible jobs. With its high-torque brushless motor providing full 1,650 inch/Lbs, it delivers up to 2,800 RPM and 3,200 BPM. This unit can manage every nut in the house and around it, including the lug nuts in car wheels.
Apart from ¼-inch hex driver, it can operate the ½-inch square one for relevant screws and bolts.
The tool also allows picking the needed speed range for working with the materials of different solidity. The settings are browsed with the button pressure, and the actual speed within this range can be controlled by the trigger pressure. Small screws are carefully driven into plastic without splitting or other damage at Mode 1, while the majority of jobs requires the middle power of Mode 2. Mode 3 is optimal for heavy-duty work on metal, hardwood, etc.
The impact driver features three LED lights for improved work site visibility. The lights are positioned precisely to illuminate the area of the tool application and produce no shadows at all.
Pros
Integrated Electronic Cell Protection system ensures the motor and battery stay cool and within the approved load range.
The 18V battery has an enhanced design for longer work and lifetime.
The attached belt clip is handy to secure the tool during a break.
Cons
Larger and heavier than competitors.
Battery changing is cumbersome.
DEWALT DCF887B – Fully Packed Brushless Impact Driver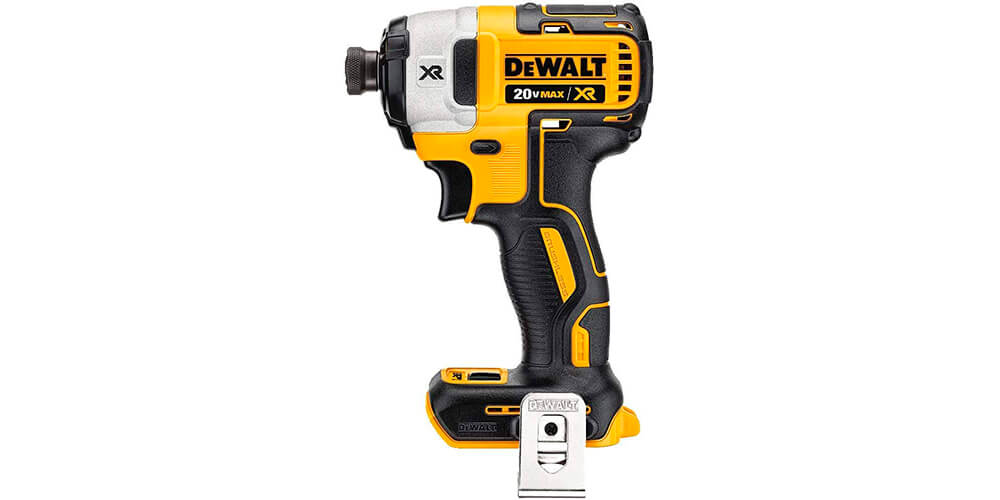 It is the reasonably priced impact driver providing various options for working with different bits and materials. This unit is also one of the most versatile in the present brushless impact driver comparison.
The device is powered by the 20V Lithium-Ion power bank, enabling long-lasting operation. It powers the high-torque motor that can produce as much as 2,000 inch/Lbs, allowing it to use it for metal and solid wood constructions. The maximum rotation speed makes 3,250 and the hammering one is 3,600, which are among the highest for such tools.
The impact driver features three-speed settings allowing it to adjust the rotation speed to the material used and the task needed. At speed 1, it can tighten the nuts around the household or drive holes in plasterboard. There is also an integrated technology Precision Drive activated at this speed setting, for particularly steady and fast tightening / impacting. At maximum speed, this small tool can drive long screws into thin metal and other hard materials.
The unit implements an easy bit insertion technology. It has a reliable grip sleeve, moved easily with two fingers, and lightly coming back into place.
Pros
Very compact and lightweight.
Incorporated LED lights don't shut off immediately upon trigger release.
Cons
An overkill for too soft materials / delicate tasks.
Might fail on high-torque lug nuts.
Milwaukee 2750-21P – Well-Balanced Impact Driver, with Enhanced Battery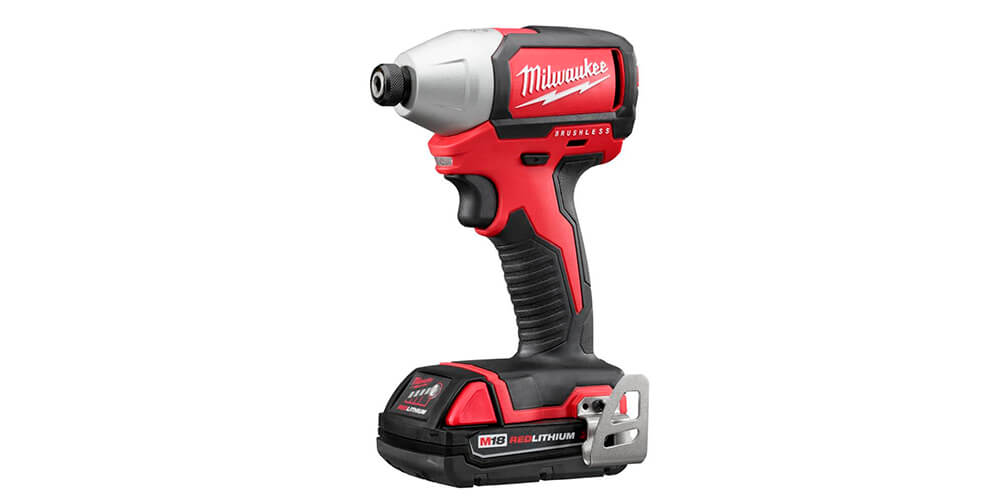 This impact driver combines the usual Milwaukee sturdiness and light weight. Having just 3.1 Lbs with battery, it is handy to use in a variety of locations. The range of tasks is also wide, due to the powerful motor producing full 1,500 inches/lbs. It lets the driver's chuck spin right off at 2,800 RPM (the impact speed reaches maximum 3,600 IPM) and manage the deck screws, drywall screws, and even the lag bolts with ease.
The motor and battery are equipped with an electronic mechanism providing their most productive and caring usage. The battery is 18V and features an enhanced construction letting it keep the charge and spend it wisely. Depending on the task, the motor can draw less charge when used on thinner surfaces like plastic and add more power to tighten the lugs.
Pros
Advanced electronic protection against overload and overcharge.
Good balance enables the overhead use of the tool without effort.
No head's snapping / splintering.
Cons
No speed modes.
The light sometimes stays on after end of the operation.
Hitachi WH18DBDL2P4 – Extra Power and Control, with 4 Speed Settings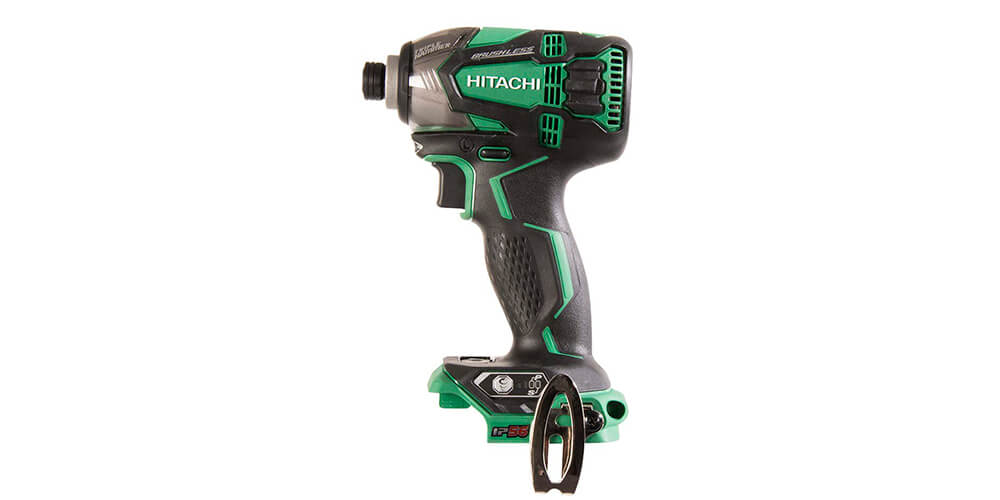 This lightweight brushless impact driver (2.15 Lbs) features the innovative engineering technology letting it deliver high power to any fastener. The tool has three hammer parts (instead of standard two) that produce more impacts per rotation and increase the applied power.
The impact driver features 1,832 inches/lbs that transform into maximum 2,900 RPM, letting the tool manage deck screws and nuts effortlessly. The beating capacity makes maximum 4,000 BPM and allows fast precise splinter-free long screws driving into any material.
To control the applied power, the device has a sensitive trigger and electronic speed settings button (to choose among four-speed options).
The 18V power bank provides a reliable source of power letting the tool work at a middle load for hours. The charging is quick and takes about 45 minutes (3,0 Amp battery).
The impact driver isn't the smallest in its class; however, having just 2,15 Lbs (battery-less) it fits into the hand snugly. With the thick tapered rubber handle and an inner stability system, it provides for user's comfort and less fatigue at long-lasting work.
Pros
Triple-layer hammer claw eliminates vibration, providing for optimal balance during impact works.
Smooth well-controlled performance at all speed levels.
LED light has a "constant on" option.
Cons
Forward-reverse switch feels on the fingertip when holding the trigger.
The battery has ventilation slots that attract water and dust.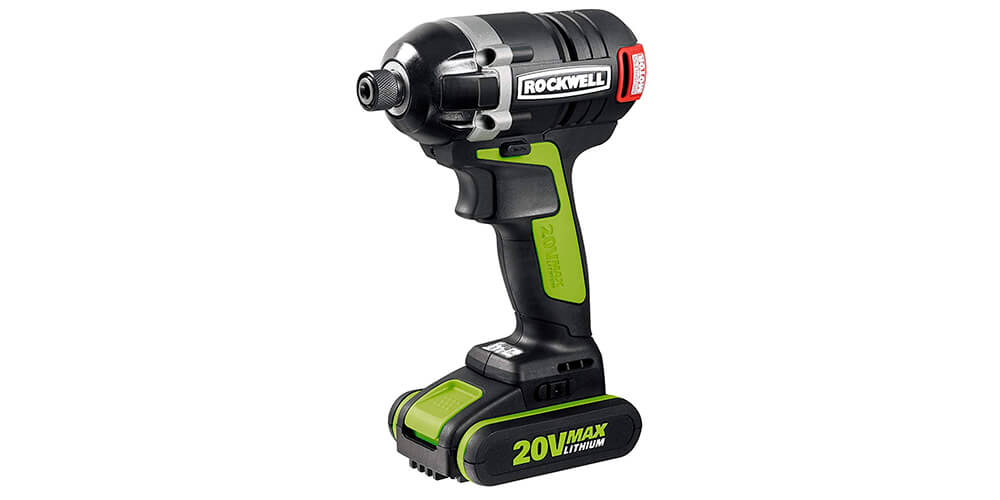 This brushless impact driver might be a bit larger and heavier than its competitors; however, when it comes to hard tasks, it pays for itself. Having a drywall screw driven into a tile or tightening the lug bolts on sedan car takes a few seconds and no effort at all.
The unit has a powerful electronically controlled motor delivering 1500 inches / Lbs that convey up to 2,900 RPM and are strengthened by maximum 3,200 BPM. The motor works dynamically and emits little noise. It is powered by a 20V power bank that also implements the electronic system measuring the charge and needed power in a real-time. It allows keeping the charge and optimizing its spending and results in a few hours' work at one charge.
Pros
Motor and battery are protected against overcharge, overload, excessive friction, and heat.
The tool is metal for ¼ and endures the unfavorable conditions including falls.
Bright LED light stays on for a minute after the trigger is released.
Cons
No preset speed modes.
High price.
Buyers Guide
Choosing Brushless vs Non Brushless Drill
Brushless and brushed motors use magnets to create the spinning motion, while their location and the mediums used other ones. What it means:
Efficiency. Brushed motors tend to work at maximum speed. They lose torque when reaching the power limit. With brushless, integrated electronic switch measures the conveyed power and prevents overloading.
Wearing. Brushed motors have more parts being in constant movement and contact. It means they need brushes' replacement every now and then.
Battery. Brushed motors parts have a lot of friction resulting in considerable heat. That drains the battery, which stays cool and preserves the charge longer in a brushless tool.
Price. Brush-equipped tools cost significantly lower.
In short, a brushless tool dominates the brushed one by all parameters except the price. If that's not an issue, go brushless!
What is a Brushless Impact Driver?
It is a tool designed to screw and tighten the variety of screws, bolts, and nuts. It can also serve as a drill, though its efficiency is lower than that of the dedicated drills.
The impact driver implements two technologies:
Rotation – measured in revolutions per minute (RPM), defined by the motor torque. Determines how quick the screw will be rotating (on average up to 2,700 per minute).
Impact – additional hitting power applied comparable to the hammer blows to the screwdriver. Usually, the number of IPM is larger than the RPM one (on average, up to 3,500).
The overall power and productivity of an impact driver are measured in inches/lbs. For their high efficiency, durability, accuracy, and compact size they are valued both in contracting jobs and as the household / DIY tools.