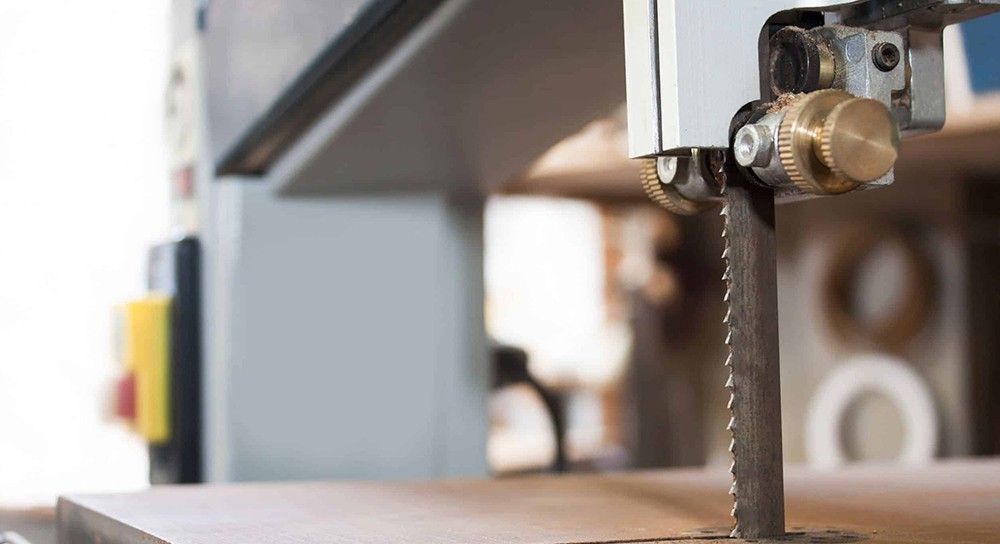 If you are tired of using a handsaw for household applications, buying the best band saw can save your time and spare your nerves. A bandsaw is a tool capable of providing excellent woodcutting results at no time. Many woodworkers like their job only because it does all the complicated and dirty job for them. Mastering this woodcutting machine can make your life easier, especially if you frequently work with wood materials.

This informative article contains 8 professional woodworking band saws reviews to help you make a perfect buying choice and get the model tailored exactly to your needs. Moreover, I will also explain to you the main benefits of having a bandsaw and give you some practical recommendations touching upon the appropriate use of this multifunctional cutting machine. I am sure that you will definitely find a brilliant model out of these eight top rated band saws!
Band Saw Reviews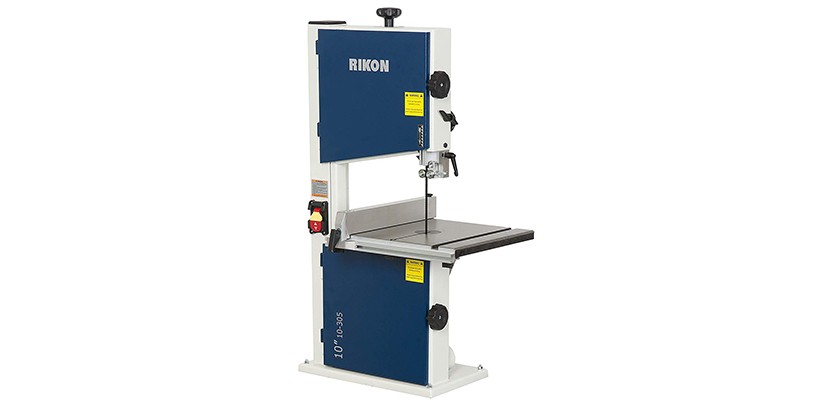 The first model on our list is the model designed by a hugely recognized brand Rikon. I think that this product has everything to attract the attention of those consumers who have to work with wood frequently. In my opinion, the product is well-built as it features reliable steel construction and its frame is made of solid steel plate, while many other bandsaws use plastic frames.
This bandsaw features cast iron (13-3/4-inch by 12-1/2-inch) that offers a sturdy work surface to let users comfortably cut different pieces of wood. Moreover, I find it really cool that this model is provided with a quality rip fence that can be easily removed to allow for doing free handwork. This great tool also impressed with its 1/3 HP motor that provides enough ample power for cutting bowl and pen blanks. You can make amazingly precise cuts thanks to the tool's design. I believe that a micro-adjustable guide post is another upside of the model, as it enables users to control the guide post height just with the turn of a handle.
The Rikon 10-305 can be easily characterized as a compact tool (35.5 x 18 x 13 inches) that weighs as much as 76 pounds. Although it seems very difficult to move this model once it is set up, the model can be easily installed in those workshops that have limited space.
Pros
This is a very affordable bandsaw that costs less than most other good options on the market.
You can easily set up this product.
The blades can be changed very quickly.
Cons
This model is not that good for cutting large pieces of wood.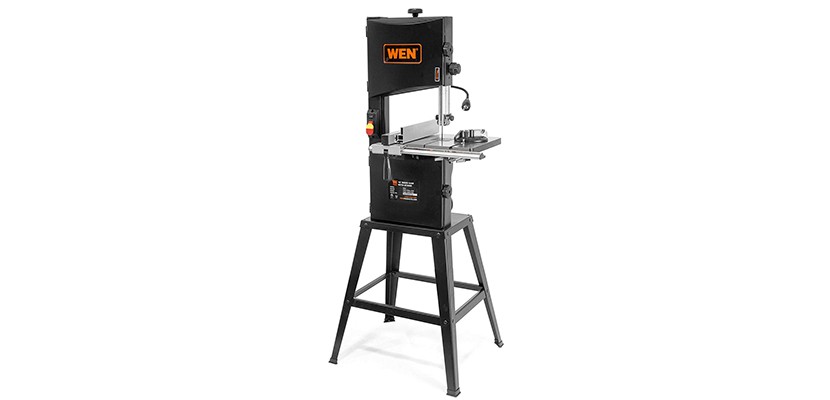 The Wen 3962 is another low-priced model that can be ideal for those users who have no need to work with huge wood pieces. The first thing I should say about this item is that it features a 3.5-amp motor and a 9-3/4-inch throat, which both allow woodworkers to make 6-inch deep cuts in hardwood boards.
The second upside of this bandsaw derives from its two-speed feature giving users more cutting flexibility, as they can choose either 1520 FPM or 2620 FPM depending on the woodcutting task. I like its super-sharp 72-inch blades anywhere from 1/2 to 1/8 inches in size for delivering both powerful and intricate cuts.
The Wen band saw can be also preferred over other affordable options due to the fact that it comes with a spacious work table (14 x 12-1/2 inches) to ensure effective cutting of small and medium pieces of wood. It is also really great that this model features pre-lubricated ball-bearings providing the item's 10-inch wheels with smooth operation and extra durability.
Furthermore, this product comes with a flexible lamp to increase the visibility of the workpiece, a reliable fence for delivering straight cuts, a miter gauge for making cuts along with specific angles, and a 3-in-1 dust port for a huge variety of dust collection hoses. The model also has a 25-inch stand to let you keep the bandsaw elevated. The product has average dimensions (20 x 25 x 58 inches) and weighs about 73 pounds, which is good enough for such a bulky machine. However, the model seems to have some problems with the blade tension when cutting at different angles.
Pros
The blades can be replaced with no difficulty.
The product seems very sturdy.
Cons
Its setup is time-consuming.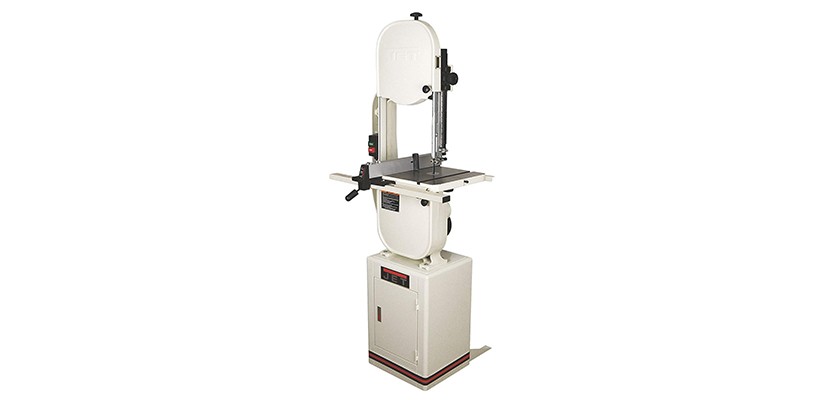 This professional model is capable of delivering superior cutting performance to meet the needs of many customers working with wood on a regular basis. This machine looks very sturdy as it has solid construction (cast iron frame) being made of high-quality materials. The manufacturers have provided the model with the built-in 12-inch resaw capacity for allowing users to cut huge pieces of wood. By the way, this product provides such a great capacity even without a riser block!
I was also very impressed with the sensationally spacious work table (15 x 15-inch) this model offers to its users. Keep in mind that the work table can be tilted 45 degrees right and 10 degrees left to cope with really hard and bulky workpieces. The Jet 14 inch bandsaw is also stuffed with upper and lower ball bearing guides meant to increase the tool's durability and reduce friction. The blade guide post is intended to improve the safety characteristics of this machine. It should be also mentioned that the model features a high-end poly-v belt drive system to deliver super-precise cutting at both 1500 and 3000 FPM. When speaking about the product's dimension, I can confirm that it looks bulky (29 x 28 x 77 inches) and heavyweight (256 pounds). However, you should expect this from a professional tool.
Pros
The item can perfectly cope with different woodworking jobs.
The model has an easy-view window to let users better control the cutting process.
It is marked by an easy-going setup.
Cons
The tool may seem to be very expensive for most consumers.


This low-budget option can still be a good replacement for bulky stationary bandsaws. Just imagine, this tool features an extremely powerful 10-amp motor that can ensure effective wood cutting performance with controlled power. The Dewalt DWM120K offers a 5-inch deep cut capacity for rectangular or round workpieces (maximum capacity 5 x 4-3/4 inches). I also like this model a lot because it has ergonomic grip options and an integrated hanging hook, so I can call it one of the leading tools in terms of user-friendly design.
I was really pleased to find out that this cheap band saw can perform at speeds ranging from 100 SFM to 350 SFM. Moreover, its variable-speed makes things pretty easy when it comes to choosing the desired cutting speed. Known as a compact woodcutting tool (14.2 x 23.5 x 7.9 inches), the Dewalt DWM120K weighs as little as 15 pounds, so this product should be picked up by those persons who need to always have a portable bandsaw at hand for cutting wood pieces here and there.
Pros
The setup of the model is exceptionally easy.
It features an LED sight indicating the cut line.
Cons
This item cannot cope with large pieces of wood.
It cannot be powered from the battery.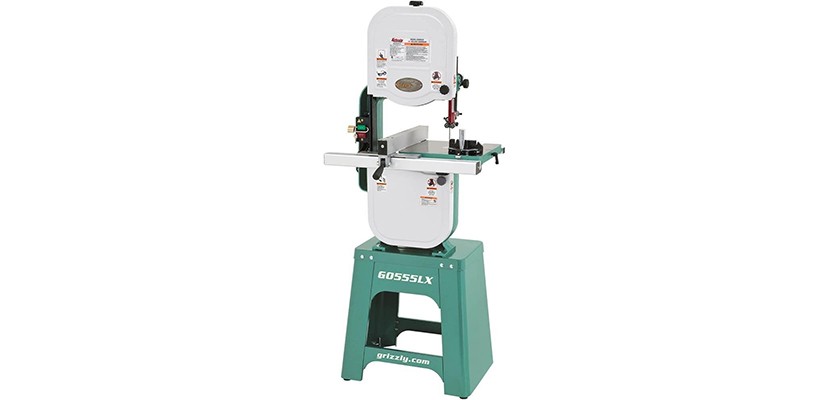 Having a somewhat strange design as for a traditional bandsaw, the Grizzly G0555LX has a number of unique features that help it stand out from dozens of options sold on the market today. I think that the availability of computer-balanced cast iron wheels with rubber makes this tool so successful in delivering high-precision wood cutting. This item can be easily used for making sophisticated cuts in different wooden workpieces. Moreover, it seems really great that this good-working bandsaw comes with an aluminum T-shape re-saw fence to increase the safety of users. It should be also stated that the Grizzly also features a miter gauge and fence scale with a magnifying window.
I like the fact that this product works silently and is marked by low-vibration performance. With the cutting capacity/throat of 13-1/2 inches, this model has a maximum cutting height of 6 inches. Nevertheless, this one looks like a bulky machine (45 x 21.5 x 18 inches) that cannot be moved easily with the weight of 247 pounds. I can fairly say that this may be the best band saw for the money it costs.
Pros
It can easily cope with a wide range of woodcutting applications.
This professional item has an easy-going setup.
Cons
The product seems to have some minor problems with dust collection.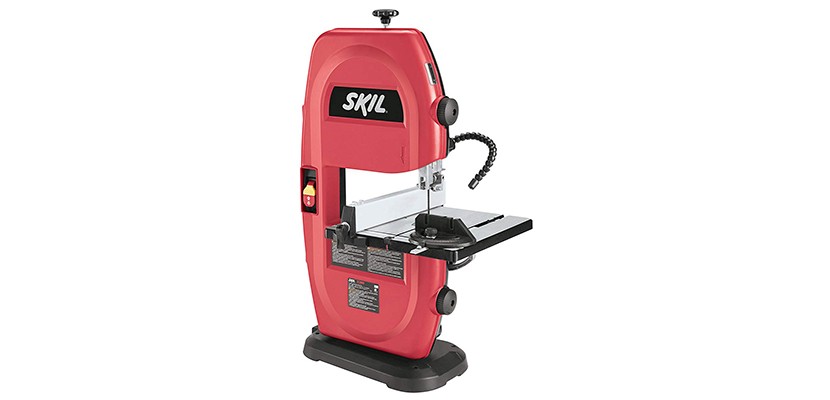 This model is equipped with a 1-speed motor that is meant to deliver effective cutting of small and medium workpieces. I find this machine to be user-friendly because I believe that even novice users can easily understand the way it works. Thanks to the unique design, the Skil band saw is a cool tool for cutting irregular shapes. As this model comes with the super-sharp 6-TPI blade, you will be able to cut successfully through a wide variety of wood materials. Moreover, the availability of the EZ view blade tracking helps users align the blade correctly with no effort. You can also find a rip fence and a miter gauge included to let you make both straight cuts and crosscuts.
It is really great that this small bandsaw offers the rack and pinion work table that can be easily adjusted for providing the right angle and height. This item can be called both compact (31.1 x 16.2 x 12.8 inches) and lightweight (16.5 pounds), so everything is great with its portability characteristics.
Pros
The item is cheap and easy-to-use.
It comes with a bright LED work light.
This product works silently.
Cons
This bandsaw does not look sturdy enough.
It cannot cope with large wood pieces.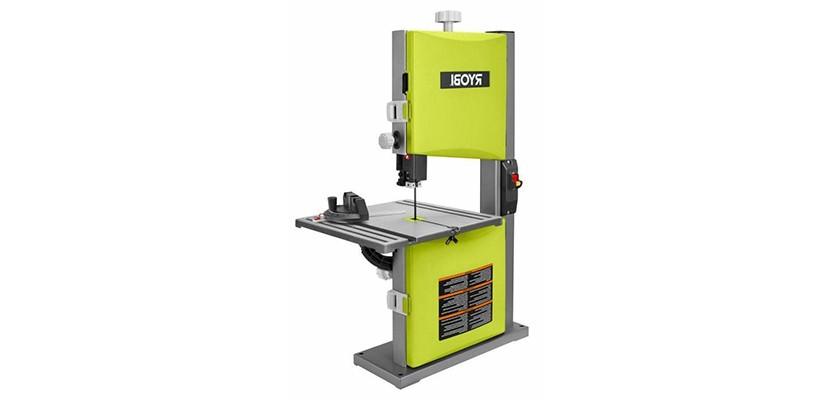 After testing this compact bandsaw, I can recommend this item to most woodworkers. The Ryobi 9 inch band saw is designed for providing a wide range of complicated woodworking applications. I am sure that this item is good enough for cutting small and medium pieces of wood as it is equipped with a 2.5-amp motor. Being made of aluminum, the product still looks sturdy and solid. I like the fact that this product comes with a blade tracking window that allows the user to take full control over the cutting process. Additionally, this saw option also offers a spacious work table and advanced rack and pinion blade support adjustment system to let you change the ideal cutting angle and height.
Similar to other popular products, the Ryobi is stuffed with a built-in dust collection port to help users maintain the worktable clean. When speaking about product dimensions, I can characterize this model as a compact (31 x 18 x 11 inches) and relatively lightweight (42.8 pounds) tool.
Pros
This bandsaw belongs to cheap but high-quality models.
It boasts an easy-going setup.
The product works silently and produces minimum vibration.
Cons
The item seems to have some problems with high-precision cuts.


The last option in our reviews features the design that is aimed to provide the level of safety and comfort to the user operating the tool. The Makita's branded high torque motor ensures an amazing working speed that varies between 275-530 ft./min and can be easily adjusted to fit the application precisely. You can see a thick rubber bumper that increases the saw durability and protects you from unintentional trauma while working. Two other Makita's advantages that equally contribute to enhanced safety are the tool hook needed to fix the tool when not in use and the stopper plate that serves as a support you rely on while cutting different materials.
Other great characteristics that add more usability to this saw include LED lighting for better illumination of the work area and a convenient soft-grip handle that allows you to feel confident while working with this tool. This model delivers absolutely amazing performance thanks to a series of extra brushes that promote flawless functionality. The item is very compact (14 x 22.4 x 10.7 inches) and lightweight (15 pounds), so I recommend the Makita XBP02Z to buyers that search for a small and portable saw that is easy to use and offers minimal operator's fatigue. Unlike other saws on this list, the Makita XBP02Z has every chance to become the best budget bandsaw.
Pros
It is perfectly fit to metal cutting applications.
The price is affordable for the majority of potential buyers.
The saw produces no sparks and doesn't heat up even after long hours of active use.
Cons
The tool runs only on genuine Makita batteries that have no alternatives.
Buyer's Guide
What is a Band Saw?
This versatile tool still remains unfamiliar to so many persons who have rarely worked with wood. However, dedicated woodworkers cannot imagine their life without this extremely useful cutting tool. In fact, a bandsaw is a saw provided with a long blade consisting of a continuous band of metal with a raw of sharp saw teeth, which are normally stretched between several wheels. I can say that the blade of a bandsaw is more like a ribbon that is rotating between the wheels to ensure the effective cutting of various wooden workpieces. This mechanism is similar to a cassette tape. For the reason that the blade is constantly moving between the wheels, only a small part of the band is used in the cutting area. Although this tool is mainly used for cutting wood, good models usually have enough power and pace to cope with aluminum and thin pieces of metal.
What is a Band Saw Used for?
I have already mentioned that a bandsaw is a versatile tool that is capable of performing lots of woodcutting applications. However, I think that it is necessary to name the exact applications that you can do with the help of this multifunctional woodcutting machine in order to make it clear what benefits an average user may gain from having a bandsaw.
This tool can easily rip wood as a table saw with one major difference that you should not work with your hands as a powerful motor will do all the job for you. Moreover, a bandsaw fairly outperforms conventional table saws in terms of making cuts in hardwood and large workpieces.
Most bandsaws allow users to make cutting curves just like with the help of a jigsaw. For the reason that it has a narrow and long blade, it is really easy to make cutting curves in wood. A spacious worktable will also support the workpiece to enhance the process of making cutting curves.
The owners of decent bandsaws can also do saw logs without having a lumber mill. In fact, a bandsaw can be used to saw small and medium logs into sophisticated pieces, such as cases, watches, and similar decorative objects.
This effective tool can also help you make cut joints as if you work with a handsaw. A standard bandsaw tends to have enough power to successfully handle the applications involving the dovetail and mortise tenon joints.
Template sawing is one more type of woodcutting that can be easily performed by owners of a bandsaw. Again, a sharp and narrow blade allows for precise template sawing.
This tool also enables its users to saw compound curves. You just need to get some practical experience to become the master of graceful curves.
Finally, these tall woodcutting machines turn resawing into an easy task. You just need to choose the right height and speed to resaw a thick workpiece into two thinner pieces of similar thickness. Just make sure that the workpiece is not too big for your bandsaw.
How to Use a Band Saw?
Although this tool seems to be very straight and easy-to-use, some questions related to particular woodcutting applications may arise among inexperienced users. These are some basic steps describing how to use it properly for getting maximum potential out of this versatile tool.
First, you should clean the work area before starting your new application. While most models of bandsaws come with special dust ports, you should remove all dust debris out of them for ensuring comfortable and efficient performance.
Second, you should use the appropriate blade for a specific application. Changing the blade in a bandsaw is as simple as you can only imagine. Therefore, you should not be afraid of changing the blades depending on the task you are going to handle.
Third, pay special attention to the issue of blade tension. Although the blade tension should not be left high when the bandsaw is not being used, you must care about choosing the appropriate level of the blade tension every time you are going to use this tool again.
Then, it is also vital to regulate the blade guides and adjust them to your specific cutting needs in order to guarantee truly great performance.
When you turn to woodcutting again, you should also make sure the blade guard is close to the workpiece you are actually cutting. Therefore, regulating the blade guard is another significant issue for woodworkers using this saw.
Obviously, you cannot use a powerless tool. Hence, you should plug it in (or use a battery if we talk about a portable battery-powered model) to run this machine.
After you have finished your cutting performance, you should unplug the tool and release the blade tension until the blade is not kept stiff. Teach yourself to clean off any tiny wood pieces or sawdust and that could have gotten stuck in the tool. This will save your time and help maintain the model ready-for-use.
How to Measure Band Saw Tires?
There are some important issues that never lie on the surface. The measurement of the bandsaw tires is one of these obscure things. If your aim is to master this versatile saw, it is important for you to learn the specifics of measuring tires in order to be able to find a proper tire replacement for improving the overall performance of the tool. In fact, there is nothing complicated in the measurement process. You just need to take a tape measure and find out the diameter of the necessary saw wheel and subtract 2 inches. In such a way, you will find out what tire replacement your best band saw needs.