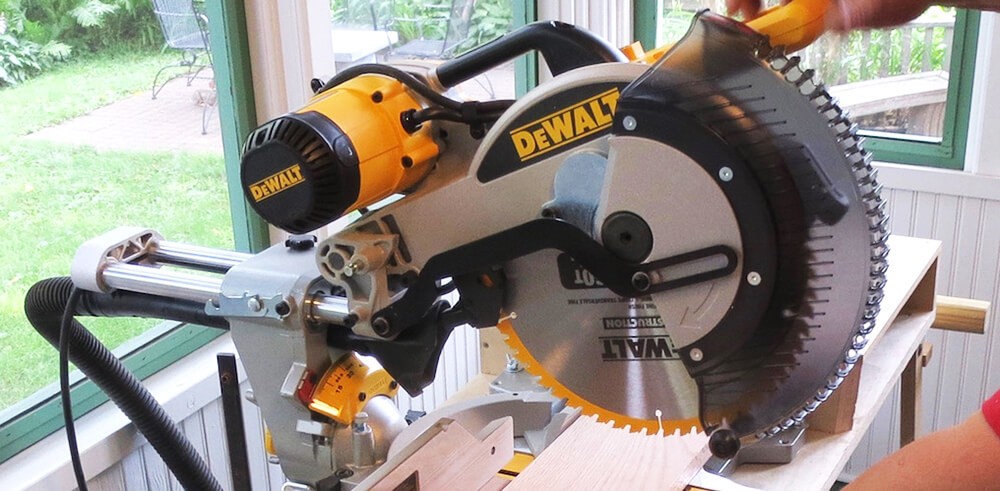 After reading this article, finding the best miter saw blade will be no longer a big deal for you. While many persons still cannot understand how to differentiate wood-cutting and metal-cutting miter saw blades, this article has a mission to educate readers about the essential differences between these two basic types of these saw blades.

Obviously, the main difference between miter saw blades for wood and blades for metal is determined by the range of materials they can deal with. An average miter saw blade for wood should have from 60 to 80 sharp teeth in order to be able to cut softwood, plywood, and hardwood effectively without tearing apart their fibers. In most cases, a miter saw blade for wood will require less RPMs than its metal-cutting counterpart. An average miter saw blade for metal should normally have at least 80 teeth (preferably much more than 80) in order to let the users deal with non-ferrous metals and even steel. You can also use this blade to deal with plastics and sometimes hardwood.
Keep in mind that metal-cutting blades are often used at higher RPMs to cope with tougher materials. Read this article carefully and you will find the best miter saw blades exactly for your needs. Moreover, this article will also help you learn how to change a miter saw blade correctly and safely.
Miter Saw Blade Reviews
Best Miter Saw Blades for Wood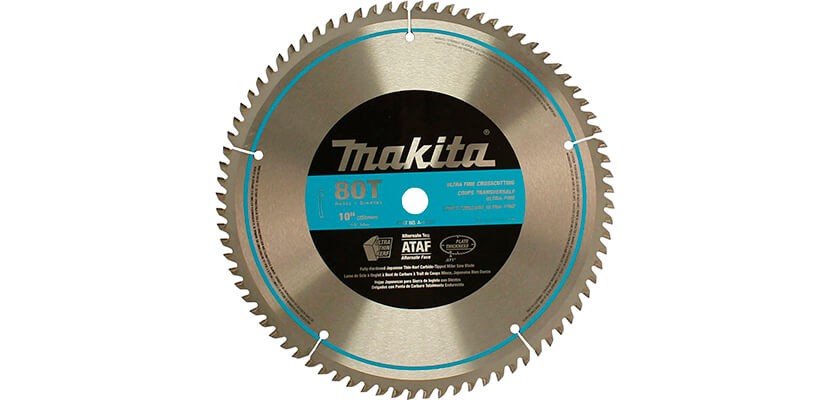 Testing this high-precision model was a total pleasure for me. The Makita A-93681 provides ultra-fine crosscutting with its 80 very sharp teeth. By the way, the model has micro-grain carbide teeth that have been honed with up to 600 Grit, so you can be sure that your miter saw will easily cope with plywood, softwood, and even hardwood. Based on test results, I can describe this tool as the best miter saw blade for hardwood, as the cuts made with the A-93681 were super clean with minimum effort. The model leaves an ultra-thin kerf of 0.091 inches thanks to a pretty thin plate thickness of just 0.071 inches, so the material loss is negligible. This polished miter saw blade has a positive 5-degree hook angle, which is a good one for delivering aggressive but high-precision cutting. When speaking about the dimensions of this high-quality miter saw blade, you can be pretty satisfied with them (12 x 11.8 x 0.2 inches) as the model can be used on most of the modern miter saws. The item seems to be a bit heavy as it weighs as much as 5 pounds, though it is fine for a carbide miter saw.
Pros
The item is reasonably priced to meet the demands of numerous customers.
The model seems to be very durable.
This is an easy-to-install product regardless of what miter saw you have.
Cons
This miter saw blade may be too noisy with its high-pitched whine produced during the toughest tasks.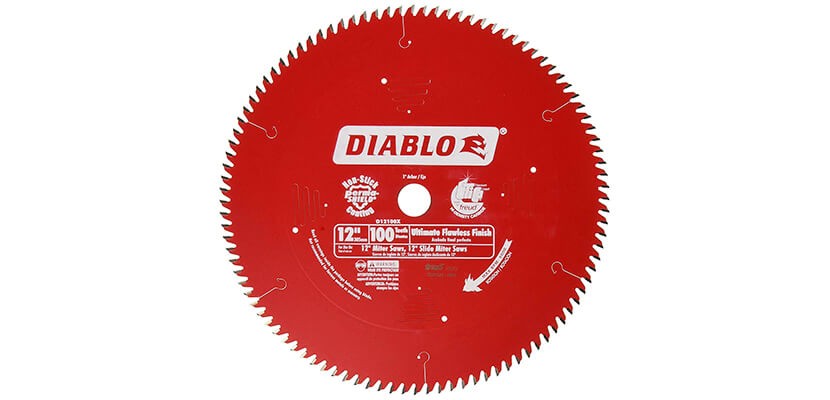 This is another great model intended to help you make a perfect cross-cut in wood and wood composites. I can fairly say that the Freud D12100X is potentially the best 12 miter saw blade you can buy today on Amazon. A 100-tooth construction is the main secret behind the model's amazing crosscutting abilities. The item features ATB grind tooth design to provide the best result when cutting wood in the opposite direction of the grain.
I am really pleased to find out that the model is made of extremely robust titanium carbide that is considered an ideal material choice for long-lasting saw blades. This product also boasts a super-thin laser cut kerf of 0.098 inches resulting in minimum material loss and effortless cutting performance when it comes to making cross-cuts in different types of wood.
Another positive feature that impressed me a lot was Parma-Shield nonstick coating meant to deliver ideal cross-cuts with no sawdust left on the saw blade. Moreover, the D12100X is also staffed with the advanced laser-cut stabilizer vents designed specifically to absorb vibration and noise and prevent the saw blade from making sideways movement during its work. The product has standard dimensions and weighs just 1 pound. However, working with this item may be difficult for inexperienced carpenters as this miter saw blade makes super-fast cuts.
Pros
The item features excellent anti-corrosion protection promising durable performance.
The model's tri-metal shock-resistant brazing guarantees excellent heat-resistant properties.
This item can be easily installed on the modern drop saws.
Cons
The item costs a lot for an average consumer.

This particular model has lots of upsides to make your carpentry work way more easier. The first thing I would like to say about this saw blade is that it is made of industrial micrograin tungsten carbide, so you can be sure that it will last long. It should be also mentioned that the 115436 features tri-metal shock resistant brazing that helps the tips easily cope with hardwood without losing their outstanding cutting ability. Staffed with 80 sharp carbide teeth, this 12 inch miter saw blade allows professional resharpening, so you can significantly prolong the lifespan of this extremely durable miter saw blade. Moreover, I find it really great that this item has exclusive laser-cut expansion slots aimed at reducing vibration and noise and preventing the blade from getting overheated too fast. The model's VPR blades are perfect for various cutting tasks from fine finish woodworking to ripping framing and ripping. The item has standard dimensions and has a thin kerf of 0.110 inches.
Pros
This product is easily installed on different miter saws.
It features electrophoresis coating that prevents the blade from rust.
This miter saw blade has an affordable price.
Cons
The item may be not that good when it comes to making super-fine sophisticated cuts in wood.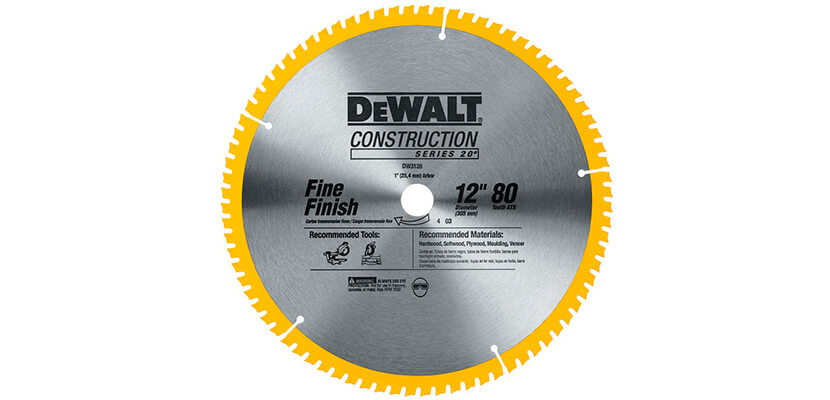 Dewalt 12 inch miter saw blade is a perfect choice for those persons willing to find a reliable but cheap blade for their drop saws. This item perfectly works with wood and different wood compounds. I can admit that the product has a very thin kerf allowing for sophisticated cross-cuts in wood almost with no material loss. I also like this model for its ability to work silently as it boasts a computer-balanced plate known for flawless vibration reduction, excellent accuracy, and better finish. The item has 80 sharp teeth to guarantee effective crosscutting of hardwood and softwood.
I should also mention that this model has a positive +5 hook angle, so this miter saw blade allows for aggressive cutting. In addition, the DW3128 has an exclusive wedge shoulder design means that more steel has been put behind each tip to provide increased durability and precision of cutting. This miter saw blade has medium dimensions of 15.1 x 13.3 x 0.5 inches and weighs just 2 pounds. However, I find it really bad that the product lacks an effective anti-corrosion coating to be well protected from rust.
Pros
You can install this component effortlessly on various miter saws.
Affordable price.
Cons
The product tends to get noisy when you work with hardwood.
Best Miter Saw Blades for Metal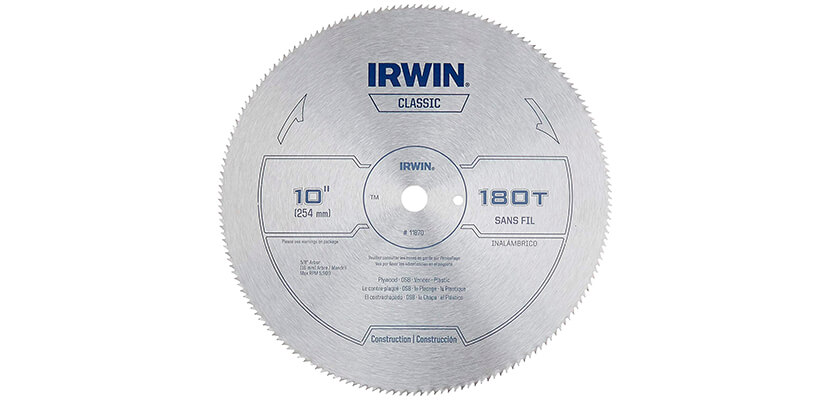 After testing this high-precision circular saw blade, I have a bundle of positive impressions. This 10 inch miter saw blade is a perfect solution for those persons who need to make smooth and accurate cuts in metal (e.g. aluminum or steel). I find it really cool that the model features heavy gauge high carbon steel as the basic material, so this fully-hardened saw blade plate promises durable and reliable performance. Additionally, the Irwin miter circular saw blade has 180 extremely sharp teeth with top/face grind to let you cut metal with ease. The model is characterized by a 5/8-inch arbor and 0.09-inch kerf, so you can discover with this miter circular saw blade the true power of high-precision cuts.
Keep in mind that the product must be used at no more than 5,900 RPM. I should also say that the item has acceptable dimensions (12 x 11.4 x 0.1 inches) and can be referred as a lightweight saw blade weighing only 1.25 pounds. The model's biggest downside lies in the fact that it features no anti-corrosion protection.
Pros
The item is very cheap as for metal-cutting blades.
The product offers silent performance.
Cons
The blade may become hot rather quickly when used at higher RPMs.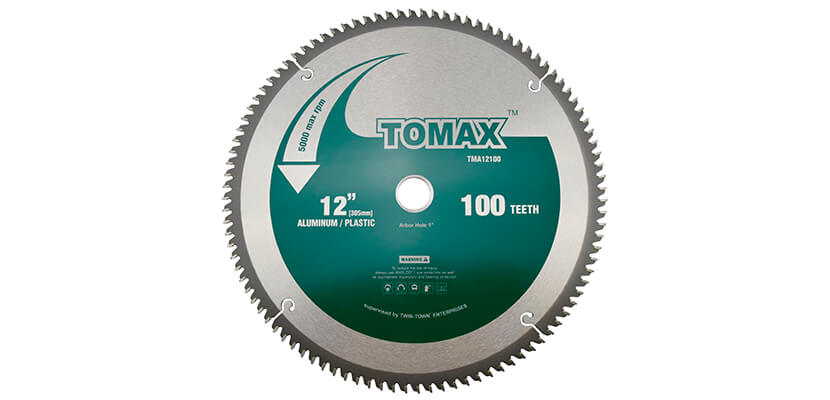 This is another cheap but effective option that can be used to cut non-ferrous metals. Similar to other TCG (Triple Chip Grind) blades, this one is perfect for ripping hardwoods like maple and oak and cutting plastics and such metals like aluminum. Being made of construction grade carbide, the Tomax seems to be a very durable option. The item has 100 well-sharpened teeth, which is a fairly modest result for a metal-cutting saw blade. This is why this item should not be used for cutting ferrous metals. I am also very pleased with the model's laser-cut anti-vibration slots that are really helpful in reducing vibration and sideways movement in the cut providing a crisp and splinter-free finish. However, you should also keep in mind that TCG blades work poorly with softwoods, as their teeth tend to make rough cuts in these wood fibers. It should be also mentioned that the model has 1-inch arbor and medium dimensions (14.5 x 13.2 x 0.7 inches) weighing as much as 2.8 pounds.
Pros
This product features an excellent electrophoretic coating that has well-known anti-corrosion effect.
You can easily install this particular item on different miter saw models.
Cons
This miter saw blade works with a noticeable noise when it comes to cutting tough materials.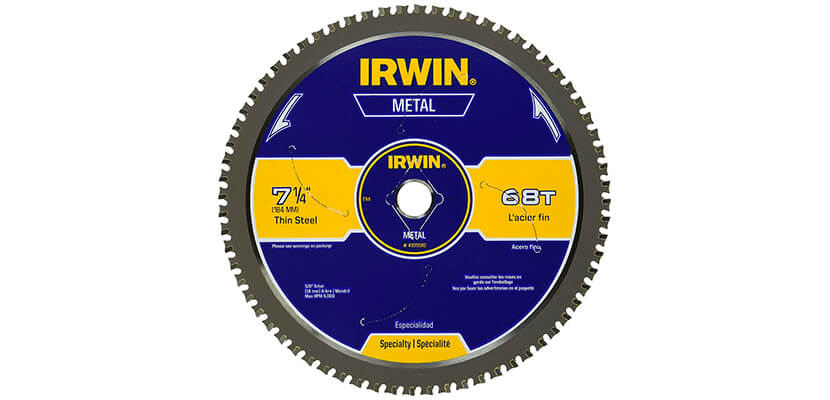 This cool metal-cutting miter saw blade has lots of great features, which diversify it from other similar options. I believe that the product's anti-kickback tooth shoulder is a great addition to any metal-cutting saw blade due to the fact that it guarantees safer cutting with reduced dust and spark formation. I want also to emphasize the positive role of anti-vibration vents that both prevent wobble and ensure high-precision cutting. Despite the fact that the model has only 68 teeth, they are extremely sharp to allow for ideal cutting of plastics, hardwood, aluminum, and thin steel. Similar to other metal-cutting circular saw blades, this option has high-quality carbide tips providing smooth and fast cutting performance. The item seems to be a bit smaller than other metal-cutting miter saw blades (9.6 x 8.1 x 1 inches) and it weighs less than 1 pound. However, this model does not work well with thick metal pieces. You should also keep in mind that you must avoid using this miter saw blade at higher than 4000 RPMs.
Pros
This product can fit all models of miter saws.
Cons
It seems to be very expensive for an average consumer.
It has no anti-corrosion coating to prevent rusting.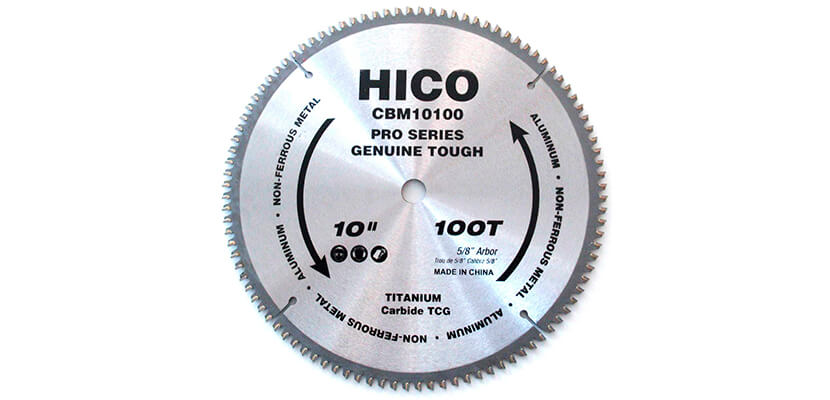 This top-rated item has many upsides that define its excellent metal-cutting abilities. Staffed with 100 flawlessly sharpened carbide teeth, this miter saw blade is ideal for cutting aluminum, brass, bronze, copper, and other non-ferrous metals as well as plastics, and fiberglass. TCG Grind only improves its cutting abilities and delivers clear cuts on nonferrous metals. The product also boasts laser-cut stabilizer vents reducing both noise and vibration and preventing it from overheating and sideways movements. I should also say that this 10-inch miter saw blade boasts incredibly thin kerf, which is a good sign for those persons who like high-precision cuts. At the same time, this model seems to work really silently despite its aggressive cutting style. The item seems very compact (10 x 10 x 0.1 inches) and weighs a bit more than 1 pound. Nevertheless, this item should not be used for cutting wood.
Pros
This item can be used as a saw blade for a table saw, miter saw, and circular saw.
This product seems to have a very attractive price.
It is covered with special electrophoretic coating to protect the saw blade from rust.
Cons
This saw blade seems to be very thin, so its durability remains questionable.
How to Change Miter Saw Blade?
Even the most durable blades can become dull sooner or later making it necessary for you to find a good replacement. The owners of miter saws who have no experience of changing blades on their cutting tools may face certain challenges in their efforts to replace their dull or damaged miter saw blade. In fact, learning how to replace these blades can be also useful for those persons who need to work with both metals and wood, so they have no choice but to interchange wood-cutting and metal-cutting blades depending on their current task. Nevertheless, there is nothing critically difficult in changing miter blades. Here are three effective steps that will teach you how to remove your old miter saw blade and put a new one effortlessly within several minutes.
The first step will be to remove the blade guard in order to have an opportunity to change the miter saw blades. You should make sure that the tool has been already unplugged from the power source and there is no risk of getting an injury. Then, your task will be to loosen the screw holding the blade guard in its position and lift the blade guard up. After removing the blade guard, it will be necessary for you to press the miter saw's spindle lock in order to keep the blade secured in place. You can find this lock is located in either the rear or the front of the saw housing. You will also find there a little button that pushes the lock in and out. Once your blade has been already locked, this button will move all the way down.
The second step will be removing the blade. To do this correctly, you should take an Allen wrench in order to turn the bolt which connects the saw and the blade in a clockwise direction. Turn it until fully loosened. Now remove the outer washer of the blade. There is nothing dangerous in doing this with your hands. However, it is necessary to leave the inner washer in its place.
The third and final step will be to remove the old miter saw blade and install a new one. In doing so, it can be useful to read the manual for your miter saw and follow the instructions strictly to prevent the tool from getting broken. It is recommended to use a washcloth and wipe little oil drops of oil on the inner and outer washers where they touch the miter saws blade. This will help lubricate the saw properly to ensure its adequate performance. Normally, you will want to install the blade with its teeth facing down. Be watchful throughout the installation process as any failure may lead to serious injury. Once you have installed your new miter saw blade, you should move the outer washer back to its place. Use your hands to tighten it properly. After doing this, you will need to refasten the bolt by turning it in a counterclockwise direction using an Allen wrench. Again, it should be tightened good enough to keep your blade fixed dead. Finally, take your screwdriver and return the blade guard to its initial position.
As you can see, there is nothing difficult in changing miter saw blades. You just need to be watchful and patient to have everything done perfectly and prevent any potential problems. Using the best miter saw blade will help you get the maximum performance out of your miter saw tool and cope with different materials with ease.